share:
Recent DVDs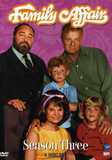 Family Affair:... This collection includes every episode of the series' third season. Star Brian... more info $24.95was $39.98 Buy Now
MEDIA:
WATCH MOVIE CLIPS
|
VIEW TRAILER
|
VIEW PHOTOS
|
WATCH A TCM PROMO
| | | | |
| --- | --- | --- | --- |
| Also Known As: | | Died: | |
| Born: | | Cause of Death: | |
| Birth Place: | | Profession: | Cast ... |
RATE AND COMMENT
BIOGRAPHY
Arguably one of the most popular and successful comedians of the mid-1990s, not to mention being the man who first popularized "Wassup?" as a socially acceptable expression of hello, actor Martin Lawrence quickly rose to prominence on the back of his popular sitcom "Martin" (Fox, 1992-97), only to become embroiled in personal travails that very nearly ruined his career. While basking in the early success of "Martin," Lawrence began making strides in the feature world, starting with the hit action-comedy, "Bad Boys" (1995). But trouble began to surface when he landed in the hospital following an outburst while on the set of his first directing job, "A Thin Line Between Love and Hate" (1996), which precipitated a series of embarrassing events that included sexual harassment charges from his "Martin" co-star, a brutal divorce from his first wife, and a strange episode where he was found waving a gun at tourists in Los Angeles. Despite his personal problems, Lawrence had a popular hit with "Big Momma's House" (2000) while maintaining a steady career pace that saw its share of misfires, but always kept Lawrence in the public eye.
Born on April 16, 1965 in Frankfurt, Germany, Lawrence was raised by his father, John, who was a member of the U.S. Air Force before becoming a policeman when he returned stateside, and his mother, Chlora. In 1973, his parents divorced, which forced his mother to work numerous odd jobs in order to support her six children. When he was a teenager, Lawrence was an amateur boxer who was a Mid-Atlantic Golden Gloves contender and seriously considered going pro until he suffered an eye injury that prompted him to reconsider. Meanwhile, he attended several different high schools in Maryland, including Eleanor Roosevelt High School, Friendly High School and the Thomas G. Pullen School of Creative and Performing Arts. After graduating, he began doing stand-up comedy on the Washington, D.C. circuit before moving briefly to New York City where he worked the crowds at Washington Square Park. He also worked at a Sears store in Queens, where he counted among his fellow employees, future stars Salt-N-Pepa and Kid 'N' Play.
But his sojourn in New York was short-lived after Lawrence was robbed at gunpoint in broad daylight while employed as a gas station attendant. Moving back to Maryland, he incorporated his Manhattan experiences into his act and toned down his raunchy language for a shot on the once-popular "Star Search" (syndicated, 1983-1995). Though Lawrence only won once on the competition, a tape of his performance found its way to Columbia Pictures, where he was cast in the recurring role of Maurice, a smart-mouthed busboy during the last season of the spin-off "What's Happening Now!!" (syndicated, 1985-88). Moving on to make his feature debut, Lawrence had an hysterical bit as a determined pizza joint patron in Spike Lee's "Do The Right Thing" (1989) and also scored as the tone-deaf D.J. in the Hudlin brothers' sleeper hit, "House Party" (1990), which reunited him with old Sears coworkers Kid 'N' Play. After appearing in the sequel "House Party 2" (1991), he had a co-starring role as Eddie Murphy's over race-sensitive sidekick in "Boomerang" (1992), followed by his first appearance on the stand-up comedy series, "One-Night Stand" (HBO, 1988-1993).
Having attracted the attention of HBO executives like Chris Albrecht, the pay cable network developed his very own sitcom, "Martin" (Fox, 1992-97), which received a boost from Lawrence's stand-up special and a two-season hosting gig of the new series, "Russell Simmons' Def Comedy Jam" (HBO, 1992-2008). But it was the popular Fox sitcom that brought Lawrence to prominence. On the show, he played Martin Payne, a wise-cracking radio disc jockey who exudes a macho exterior on air, but displays his sensitive side while at home with his wife, Gina (Tisha Campbell-Martin). Lawrence also had a knack for playing a wide array of characters, many of which required prosthetics and which showed his particular penchant for performing in drag, including Sheneneh Jenkins, a flashy girl from the ghetto; Edna Payne, Martin's overprotective mother; Jerome, an aging pimp; and Bob, a white surfer-dude. Though popular with black audiences, the show was criticized by high-profile celebrities like Bill Cosby who accused "Martin" for its vulgarity and for reinforcing negative stereotypes of blacks. Following Cosby's lead, Newsweek magazine called Martin's radio show host a "sex-obsessed homeboy shucking his way to nowhere."
Despite the alleged controversial nature of the series, "Martin" was embraced by audiences and became a significant hit. Lawrence's insightful edginess often raised his sitcom work above the level of stereotype, enough so that the NAACP honored "Martin" with its Image Award, while the series allowed him huge improvisational freedom. Following in the footsteps of Richard Pryor and Murphy, he branched into comedy albums with Talkin' Shit (1993) and concert films with You So Crazy (1994). He raised his profile further by co-starring with Will Smith in Michael Bay's feature directorial debut, "Bad Boys" (1995), a cop-buddy movie that was part " Odd Couple;" part "Lethal Weapon;" part "Beverly Hills Cop." Despite the financial success of the movie, "Bad Boys" took a drubbing with critics. Lawrence bit off more than he should have chewed with his directing debut, "A Thin Line Between Love and Hate" (1996), on which he co-wrote, starred in, served as music supervisor for and executive produced. Critics dismissed the effort as "Martin" meets "Fatal Attraction" (1987).
With the strain of doing both movies and a regular television show simultaneously, cracks began to appear in the armor of the workaholic Lawrence. The first signs came when he inexplicably lashed out on the set of "A Thin Line Between Love and Hate," which was later revealed to be caused by his abuse of psychotropic drugs. In 1996, his "Martin" costar, Tisha Campbell-Martin, quit amidst filming the show's final season, accusing him in a lawsuit of "repeated and escalating sexual harassment, sexual battery, verbal abuse and related threats." She eventually agreed to finish filming the season, but in an agreement struck with the producers, refused to appear in any more scenes with Lawrence and even had him barred from the set of his own show while she was present. Meanwhile, his wife, Patricia, a former Miss Virginia, lived in fear of her husband after several episodes where he physically abused her. The last straw came when he allegedly pushed Patricia while holding their baby daughter in his arms. His wife took their daughter to live in a hotel and filed a restraining order, while adding further comfort by hiring a private security firm to protect her. The couple divorced in 1997.
But the craziness did not abate. Lawrence was arrested earlier in the year for punching a nightclub patron and found himself in deeper hot water after being stopped from bringing a 9mm Beretta onto a plane in Phoenix. He earned two years probation for the gun incident and was later sent to a drug rehabilitation center by his family, only to leave two days later and begin abusing drugs once more, according to his ex-wife. Lawrence made his biggest headlines, however, when he was found on Ventura Boulevard in an erratic state screaming at tourists while brandishing a gun. He was taken away by ambulance and hospitalized for what his handlers called "exhaustion and dehydration." Despite what appeared to be the crash-and-burn of his career, Lawrence continued to work. Sticking mainly to features, he starred in "Nothing to Lose" (1997), a workman-like buddy comedy co-starring Tim Robbins as a man who roars off into the desert with his carjacker after seeing his wife in bed with his boss.
Lawrence took some time off to recharge and returned with two features, reuniting with Eddie Murphy to play a pair of convicts for "Life" (1999), while going solo to play a diamond thief pretending to be a cop in "Blue Streak" (1999). That year he made even stranger headlines than before, when he slipped into a three-day coma after running in 100-degree heat while wearing several layers of clothes. Though he eventually recovered, Lawrence did nearly die after his body temperature rose to 107-degrees while his breathing was sustained by a respirator. Meanwhile, he roared back to the forefront in the hit comedy "Big Momma's House" (2000), playing an FBI agent who dons a fat suit to impersonate a 300-pound woman in order to nab a violent bank robber (Terrance Howard). His follow-up project, "What's the Worst that Could Happen?" (2001) pitted him against Danny DeVito as a thief and billionaire, respectively, in a battle to see whose evilness would triumph. The taunting title of the film proved prolific when it flopped at the box office following a severe critical beating.
Lawrence next starred in the woeful comedy, "Black Knight," (2001), in which he played a mini-golf course employee who wakes up to find himself in the 14th century following a blow to the head. Unsurprisingly, the fantasy comedy took at hit with the critics on its way to becoming a box office dud. In 2002, Lawrence took his comedy stint to the big screen, resulting in "Martin Lawrence Live: Runteldat," which featured bits aimed at the many events that brought him unfavorable exposure. The following year, Lawrence joined Steve Zahn for the comedy feature "National Security" (2003), a buddy flick about two unlikely cops-turned-security guards, before reuniting with Will Smith and director Michael Bay for the uninspired retread sequel "Bad Boys II" (2003). Lawrence lightened his image with the broad, heartwarming comedy "Rebound" (2005), playing a basketball coach looking for a second chance with a middle school team of misfits after being banned from the college level for his bad temper. After voicing Boog, a 900-pound domesticated grizzly bear with no survival skills trying to survive the wild in "Open Season" (2006), Lawrence once again donned a fat suit for the unfunny, unfortunate and inevitable sequel, "Big Momma's House 2" (2006).
Lawrence went on to co-star in "Wild Hogs" (2007), a critically-panned, but hugely successful ensemble comedy about four down-and-out men (Lawrence, John Travolta, Tim Allen and William H. Macy) who go through respective mid-life crises by embarking on a freewheeling, cross-country motorcycle trip in order to prove their manhood. Despite scores of bad reviews, many of which complained about the bizarre, almost obsessive need for the four leads to constantly prove their heterosexuality onscreen, "Wild Hogs" dominated the box office its opening weekend, eventually taking in over $250 million worldwide. Meanwhile, he returned to his stand-up roots to executive produce "Martin Lawrence Presents: 1st Amendment Standup" (Starz, 2005-10), an uncensored showcase of the day's best under-the-radar comedians. Back on the big screen, he starred in "Welcome Home Roscoe Jenkins" (2008), a comedy-of-manners in which he played a successful radio talk show host who finds going back home for his parent's 50th wedding anniversary harder than he imagined. He next played an overprotective father unwilling to let his daughter (Raven-Symoné) go off to college on her on her own in "College Road Trip" (2008), which he followed with a co-starring turn in director Neil LaBute's remake of the British black comedy, "Death at a Funeral" (2010).