share:
Recent DVDs
Land of the... This big-screen adaptation of LAND OF THE LOST stars Will Ferrell as Dr. Rick... more info $5.95was $9.99 Buy Now
Land of the... Comedic genius Will Ferrell stars as has-been scientist Dr. Rick Marshall, who... more info $11.95was $14.98 Buy Now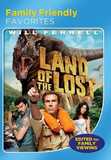 Land of the... Comedic genius Will Ferrell stars as has-been scientist Dr. Rick Marshall, who... more info $14.95was $14.98 Buy Now
MEDIA:
WATCH MOVIE CLIPS
|
VIEW TRAILER
|
VIEW PHOTOS
|
WATCH A TCM PROMO
| | | | |
| --- | --- | --- | --- |
| Also Known As: | Jorma Christopher Taccone | Died: | |
| Born: | March 19, 1977 | Cause of Death: | |
| Birth Place: | Berkeley, California, USA | Profession: | Cast ... comedy writer actor director |
RATE AND COMMENT
BIOGRAPHY
As a founding member of the enduring comedy trio, The Lonely Island, Jorma Taccone was one of the first filmmakers to transform being an Internet sensation into mainstream success. Along with Lonely Island partners and "Saturday Night Live" (NBC, 1975- ) co-writers Andy Samberg and Akiva Shaeffer, Taccone helped revolutionize the short film format, turning digital shorts like "Dick in a Box" into Emmy Award-winning skits. After launching his career in 2001 with the Lonely Island website, he eventually caught the eye of "SNL" producer Lorne Michaels, who hired Taccone and his cohorts as writers on "SNL" in 2005. The trio made an instant splash and helped return the late night mainstay to cultural relevance. Meanwhile, the multi-talented Taccone established himself as an able comedic actor with his first foray into feature film acting, "Hot Rod" (2007), though the movie proved to be a commercial disappointment. Taccone eventually landed the pivotal role of monkey-boy Cha-Ka in "Land of the Lost" (2009), one of the year's most hyped movies, which helped propel the typically behind-the-scenes actor into the limelight.
Born on March 19, 1977, in Berkeley, CA, Taccone was the son of Tony Taccone, artistic director of the award-winning Berkeley Reparatory Theatre. Inspired by his father, Taccone developed an interest in acting and music at an early age. In junior high school, he teamed up with classmates Andy Samberg and Akiva Shaeffer, and began writing and performing live comedy skits. After high school, the three parted ways, with Taccone attending film school at the University of California, Los Angeles. After graduation, the trio reunited in L.A. and began performing together, renting a shabby apartment they dubbed "Lonely Island." With the nucleus of the Lonely Island comedy troupe formed, Taccone, Samberg and Shaeffer expanded upon their live skits to develop an online sitcom, wherein the three roommates starred as exaggerated versions of themselves in a series of short videos. Meanwhile, The Lonely Island website was launched in 2001 and became an immediate Internet hit, thanks in part to well-known actors like Brooke Shields and Kiefer Sutherland appearing in their videos.
After recognition for their online videos, Taccone, Samberg and Shaeffer were commissioned by MTV to create a sitcom pilot, "Awesometown." Although the show itself was rejected by the network, Lonely Island was asked by MTV to write several skits for the 2005 MTV Movie Awards, hosted that year by "SNL" star Jimmy Fallon. Impressed with the trio's wit and creativity, Fallon brought Lonely Island to the attention of "SNL" producer Lorne Michaels. Samberg was hired as a cast member, while Taccone and Shaeffer were brought on as writers. The three created an immediately popular segment, "SNL Digital Shorts," which soon proved to be some of the most popular skits in the show's history. Notable entries included "Dick in a Box," a music video which featured Samberg and Justin Timberlake as two cheesy-smooth R&B singers who give their one-and-onlys "something real" for Christmas, while "Lazy Sunday," a rap parody featuring Samberg and "SNL" cast member Chris Parnell waxing euphoric about cupcakes and the film "The Chronicles of Narnia." Taccone, in particular, scored a huge hit with the ongoing "MacGruber" segment, a series of short films he wrote and directed that spoofed the 1980s television series, "MacGyver" (ABC, 1985-1992).
But it was "Dick in a Box" that proved to be most popular, earning almost 30 million hits when an uncensored version hit the Internet and winning an Emmy Award for Outstanding Original Music and Lyrics in 2007. Also that year, Taccone co-wrote and co-starred in his first feature film, "Hot Rod" (2007), originally written by Will Ferrell and Jimmy Miller, with the latter in mind as the lead. But when the project was abandoned, Lorne Michaels encouraged Andy Samberg to use it as his first starring vehicle. Taccone and the other members of Lonely Island rewrote the script, tailoring it to their own brand of goofy humor and adding their own characters into the plot, including the nerdy best friend of the clueless protagonist, which was played by Taccone himself. Akiva Shaeffer directed the film, which focused on a hapless would-be stuntman, Rod Kimble (Samberg), and his many failed attempts to become a successful daredevil. Despite the talent behind the movie, "Hot Rod" was a commercial flop upon its release, recouping a mere $5 million of its $25 million dollar budget. But the film did manage to earn a small cult following after its release on DVD in late 2008.
Since then, Taccone made a number of notable cameo performances, including in the feature "Role Models" (2008), the series "Wainy Days" (2007- ) and "Tim and Eric Awesome Show, Great Job!" (2007- ). Meanwhile, he continued to create "SNL Digital Shorts," including another wildly popular music video starring Natalie Portman, which featured the young actress as a gangsta rapper. In February 2009, Lonely Island released their first album, Incredibad, which featured the songs "Lazy Sunday," "Dick in a Box," "I'm on a Boat," and "Jizz in my Pants" from the "SNL Digital Shorts." Incredibad was a commercial and critical success, garnering a three star review from Rolling Stone magazine and selling 48,000 copies in its first week of release. It spawned four singles and peaked at No. 13 on the U.S. Billboard charts. On June 5, 2009, Taccone starred in his first major studio feature, "Land of the Lost," a $100 million action comedy based on the beloved 1970s Saturday morning series about a family trapped in an alternate universe populated by dinosaurs and an aggressive race of lizard people. Taccone played the almost human Cha-Ka, a monkey-boy hybrid that helps Ferrell's bumbling scientist and his family through the prehistoric land. The film proved to be an instant critical and commercial flop. The actor suffered another commercial failure with his directorial debut, "MacGruber" (2010), a widely panned feature adaptation of the "SNL" skit he created, starring Will Forte as a special operations agent prone to letting personal problems get in the way of his espionage work. To make up for it, Taccone received two more Emmy nominations in 2010 for his writing on "Saturday Night Live."