share:
Recent DVDs
Wake Island ... Nominated for four Academy Awards, this hard-hitting film was the first... more info $11.21was $14.98 Buy Now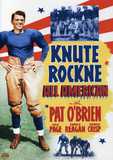 Knute Rockne... Pat O'Brien, Ronald Reagan. The charged biography of the famous Notre Dame... more info $14.95was $19.98 Buy Now
MEDIA:
WATCH MOVIE CLIPS
|
VIEW TRAILER
|
VIEW PHOTOS
|
WATCH A TCM PROMO
| | | | |
| --- | --- | --- | --- |
| Also Known As: | Mary Sue Thomas | Died: | |
| Born: | | Cause of Death: | |
| Birth Place: | | Profession: | Cast ... |
RATE AND COMMENT
BIOGRAPHY
A bubbly presence with a charmingly husky voice, actress Marlo Thomas, the daughter of beloved entertainer Danny Thomas, rose to fame in the late 1960s as the accident-prone Ann Marie on "That Girl" (ABC, 1966-1971). The series, which earned Thomas a Golden Globe, might have been the alpha and omega of her career, as it minted her in the role of hapless ingénue for years to follow. But Thomas turned to weightier topics in the 1970s, most notably women and children's rights, for which she helped to launch the Ms. Foundation for Women and produce the children's special "Free to Be. You and Me" (ABC, 1974), which endeared her to a generation of youngsters and parents. With the help and support of her famous talk show host husband Phil Donahue, Thomas later segued into producing for television while continuing her philanthropic pursuits through St. Jude's Children's Research Hospital. In doing so, Thomas became one of the leading socially conscious figures in the entertainment industry.
Born Margaret Julia Thomas in Detroit, MI on Nov. 21, 1937, she was the eldest of three children born to television comedy legend Danny Thomas and his wife, Rose Marie Cassaniti. Her unusual first name was a childhood mispronunciation of "Margo," which was the name by which her parents addressed her. Thomas was raised primarily in Beverly Hills and largely avoided any contact with show business until after graduating from the University of Southern California with a degree in education. However, by 1960, the 23-year-old Thomas was making guest appearances on episodic television shows, including a 1961 appearance on her father's iconic sitcom, "The Danny Thomas Show" (ABC/CBS, 1953-1965). She earned her first series regular role on "The Joey Bishop Show" (NBC/CBS, 1961-65) as Bishop's star-struck sister, Stella.
Several more years of guest roles followed before she earned her star-making vehicle with "That Girl." A breezy, fizzy comedy about Ann Marie Thomas, an aspiring small-town actress who moved to New York to pursue her dream, the series was created by Sam Denoff and Bill Persky, former head writers for "The Dick Van Dyke Show" (CBS, 1961-66) and associates of her father. Though proto-feminists were appalled by Ann Marie's scatterbrained behavior and reliance on boyfriend Donald (Ted Bessell) for support, the show was a hit with viewers, and earned Thomas a Golden Globe in its debut season, as well as four Emmy nominations.
When "That Girl" was yanked from the airwaves in 1971, Thomas faced the same challenge as performers like Sally Field and Elizabeth Montgomery when they left their long-term television roles. Viewers could not see Thomas as anything but Ann Marie, despite her best efforts with films like "Jenny" (1970), in which she starred as an unwed mother, and "Thieves" (1977), with Thomas and Charles Grodin as lovers who experiment with singledom. Thomas had previously appeared in the eponymous play by Herb Gardner in 1974, but it, like most of her early, post-"That Girl" efforts, were met with indifference.
Faced with the downward turn of her acting career, Thomas channeled her energies into supporting women's rights and children's education. In 1973, she teamed with Gloria Steinem, Letty Cottin Pogrebin and Patricia Carbine to found The Ms. Foundation for Women, which helped provide resources to organizations focused women's equality issues, as well as race and class. Among its earliest initiatives was the 1973 multimedia project "Free to Be.You and Me." Inspired by Thomas' desire to help her niece Dionne break established gender stereotypes in children's books and programming, she teamed with a wide variety of popular entertainers, including Michael Jackson, Alan Alda, Harry Belafonte, Mel Brooks and Cicely Tyson to record an album that addressed such issues as whether crying was appropriate for boys or whether girls could be athletic. The Grammy-winning album, released in 1972, was a touchstone for many parents and children of the decade, as was a television special of the same name, produced by and starring Thomas, which aired on ABC in 1974 and earned Thomas an Emmy for Oustanding Children's Special. A sequel, "Free to Be. A Family," aired on ABC in 1988 and repeated the Emmy success.
Thomas's acting career eventually rebounded in the 1970s with several high-profile projects, including "It Happened One Christmas" (NBC, 1977), a remake of "It's a Wonderful Life" (1946) with Thomas in the Jimmy Stewart role, and "The Lost Honor of Kathryn Beck" (CBS, 1984), which featured Thomas as a woman who comes under police scrutiny for her romantic involvement with a political radical (Kris Kristofferson). Thomas also produced both features, as well as the moving "Consenting Adult" (ABC, 1985), with Thomas and Martin Sheen as diametrically opposed parents of a young gay teen, and "Nobody's Child" (CBS, 1986), with Thomas earning her third Emmy as a mentally ill woman who emerged from a lifetime of incarceration in hospitals to rehabilitate herself.
Thomas continued to divide her time between acting and producing throughout the 1980s and 1990s. Most of her efforts were for the small screen, including memorable turns as Jennifer Anniston's mother on "Friends" (NBC, 1994-2004) and mentor to ADA Casey Novak (Diane Neal) on "Law and Order: Special Victims Unit" (NBC, 1999- ) She also remained an active presence on stage, most notably in the Drama Desk Award-winning "Social Security" in 1986 and the 1993 touring production of "Six Degrees of Separation." She assumed the role of national outreach director for St. Jude's Children's Research Hospital, the leading pediatric treatment facility for children's catastrophic diseases, which her father founded in 1962. Along with her husband, television personality Phil Donahue, she helped to raise funds through a variety of corporate partners, as well as through "Thanks and Giving," a national campaign that helped raise funds for the hospital through special holiday purposes. Thomas created the program in 2004 with her brother, television producer Tony Thomas, and her sister, Terre.