share:
Recent DVDs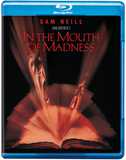 In the Mouth... A best-selling author's newest novel is literally driving readers insane. When... more info $15.95was $19.98 Buy Now
MEDIA:
WATCH MOVIE CLIPS
|
VIEW TRAILER
|
VIEW PHOTOS
|
WATCH A TCM PROMO
| | | | |
| --- | --- | --- | --- |
| Also Known As: | | Died: | |
| Born: | | Cause of Death: | |
| Birth Place: | | Profession: | Cast ... |
RATE AND COMMENT
BIOGRAPHY
Having emerged from his native Italy as one of that country's most revered directors, Franco Zeffirelli's distinctive career reflected his reverence for the classics of music and literature. Nearly all his films were lavish adaptations that utilized lush locations, extravagant sets and sumptuous costumes, which he first put on display in his contemporary-minded rendition of William Shakespeare's "The Taming of the Shrew" (1967). He vaulted onto the international stage with another adaptation of the Bard's work, "Romeo and Juliet" (1968), which featured inspired casting and a modern thematic take that helped it become a box office smash. After struggling a bit in the next decade, Zeffirelli delivered a stunning and rather reverent examination of "Jesus of Nazareth" (NBC, 1977), and on the big screen directed a remake of the 1931 Jackie Cooper movie, "The Champ" (1979). In the following decade, Zeffirelli focused much of his attention on opera, directing "La Bohème" (1982) and "Don Giovanni" for the stage, and "La Traviata" (1983) for the screen. He went on to turn action star Mel Gibson into a bona fide thespian in his shortened adaptation of "Hamlet" (1990), before tapping into his own life to direct the semi-autobiographical "Tea with Mussolini" (1999), which earned the highest praise of his career. Though his films were filled with detail that sometimes tended to overwhelm, Zeffielli nonetheless remained a daring filmmaker unafraid to pursue risky projects in an otherwise predictable commercial market.
Born on Feb. 12, 1923 in Florence, Italy, Zeffirelli was the illegitimate son of a clothing merchant, Ottorino Corsi, and his mistress, Adelaide Garosi, a dressmaker. After his mother died when he was six years old, he went to live with a group of elderly British expatriates called the Scorpioni, who later served as inspiration for his semiautobiographical "Tea with Mussolini" (1999). When he was older, Zeffirelli attended the Accademi di Belle Arti in Florence and later studied architecture at the University of Florence. But after seeing Laurence Olivier's film of "Henry V" (1945), Zeffirelli decided it was the stage which truly ignited him. That same year, he began his career as a theatrical set designer, working as an assistant to a scenic painter in the Teatro della Pergola in Florence. It was here that he met his mentor, Luchino Visconti, who hired him as an assistant director on "La Terra Trema" (1948). Visconti's influence over Zeffirelli was profound, especially in their passionate attention to detail.
Although Zeffirelli would work with Visconti on two other films, "Bellissima" (1951) and "Senso" (1954), he spent much of the 1950s and 1960s immersed in the theater, designing costumes and sets and directing a variety of productions - from Tennessee Williams to Shakespeare, as well as guiding opera diva Maria Callas through some of her greatest performances. Though he made his feature directing debut with 1957's "Camping," Zeffirelli caught the attention of the international film world in the following decade with "The Taming of the Shrew" (1967). Starring Richard Burton and Elizabeth Taylor, Zeffirelli's take on the Bard's play maintained a delicate equilibrium between his two stars, while remaining true to the spirit of the original play, though the ending was changed slightly to suit modern audiences. In November 1966, while editing "The Taming of the Shrew," Zeffirelli heard of widespread destruction caused by flooding in his native Florence. He hastily assembled a film crew and shot a documentary for Italian television depicting the devastation called "Florence: Days of Destruction" (1966), which featured Richard Burton doing narration. The film helped raise over $20 million toward the restoration of the city and its valuable works of art.
Zeffirelli staked his legacy on his next film, "Romeo and Juliet" (1968), an international hit that went on to earn Academy Award nominations for Best Director and Best Picture. In a bit of inspired casting, Zeffirelli chose two teenage actors, Olivia Hussey and Leonard Whiting, to play the leads, while his version of Shakespeare's famous tragedy was consonant with the 1960s and even included a nude love scene. A box office smash, "Romeo and Juliet" won Oscars for cinematography and costume design, but more importantly, elevated Zeffirelli's career to grand new heights. Post-"Romeo," however, his films themselves failed to realize the same widespread popularity. He next directed "Brother Sun, Sister Moon" (1973), which focused on the life of St. Francis of Assisi (Graham Faulkner) and was a box office failure, although a later resurgence of interest elevated the film to cult status. Zeffirelli went on to direct the epic miniseries, "Jesus of Nazareth" (NBC, 1977), a reverent and rather beautiful retelling of the biblical tale that starred Robert Powell as the titular savior and exhibited the director's masterful ability to direct spectacle while intelligently rendering a sensitive subject.
Zeffirelli next directed Jon Voight, Faye Dunaway and Ricky Schroder in his first feature role in "The Champ" (1979), a remake of the 1931 Jackie Cooper picture about an ex-boxing champion struggling to make a comeback while fighting to keep custody of his son. He followed up with the moderate box office hit, "Endless Love" (1981), which starred Brooke Shields and Martin Hewitt as two teenagers whose obsessive romance leads to tragedy. Though successful, the film became notable for two things: the uproar over a teenage Shields in yet another lovemaking scene, and for the title tune sung by Lionel Richie and Diana Ross, which reached No. 1 on the Billboard charts. After directing "La Bohème" (1982) with the Metropolitan Opera in New York, Zeffirelli helmed "La Traviata" (1983), an extraordinary film where he deconstructed the images of the famed opera while eloquently sustaining the melody. Applying the same techniques to his next cinematic opera, "Otello" (1986), however, failed to produce the same results. Sticking with Shakespeare, Zeffirelli put action star Mel Gibson though the paces in a truncated version of "Hamlet" (1990), which earned critical praise for both actor and director.
Increasingly moving away from film in favor of the stage, Zeffirelli staged Mozart's "Don Giovanni" with the Metropolitan Opera, before directing Luciano Pavarotti and Daniela Dessi in a production of Verdi's "Don Carlo." After returning to Italy to direct "Sparrow" (1993) in his native tongue, he directed an English-language adaptation of Charlotte Brontë's "Jane Eyre" (1996), starring Charlotte Gainsbourg and Anna Paquin. Zeffirelli had his greatest critical triumph late in his career with his semi-autobiographical drama "Tea with Mussolini" (1999), which focused on a young boy after being given up by his parents and cared for by an eccentric group of aristocratic English women whose lives change when World War II breaks out. Starring an all-star cast that included Cher, Maggie Smith, Judy Dench and Lily Tomlin, "Tea with Mussolini" won rave reviews and earned a number of award nominations, including two nods at the 2000 BAFTA Awards. Zeffirelli followed up with "Callas Forever" (2002), a biographical drama detailing the life of his friend, opera legend Maria Callas (Fanny Ardant). Once again earning critical kudos, Zeffirelli nonetheless stepped away from the camera for a spell.