share:
Recent DVDs
The Woods ... Gothic chills abound in the thriller The Woods directed by Lucky McKee (May)... more info $18.95was $29.95 Buy Now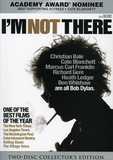 I'm Not There ... Todd Haynes (VELVET GOLDMINE, FAR FROM HEAVEN) delivers this dazzling,... more info $9.95was $14.93 Buy Now
MEDIA:
WATCH MOVIE CLIPS
|
VIEW TRAILER
|
VIEW PHOTOS
|
WATCH A TCM PROMO
| | | | |
| --- | --- | --- | --- |
| Also Known As: | | Died: | |
| Born: | | Cause of Death: | |
| Birth Place: | | Profession: | Cast ... |
RATE AND COMMENT
BIOGRAPHY
Both blessed and cursed as "the baby Bee Gee," Andy Gibb scored minor success as an Australian act before achieving global superstardom with 1977's Flowing Rivers, which included the No. 1 hits, "I Just Want to Be Your Everything" and "(Love is) Thicker Than Water." One of the biggest teen heartthrobs of the late-1970s, Gibb followed up with 1978's Shadow Dancing, whose title track also went to No 1. Nominated for two Grammys, Gibb earned additional Top Ten hits with "An Everlasting Love" and "(Our Love) Don't Throw It All Away." By the dawn of the new decade, the disappointing After Dark (1980) and Gibb's increasing cocaine addiction ended his chart dominance, and he began a downward spiral that destroyed his much publicized romance with actress Victoria Principal as well as his co-hosting job on "Solid Gold" (syndicated, 1980-88). Although he began touring again after a stint in the Betty Ford Clinic and landed a European record contract, he died five days after his 30th birthday on March 10, 1988 of myocarditis, caused by a recent viral infection and longtime drug-related damage. Immensely charismatic but never quite able to escape the huge professional shadow cast by his famous brothers, Gibb radiated a vulnerable charm that made his young death that more tragic. Although his chart reign proved all too brief, Andy Gibb achieved pop cultural immortality not just in the hearts of a certain generation who grew up idolizing him, but with a string of gorgeously evergreen singles.
Born March 5, 1958 in Manchester, England to bandleader Hugh Gibb and singer Barbara (née Pass), Andrew Roy Gibb was the younger brother of Barry and fraternal twins Maurice and Robin, who would collectively achieve stardom as The Bee Gees. He also had an older sister, Lesley. Gibb spent most of his carefree youth with his family in Australia, but he returned to the United Kingdom once his brothers' music career took off in the late-1960s. Given the double-edged sword of his family connection, Gibb was simultaneously blessed with unparalleled access to the music industry, but also cursed with the increasingly powerful shadow cast by The Bee Gees. He formed the musical group Melody Fayre, named after a Bee Gees song, and began playing local gigs. Nothing much came of the band or his first unreleased recording, "My Father Was a Reb," written by brother Maurice, so he took his brother Barry's advice to move back to Australia and begin his career there. Gibb began recording some of his own songs Down Under, but he did not have his brothers' discipline and the sessions lacked focus.
Despite Gibb's slapdash work ethic, he possessed considerable charisma and talent, and his easygoing approach actually paid off when he notched a minor Australian hit with "Words and Music" in 1976. Buoyed by his success, he joined the band Zenta and gained valuable touring experience throughout Australia, supporting bands Sweet and the Bay City Rollers. Proving that he was a star in his own right, Gibb signed with his brothers' famous manager Robert Stigwood that year and moved to Florida to begin work on his first album. Flowing Rivers (1977) featured songs written or co-written by Gibb, including the gorgeous "I Just Want to Be Your Everything." Thoroughly irresistible, the song launched Gibb to solo stardom, hitting No. 1 in the U.S. and Australia and ultimately becoming the most played record of the year. He followed up with another No. 1 smash, "(Love is) Thicker Than Water," which achieved the impossible - knocking his megastar brothers' "Stayin' Alive" off the top of the charts.
Although they took their revenge by replacing him with their own "Night Fever," the Gibb brothers' dominance over the musical and pop cultural landscape was unprecedented and shone an especially bright spotlight on the youngest of the bunch. While he enjoyed a subsequent career boost by association, it proved a difficult burden to carry on his solo shoulders, whereas his brothers had one another to lean on. One of the biggest teen heartthrobs of the era, Gibb scored another smash with his second album, 1978's Shadow Dancing, with the title track becoming yet another No. 1 hit, making Gibb the first male solo artist to chart three consecutive No. 1 singles on the Billboard Hot 100. Nominated for two Grammys, including Best New Artist, he scored two more Top Ten singles: "An Everlasting Love" and "(Our Love) Don't Throw It All Away" and notched a globally broadcast performance alongside The Bee Gees, ABBA and Olivia Newton-John at the Music for UNICEF Concert at the United Nations General Assembly.
Unfortunately, Gibb's upward momentum began to falter, and his final full studio album, 1980's After Dark, spun off only two hits: the Top Ten "Desire" and "I Can't Help It," a duet with Newton-John. The album's poor performance as well as Gibb's increasing cocaine addiction resulted in him being dropped by his label and management. As a formality, Andy Gibb's Greatest Hits was ignominiously released to complete the contract. By all accounts an immensely warm and endearingly vulnerable performer, Gibb faced the immense pressure of being viewed as the "Baby Bee Gee" who owed his massive success to nepotism. Accordingly, the insecure young man continued his descent into drug addiction. Although he landed a critically acclaimed part in the stage production of "The Pirates of Penzance" and the lead role in the Broadway run of "Joseph and the Amazing Technicolor Dreamcoat," as well as the co-hosting slot of "Solid Gold" (syndicated, 1980-88), his erratic behavior and frequent absenteeism caused him to get fired from all three jobs.
Even more devastating for him was the demise of his relationship with "Dallas" (CBS, 1978-1991) star Victoria Principal. Although Gibb had been married once before to teenage sweetheart Kim Reeder back in Australia - resulting in a daughter, Peta - his relationship with Principal seemed to be on a completely different and very public level, with the two even dueting on a cover of "All I Have to Do is Dream" that became his last official single, peaking at No. 51 in the United States. With an almost 10-year age difference between them, the high-profile union was the relationship du jour and a bit of a scandalous one at that, since a woman dating a younger man was not a common occurrence at that time. Despite an intense year-long romance, Principal and Gibb broke up after she gave him an ultimatum: her or the drugs. The breakup destroyed Gibb, who went off the rails, falling even deeper into cocaine and alcohol abuse.
After his family convinced him to go to the Betty Ford Clinic in the mid-1980s, Gibb resurfaced professionally, putting together an international tour, as well as booking guest spots on sitcoms like "Punky Brewster" (NBC, 1984-86; syndicated, 1987-88) and "Gimme a Break!" (NBC, 1981-87). Unfortunately, he was forced to declare bankruptcy in 1987 - a move that devastated the fallen star when it went public. To his utter discontent, he would eventually be supported by his brothers financially. Giving him a modest allowance, they put him up in a Miami condo near the family enclave. With their continued help, he also landed a European music contract and began recording again, including the final song he would ever record, "Arrow Through the Heart," which contained the eerily prophetic line "I'm too young to die." Staying on brother Robin's English estate in Thames to begin his creative process, Gibb was overwhelmed with panic and feelings of inadequacy as he attempted to write songs for the comeback album. Instead, he fell off the wagon by drinking himself into a stupor during his brief stay, causing his mother to fly to his side. Barry and Maurice staged phone interventions, playing the tough love card with their troubled sibling. Five days after his 30th birthday, after being hospitalized for chest pains, Andy Gibb died on March 10, 1988 of myocarditis caused by a recent viral infection. His longtime drug use, while not the cause of death, no doubt did great harm over the years to his already weak heart.
Tabloids immediately jumped on Gibb's past drug abuse, proclaiming it a massive overdose before a coroner's report was even issued. His family was shattered. Father Hugh never fully recovered, dying three years later on his youngest son's birthday. Although his time atop the charts was brief, Gibb's legacy proved long lasting, and the subsequent album by The Bee Gees, 1989's One, featured "Wish You Were Here," a song dedicated to him. Although he owed much of his success to the influence and aid of his famous brothers, Andy Gibb managed to carve out his own piece of pop cultural immortality - not simply as a cautionary tale of "too much, too soon," but more importantly, as a velvet-smooth vocalist whose timeless songs would ultimately transcend the disco era.
By Jonathan Riggs