DVDs from TCM Shop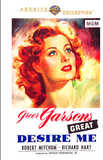 Desire Me A war widow falls in love with... MORE&nbsp> $17.56 Regularly $21.99 Buy Now
NOTES
DVDs from TCM Shop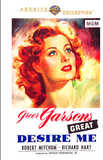 Desire Me A war widow falls in love with... MORE&nbsp> $17.56
Regularly $21.99 buy now
Working titles for this film were A Woman of My Own, Great Temptation, The Intruder, Sacred and Profane, Beloved Stranger, As You Desire Me and Carl and Anna. The film had no director's credit, and is often cited in modern sources as the first major Hollywood film to be released without one. According to Hollywood Reporter news items and production charts, George Cukor was the film's first director. The Variety review notes that Cukor directed most of the film, and that Mervyn LeRoy "finished it." On June 5, 1946, according to Hollywood Reporter, Cukor collapsed on the set and was rushed home to recover from the flu. Director Victor Saville substituted for Cukor until June 27, 1946, when Cukor resumed direction. Modern sources indicate that Jack Conway directed portions of the film, but a Robert Mitchum biography quotes the actor as having no recollection of the director working on the film. Contemporary news items quote the following about early production: In early April 1946 actor Robert Montgomery walked off the production after three weeks of work because of a "difference of opinion" he had with Cukor over the interpretation of the role. Montgomery was replaced by Richard Hart, a stage actor who made his screen debut in the film.
Drafts in the M-G-M script collection at USC's Cinema-Television Library indicate that Sonya Levien and Zo Akins reworked Casey Robinson's original adaptation into the screenplay used for initial production from March through August 1946. MPAA/PCA files at the AMPAS Library note a certificate was issued for a completed film in September 1946. Contemporary news items indicate additional retakes with Garson and Mitchum were scheduled to follow Mitchum's completion of his work on the Warner Bros. film Pursued (see below), which ended in late October 1946. A modern source quotes Mervyn LeRoy as saying that a December 1946 test preview of the film were "disastrous." According to his biography, Mitchum and many attendees of the December 1946 preview left the theatre after watching the first reel. The M-G-M script collection indicates Marguerite Roberts began working on rewrites in early 1947 and reshooting commenced shortly thereafter. PCA files indicate reshooting continued through July 1947. A PCA memo, dated July 29, 1947, from Geoffrey Shurlock notes "Since our review of this picture on September 9, 1946...the studio has remade eighty percent of it." Levien never received credit for her contribution and modern sources indicate Roberts tried to have her name removed from the released film. Cukor, as quoted in a modern source, stated that the "script didn't really make sense, and when it was finished I was just removed from the picture, and another director reshot a good deal of it with the understanding that his name wouldn't appear on the credits. Since very little of the final footage is mine, I wouldn't allow my name to be on the picture either."
The CBCS lists actors Florence Bates, Max Willenz and Clinton Sundberg in principal roles, but these characters were dropped in the Roberts rewrite and did not appear in the final film. Various contemporary news items note the following additional information about the production: The film's French fishing village set was constructed on the M-G-M lot, and included thirty-five buildings and a 200 square foot harbor with twelve fishing boats. In addition to the backlot set, M-G-M built a duplicate fishing village near Monterey, CA. Two hundred soldiers from Fort Ord, near Monterey, were used in the film. According to an article in Los Angeles Times, while filming in Carmel, CA, actress Greer Garson nearly drowned in the ocean and was rescued by a fishing skipper named Vincent Sollecito. M-G-M rewarded Sollecito for his heroic act by casting him in a bit role.
A stage adaption of Frank's novel, entitled Karl and Anna, opened at the Guild Theater in New York on October 7, 1929. The play was directed by Philip Mueller and starred Otto Kruger, Alice Brady and Claude Rains. Other films based on Leonhard Frank's novel are the 1928 German film Heimkehr, directed by Joe May and starring Lars Hanson and Dita Parlo, and a 1941 German film also entitled Heimkehr.