DVDs from TCM Shop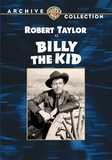 Billy the Kid A misunderstood youngster... MORE&nbsp> $14.36 Regularly $17.99 Buy Now
NOTES
The opening title card reads, "Metro-Goldwyn-Mayer presents Robert Taylor as Billy the Kid," but the end credits list Taylor's role as "William Bonney." A written opening prologue introduces "...a young outlaw who lived his violent hour in defiance of an advancing civilization. His name has gone down in legend as 'Billy the Kid.'" A written epilogue reads: "Thus the ways of law came to the last frontier, the last of the men of violence found his peace."
When Billy the Kid began filming in mid-December 1940, Frank Borzage was the director and his brother Lew was the assistant director. According to Hollywood Reporter production charts and news items, Borzage directed portions of the film that were shot on location in Tucson and Flagstaff, AZ. A Hollywood Reporter news item on January 13, 1941 reported that Borzage was being taken off the production and reassigned to a Joan Crawford project entitled Bombay Nights. [That project was never made]. At that time, David Miller was assigned to direct Billy the Kid. The news item also notes that all of the remaining scenes were to be shot on M-G-M's Culver City lot.
Later news items, feature articles and production charts confirm that additional location shooting took place in Monument Valley, AZ, in late January and early February 1941, that the production concluded in late Mar, but that some additional scenes and retakes were needed in mid-Apr, all directed by Miller with Al Shenberg acting as assistant director. A New York Times article about the production noted that veteran M-G-M director Norman Taurog acted as a "supervisor" for Miller during some of the production because it was Miller's first feature. New York Times also noted that the town of Lincoln, NM, was reproduced on M-G-M's backlot. According to a March 11, 1941 Hollywood Reporter news item, the production was the longest on M-G-M's lot since Gone With the Wind [which was only partially shot at M-G-M] following Miller's replacement of Borzage.
Another news item noted that Maureen O'Sullivan, who had previously co-starred with Taylor in two 1938 films, The Crowd Roars and A Yank at Oxford (see AFI Catalog of Feature Films, 1931-40; F3.0893 and F3.5522) was initially cast in the role of "Edith Keating," but left the production to go to Canada to join her husband, director John Farrow, who was in the RCAF. Although Sullivan's name appears in the first Hollywood Reporter production chart for the film, on December 13, 1940, it is probable that she left the production prior to the start of shooting. Actress Connie Gilchrist is credited in early M-G-M press releases and the CBCS in the role of "Mildred," but neither she nor the character were in the viewed print or mentioned in reviews, and it is likely that the role was cut from the final film. Lon Chaney, Jr., who had recently been put under contract to Universal, was borrowed by M-G-M for the picture. Cinematographers William V. Skall and Leonard Smith earned an Academy Award nomination for their work on the film.
The real "Billy the Kid," who was born Henry McCarty in New York City on November 28, 1859, changed his name to William Antrim when his widowed mother remarried. Traveling West at an early age, he assumed the name William H. Bonney and soon earned a reputation as a "fast gun" and killer, known as "Billy the Kid." He was killed on July 14, 1881 in Lincoln County, NM by Sheriff Pat Garrett. Although modern historical sources, including a March 30, 1941 New York Times acticle, indicates that the real outlaw did work for an English-born rancher, named Tunstall, who was killed by a rival, historical documentation on the gunfighter indicates that the film was inspired by legend rather than reality, as all of the characters in the film are fictional except Billy, and few documented facts are included.
One aspect of the real Billy that has been disputed among historians is whether or not he was right or left-handed. In the film, Taylor, who was himself right-handed, portrays the character as a left-handed gunman. The fact that Billy May have been left-handed is supported by a well-known tintype photograph that shows him holding a gun in his left hand. According to Western historians, among them noted silent-film star William S. Hart, who are quoted in a August 4, 1941 Life magazine article on the film, the "left-handed" Billy photograph was made from a reversed negative. This fact is supported by physical evidence on the gun itself, which is in the collection of the Gene Autry Western Heritage Museum in Los Angeles, CA. The issue of whether Billy was left-or right-handed is important to the M-G-M film because during the climactic shootout between Billy and his friend, "Jim Sherwood," Sherwood (portrayed by Brian Donlevy) outdraws the faster Billy because Billy deliberately switches the gun to his slower right hand, indicating that he chose his own death rather than kill his friend. Billy the Kid has been portrayed as both left-and right-handed in the numerous films in which he has been a featured character. The Howard Hughes production of The Outlaw, that was shot almost simultaneous to the M-G-M, but not distributed nationally until 1946, featured a right-handed Billy (see below).
Among the many other films that featured Billy the Kid were, the 1930 M-G-M feature Billy the Kid, directed by King Vidor and starring Johnny Mack Brown and Wallace Beery (see AFI Catalog of Feature Films, 1921-30; F2.0419), the 1958 Warner Bros. film The Left-Handed Gun, directed by Arthur Penn and starring Paul Newman, M-G-M's 1973 film Pat Garrett and Billy the Kid, directed by Sam Peckinpah, and starring James Coburn and Kris Kristofferson, and a series of eighteen PRC released features that begin with Billy the Kid Outlawed in 1940 (see AFI Catalog of Feature Films, 1931-40; F3.0341) directed by Peter Stewart and starring Bob Steele, who relinquished the title role to Buster Crabbe in 1941. The Aaron Copeland ballet Billy the Kid, first performed in 1939, was also inspired by the life of the outlaw, as have been countless television programs.