DVDs from TCM Shop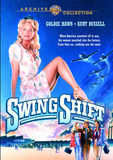 Swing Shift During World War II, a women... MORE&nbsp> $14.36 Regularly $17.99 Buy Now
Home Video Reviews
At the time of its green-lighting in the early '80s, the Goldie Hawn vehicle
Swing Shift
(1984) bore plenty of promise. A young director on the rise - Jonathan Demme - was chosen to helm a nostalgic exploration of the influx of women into America's manual labor force while their men were in the trenches of World War II. The end product, which has recently made its bow on DVD courtesy of Warner Home Entertainment, went through a mill of backlot intrigue, with the final cut taken from Demme's hands. After twenty years, the film still plays pretty much the same; a middling entertainment, with some nice performances from its principal players, that could have been much more.
The film's scenario, credited to the fictitious "Rob Morton," was originally crafted by Nancy Dowd, and tweaked in succession by Bo Goldman, Rob Nyswaner, and Robert Towne. Hawn is cast as Kay Walsh, a pliant young Santa Monica housewife with little else in her life but tending to her husband Jack (Ed Harris). After the Japanese attack Pearl Harbor, Jack enlists in the Navy, and Kay is soon bored waiting at home for his pay envelope. Inspired by a movie newsreel, she signs up for assembly work at a local aircraft plant, joining a long line of similarly situated servicemen's wives.
In spite of the patronizing attitude of the company's remaining male populace, Kay and her peers pick up the skills necessary to perform. Kay also handles the daunting task of bonding with her brassy co-worker and neighbor Hazel Zanussi (Christine Lahti), a struggling nightclub singer who Jack had always snubbed. Her work ethic and other attributes don't go unnoticed by shift leadman Lucky Lockhart (Kurt Russell), a 4F draft reject who moonlights as a jazz trumpeter. Kay struggles with her fidelity to Jack in the face of Lucky's attentions, and it's a war that she ultimately loses. The war years breeze by, with Hazel pretending to be Lucky's girlfriend for the neighbors' benefit, but the consequences are felt when Jack gets an unannounced leave home.
Dissatisfied with Demme's original edit, producer/star Hawn oversaw the final cut. Depending upon whom you ask, she did so in an effort either to make Kay seem more sympathetic, or to keep Lahti (who got an Oscar® nomination) from walking away with the picture. In the form in which it surfaced for the public,
Swing Shift
isn't without its virtues. Cinematographer Tak Fujimoto and the production design team gave the enterprise a crisp period look, and the central players, particularly Lahti, offer creditable performances. But even though the film had been reworked, the viewer isn't given a lot of reason to care for the characters. Kay's co-workers, who include a young Holly Hunter, don't become anything more than stock figures. The script tries to establish Kay as the textbook Hawn heroine who gets the audience on her side as she gains empowerment, but the character's betrayal of a husband whose biggest sin against her was paternalism works at cross-purposes.
The reviews and returns from
Swing Shift
's theatrical run were nothing special, but all involved rebounded well; Hawn and Russell still maintain the housekeeping that started on the set, an eternity by Hollywood's standard. Demme, of course, has gone on to better things, and has put the experience well in the rearview mirror. In the late '80s, a bootleg video of Demme's cut had reportedly been in circulation; now
that
would have been an extra for DVD release.
Unsurprisingly, insofar as supplemental materials go, the DVD of
Swing Shift
only offers the theatrical trailer. (If you don't like it,
you
get the principals in one room for the full-length commentary.) Warners provided a sharp mastering job in the original 1.85:1 aspect ratio.
For more information about
Swing Shift
, visit
Warner Video
. To order
Swing Shift
, go to
TCM Shopping
.
by Jay S. Steinberg