DVDs from TCM Shop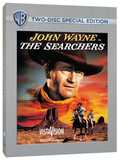 The Searchers An Indian-hating Civil War... MORE&nbsp> $10.95 Regularly $14.98 Buy Now blu-ray
Home Video Reviews
John Ford's
The Searchers
is one of the all-time great quest movies. The best of the director's many movies with John Wayne, about the years-long search to find a white girl abducted by Comanches, it's also one of the most influential movies ever made. In the 1970s, the 1956 release held a particular sway over the new generation of moviemakers, plot elements from it figuring heavily in Martin Scorsese's
Taxi Driver
,
Taxi Driver
writer Paul Schrader's subsequent
Hardcore
and George Lucas' cheesy little space opera,
Star Wars
. All three are about attempts to rescue a young woman, while in
Star Wars
you can even match Harrison Ford's Han Solo to Wayne's dangerous Ethan Edwards and Mark Hamill's Luke Skywalker to Jeffrey Hunter's younger, less worldly Martin Pawley. But it wasn't only younger moviemakers borrowing from or paying homage to
The Searchers
back then. Just check out the final shot of Robert Aldrich's
The Longest Yard
(1974), a tribute to the famous closing image of Ford's movie.
If you're reading this review, chances are you already know how outstanding
The Searchers
is. The movie is regularly revived on cable movie channels, and it's never been hard to find on VHS or DVD. The movie has been
so
mythologized that, frankly, it's hard to get excited about it anymore (although it's the best of Ford and Wayne's films together, it might not even be either's best western; personally, I find Ford's
My Darling Clementine
and Wayne's earlier Howard Hawks' western,
Red River
, at least as mighty as
The Searchers
). The real question is whether the new 50th anniversary DVDs, in which the movie looks incredibly vivid, are worth shelling out for. There are two such new releases: a
Two-Disc Anniversary Edition
and an
Ultimate Collector's Edition
. Since everything that's on the first is on the second, these two share a lot of features.
As with many two-disc special edition releases, there's a fair amount of overkill in action here. I guess the pertinent question in that regard is: How much John Milius can you take? Milius has always been the poor stepchild of sorts in the 1970s American New Wave, friend and associate of folks like Steven Spielberg and Francis Ford Coppola, who've made interesting movies, yet with a much less remarkable body of work himself (after showing potential with
Dillinger
and
Big Wednesday
, he made silly macho fluff like
Conan the Barbarian
and
Farewell to the King
and hasn't had a theatrical release in 15 years). I've always found a creepy element to
The Searchers
cult in its fetishization by kids of the 1940s who saw it when they were pre-teens and haven't been the same since (
Lawrence of Arabia
comes with a similarly creepy sub-cult). Milius most embodies that fetishized gushing over
The Searchers
, and he's in both half-hour documentaries on the new DVDs,
The Searchers: An Appreciation
and
A Turning of the Earth: John Ford, John Wayne and The Searchers
.
The first documentary features Milius, Martin Scorsese and Curtis Hanson (
L.A. Confidential
,
Wonder Boys
) separately talking about seeing the movie as a boy, tapping into the unexpectedly dark elements in Ford's drama and Wayne's character, revisiting it as an adult and charting its influence on his own work. All have insightful comments to make, though I'm wondering how many viewers will ask themselves who the "other guy" (Milius) is with the two famous directors. He simply doesn't carry the same credibility as Scorsese and Hanson. The second, carried over from
The Searchers
laserdisc, is a rather artsy making-of featurette that makes great use of behind-the-scenes footage, though my first reaction to its conspicuously "messy," jump-cut style was, "Looks like someone got a digital editing deck for Christmas!" Milius is one of many who contribute voice-overs to the impressionistic documentary though, being the only one who isn't actually in the movie or a relative of John Ford, he again seems out of place.
Sharing the second disc with these documentaries, and previously available on the earlier
The Searchers
DVD, are four segments from the 1955-1956
Warner Brothers Presents
TV series. These ludicrous segments are more canned than an episode of
Entertainment Tonight
, with host Gig Young sitting in a jeep in a studio in front of a huge photo of Monument Valley in one and telling us he's on the set of
The Searchers
. Not quite, Gig. There's not a word in these segments, including interviews with Jeffrey Hunter and Natalie Wood, that isn't totally scripted.
New to the movie disc on these two
The Searchers
releases is an audio commentary by Peter Bogdanovich. Like Hanson and Scorsese, he's among the more perceptive of his generation of moviemakers, and he covers many of the pertinent topics handled in the documentaries, too: how Ford saved close-ups for special occasions, and because of the extra-large negative of the VistaVision process, he could show facial expressions clearly in medium shots; the rich character of Ethan Edwards, the protective, racist loner who embodies the best and worst in the American frontier; the use of the Ford "stock company" of players; the beautiful setting of Utah's Monument Valley.
The overlap among these extras might have been avoided by gathering some combination of Bogdanovich, Scorsese and Hanson together for a group audio commentary that might have been greater than the sum of their individual recollections and observations, but that of course would have involved a lot of tricky scheduling. Condensing the extras also would have knocked the re-releases back down to a single disc, and being a double-disc is one of their marketing hooks here (OK, then, how about getting Bogdanovich's own 1971 documentary,
Directed by John Ford
?). Both re-releases also include an introduction by Wayne's son, Patrick (who plays the flustered young cavalry soldier in the movie), though it's likely something you'd only want to watch once.
What do you get for the additional $10 that the
Ultimate Collector's Edition
costs? The best thing is definitely the small reproduction of
The Searchers
comic book tie-in... complete with all the most troubling elements of Ethan's character conveniently omitted! Here, there's no chance Comanche-hating Ethan will shoot kidnapped Debby, now that she's a teenaged wife of ruthless chief Scar, because it's never even mentioned. Still, it's fun to see the plot of the movie rendered in comic book form.
Ultimate Collector's Edition
buyers also get a small reproduction of the movie's pressbook (mostly lots of ad slicks), 10 black and white 5 X 7 behind-the-scenes photo cards and similarly-sized repros of a couple of production memos. There's also a poster send-in offer.
So the choice is yours. Those buying the seven-movie
John Wayne-John Ford Film Collection
get the
Ultimate Collector's Edition
, and the entire set costs only about $25-30 more than that version of
The Searchers
on its own. Start saving up, pilgrim.
For more information about
The Searchers
, visit visit
Warner Video
. To order
The Searchers
, go to
TCM Shopping
.
by Paul Sherman