DVDs from TCM Shop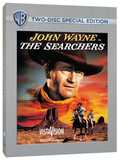 The Searchers An Indian-hating Civil War... MORE&nbsp> $10.95 Regularly $14.98 Buy Now blu-ray
Quotes
Ethan


Our turnin' back don't mean nothin', not in the long run. She's alive, she's safe for a while. They'll keep her and raise her as one of their own til, until she's of an age to... Injun will chase a thing till he thinks he's chased it enough. Then he quits. Same way when he runs. Seems like he never learns there's such a thing as a critter that'll just keep comin' on. So we'll find 'em in the end, I promise you. We'll find 'em. Just as sure as a turnin' of the earth.

Reverend Clayton


Ethan, I gotta ask you and Martin to take a ride to State Capital.

Ethan


Is this an invite to a necktie party, Reverend?

Ethan


Well Reverend, looks like you've got yourself surrounded.

Reverend Clayton


Yeah and I figure on getting myself unsurrounded.

Reverend Clayton


I say we do it my way. That's an order!

Ethan


Yessir. But if you're wrong don't ever give me another.

Reverend Clayton


You wanna quit Ethan?

Ethan


That'll be the day.