DVDs from TCM Shop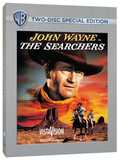 The Searchers An Indian-hating Civil War... MORE&nbsp> $10.95 Regularly $14.98 Buy Now blu-ray
USER REVIEWS
See Detailed Ratings
Acting of Lead Performers

Acting of Supporting Cast

Director

Music Score

Title Sequence

Screenplay

Cinematography

Historical Importance

Would You Recommend?

0 Member Ratings
Rate the acting of the Lead Performers

Rate the acting of the Supporting Cast

Rate the Director

Rating of the Music Score

Rating of the Title Sequence

Screenplay

Creatively uses the camera to tell the story

Importance in Cinema history

Would you recommend for fans of this genre
Submit Ratings
Cancel
Write a Review
Read Reviews
NO REVIEWS AVAILABLE
The title has not been reviewed. Be the first to write a review by clicking here to start.
Good but not Great

I am a big John Ford and John Wayne fan but this film is nowhere as good as Stagecoach or She Wore A Yellow Ribbon. In Red River Wayne is a driven and difficult man to be around but in this movie he is more of a jerk. Jeffrey Hunter and Natalie Wood deliver pretty shallow performances. Thank goodness for the Ford stock characters who save the movie.

Comic relief in The Searchers is OK

Critics love to attack Ford's penchant for comic relief -- not only in The Searchers, but in She Wore a Yellow Ribbon, The Man Who Shot Liberty Valence, Cheyenne Autumn, etc. Doesn't bother me a bit. It worked for Shakespeare and it works for Ford. It also worked for Hitchcock. The intense The Birds opens as a light romantic comedy, and we see the love birds swaying from one side to the other as Melanie's car takes the curves on the coast highway to Bodega Bay. The comic touch does not ruin the film. Nor do Victor McLaglen's barroom antics in Yellow Ribbon. It's just Ford being Ford and doesn't make any of his masterpieces less masterful. Those who complain of his comic interludes remind me of those who hold it against the Astaire/Rogers films that their plots were insipid. Of course they were. The plot of a French boulevard farce is always a trifle. And the lightness of the plot and the tone perfectly match Astaire's dancing, which is all about the unbearable lightness of being. Of course in film criticism we have every right to denounce bits of business we don't like, but it doesn't really help to wish a given director had made the film we wanted him to make rather than the one he made. Ford's penchant for comic relief is an integral part of his personality and world view; it is integral to making a John Ford film a John Ford film.

art of the western world

john ford was the Michelangelo of the western genre and the searchers was his Vatican ceiling.

another novel change

Also different in the novel is the attitude of the Jorgensons toward Debbie and Martin.They,in particularly Laurie, have told Martin,on what would be their last meeting,that they want nothing to do with the "dirty little savage"that Tennis will have become,and that if Martin doesn't shape up,he is not welcome either- he's become to much of a "mountain man" type to suit her.There goodbye is bitter and final; there will be no final reunion/redemption a la John Ford. These attitudes are more believable than the movie version,but what the hell.Source material be damned!

edit of previous

In previous submission,"tennis" was printed instead of "DEBBIE"......please excuse ,some sort of internet sabotage.

A little interesting info

Having read the novel,I was a little taken aback by the original ending as written by Alan Lemay.Try this on for size; Aaron Edwards(originally not Ethan) leads the ultimate raid on the Comanche camp.He spies Debbie running away and catches up with her,blood in his eye,but she turns to him and reveals that it's a brave in her dress,who shoots Aaron dead! Wow! Talk about a re-write! Then Martin,realizing Tennis has fled in advance of the raid,tracks her into the mountains,where he finds her on the verge of death,and builds a fire and holds her close....we are left with the idea they will be man and wife for the rest of their lives; they have only each other. Whattya think of them apples?

The Best Western Ever Made

What initially for me makes this a great movie was how well it shows the vastness of the West. Ethan and Marty spend five years going over much of it trying to find Debbie and we see how big it is. This film is excellent in conveying the isolation of frontier life as John Ford uses Monument Valley to its greatest effect. I've seen this movie countless times, but I always tune in when convenient to view again its numerous great scenes and how well they are done. Sure there are discrepancies, but the film is so good you don't dwell on them because this is the best western ever made.

Endless Speculation

There has been speculation here and elsewhere the person John Wayne's character Ethan Edwards was looking for is actually his daughter and not his niece. I don't buy into that theory for several reasons. The two main ones are at first he is searching for BOTH his nieces and he doesn't differentiate between the two girls. Secondly, when he finds that Debbie has become a Comanche squaw, he wants to kill her. To me, it is not plausible that his hatred of the Comanches would be greater than the love for someone he knew was his daughter. Certainly, there is an attraction between Ethan and his sister-in-law as indicated in the film, but whether he knew that Debbie might have been the result I think is endless speculation.

One of the Best Final Shots in Film

The Searchers was one of two of my parents favorite movies, the second being The Quite Man, another iconic film by the great John Ford. Both movies touch my heart, but the final shot of the Duke, framed by the front door, walking away into the sunset at dusk is one of the most emotional scenes in film history. Without a word, Ford and Wayne capture the lonely life that Ethan Edwards is destined to lead. I cry every time. A brilliant movie and IMO the quintessential western.

The Greatest John Wayne Film

The Searchers is my favorite film of all time, so of course I gave every feature of this film a 5 star rating. This is a film about racism. John Wayne plays Ethan Edwards, a dark, mysterious Civil War veteran who comes back to his family after years away. The film was directed by John Ford and it is my favorite John Wayne film, as well as my favorite John Ford film. Filmed in the Monument Valley of Arizona and Utah, Ford was able to hire local Native Americans to appear as the Indians, lending it a strong touch of authenticity. The cinematography is excellent, the views staggering. The supporting cast is the best in any film, in my opinion. Jeff Hunter is handsome and wonderful as Martin Pawley, Ethan's adopted nephew. I absolutely adore John Qualen and and Ken Curtis, among a host of other great character actors. The music is perfect. My favorite scenes: when Qualen as Lars Jorgensen realizes there is a murder raid going on and his wife might be at peril; when Ethan yells at Harry Carey, Jr as Brad Jorgesen after finding his girl's body; the look on John Wayne's face when he stares at the crazy girls; when nephew Martin yells at Wayne toward the end, "No you don't, Ethan. Ethan, no you don't!" and "I hope you die!" If you get the chance to watch it be sure you can sit down and absorb it all in one shot, because it is excellent. It is a panorama of a certain experience in American history - the good and the bad.

The Searchers

Reply to Steve. I agree John Wayne should have won an Oscar for the Searchers Also The Shootist, Sands Of Iwo Jima, The Alamo, for director and the list goes on and on. He was the best.

The Searchers

One of the western greats as John Wayne goes in search of his niece who was taken by Indians. Director John Ford and John Wayne hooked up on many westerns as they were a towering movie team together. Monument Valley is again used as a classic western setting but this time the color film takes in its beauty. It seems to have that western flavor that invites the old west. Cowboys chased by Indians takes on a classier look in Monument Valley. Out of this is a fine adventure story to take back what the indians stole. Wayne as the classic western hero does it again more methodically as he finishes in front of an open door.

yep, somethings going on with his brothers wife.

Watched it again tonight. Every moment that Martha [his brother Aarons wife] is on with Ethan they have sparks. From the moment he rides in and she backs in the door facing him. Very obvious when he is leaving to look for the cattle that have been take and she gets his coat and caresses it as Ward Bond pretends not to notice. He rides back and the family is dead and he only calls out for Martha. Several times he starts to say something about his back story and is repeatedly interrupted through the entire movie. It must have been in the book and directed down because it is very subtle for that kind of movie and the subject wouldn't have been well received at the time. Anyone else notice it?

she's his daughter not his niece!

Watch the movie with that in mind and you will see many details of the relationship between he and his brother and his brothers wife. It explains the entire motive and drive and adds a layer of drama that is rare in a Wayne movie or any western that I have seen. It is subtle but pervasive you will see it if you watch the movie after this suggestion.

Wayne shines!

My favorite John Wayne film is "Tie a Yellow Ribbon" and it was his as well, as his acting in that film covers so many emotions and he is simply superb in that role. That being said, this film has to be right up there with his performance in "Tie a Yellow Ribbon." It is a great story and Wayne superbly fits the outsider/loner role here, as the Uncle who would rather see his niece, who was kidnapped as a child by Indians, dead than living with Indians and his hatred is so ingrained that he even tries to kill her when he finally finds her and she says she wishes to stay with the Indians. John Ford's hand is all over this film. You need look no further than the gorgeous scenery of Monument Valley to know this is definitely a John Ford western. Winton Hoch, the cinematographer on this film, should have received, at the very least, an Academy Award nomination for his work in this film but, alas, this entire film and cast received zero nominations and that is a real travesty. I do not recommend this film for children, as they couldn't possibly understand the madness of Ethan or the sheer racism of the times. For older teens and adults, however, this is definitely an "essential" to view!

searchers addendum

The previous reviewer is right about one thing. This IS an Indian/cowboy movie, and not, like 95% of Westerns, a Cowboy and Indian movie. But he sure is wrong about its being stupid.

the searchers

Where do I stand on "The Searchers"? Well, I must have seen it at least twenty times so I obviously like it. There is no doubt that it's a great western, but is it a great movie? You think of John Wayne's performance, and certain of Ford's images, like the opening of the Texas farmhouse door onto a Frederick Remington painting at the beginning of the film and the shutting of the door of civilization on Ethan, the eternal outsider, at film's end, and you wonder why anyone would deny greatness to "The Searchers." But then you think of Ford's self indulgence, perhaps his greatest flaw as a director, the need to interrupt the flow and tension of this great story with needless comic relief and caricatures disguised as characters, like Hank Worden's retard and Ken Curtis' moronic suitor, and you wonder why discerning folks like Scorsese and Schrader put this movie in the pantheon. I guess I'd have to agree with the skeptics. Any film this divided against itself cannot stand as great. It is awfully good, though. Give it an A minus.

John Wayne at his Finest

This is probably my favorite John Wayne Movie he should have won an oscar for this role

Duke At His Best !!

Hard to find anything wrong with this flick. Awesome story and screenplay and beautifully filmed. The Duke should have bagged Best Actor Oscar or at least an nomination. John Ford at his best! Supporting cast outstanding. This is top dog in the western genre

Superb Western - One of the Best

Growing up, I was never a fan of Westerns or of John Wayne. However, over the years, the American Western and my appreciation of the actor, Mr. John Wayne has changed considerably. I have to say without a doubt, The Searchers, is one of the great Westerns (with the other great Western, Shane, at a tie or close second). John Wayne's performance is just superb - much more so than his Academy Award winning performance in True Grit. Everything about this film is just spectacular from the cinematography, the direction by the iconic director, John Ford, and of the central character, Ethan Edwards, played magnificently by John Wayne. It was one of my Dad's favorite films and one I enjoyed watching with him. I was so surprised to learn that this film, when first released, did not do well at theatres. However, I am so glad that now it is being shown without commercials and in its beautiful full screen format on TCM.

The American Movie

Literary folk are always in search of that elusive "great American novel", wondering if it will ever be written or even can be..... In film, they already have their version of that particular 'white whale' in John Ford's classic "The Searchers". Starring John Wayne, Jeffrey Hunter, Ward Bond and a cast of Hollywood's best, John Ford took the American western experience-- with all of it's grandeur, pathos and prejudices-- and produced a work that allows you to experience the gamut of emotions from laughter to hatred to abject sorrow. "The Searchers" is an honest story-telling event that allows us a glimpse at who we once were as a young nation, expanding our borders into a wild and unforgiving land. We see ordinary human beings, warts and all, experiencing extraordinary circumstances that test not only their physical endurance but their moral make-up as well. We see that life is not always fair, nor is it always pretty or easy.... We see that compassion and caring can occur in the midst of terrible tragedy..... We also see that a life lived in hatred is a life that is lived in loneliness..... John Ford pulled no punches with this movie. He allows us to see within the life of Ethan Edwards the ugliness that we are all capable of unless we are careful. But he also gives us a glimpse of the hope of restoration within the steadfastness of the Jorgensen family as they minister to 'Old Mose' and await the longed for reunion with Deborah Edwards, the young girl captured by a vengeance filled Indian Chief. Their is great poignancy in the last shot of Ethan Edwards and a sad finality as the door closes and he is left outside, a prisoner of his own design. "The Searchers" will stay with you long after you shut off the DVD player and snap shut the DVD case because the lasting truth of this film is that we are all capable of being Ethan Edwards.... The true challenge for us all is NOT to be....

OK but not the best

I don't share the same high opinion of this film as some others do. John Ford's shots of Monument Valley were indeed iconic. John Wayne and Jeffrey Hunter did give good performances. Perhaps this was a very realistic portrayal of the old west; I'll take everyone's word for that. It's worth at least a look for these reasons. But best western ever? In my opinion, all the positive elements of this film were misspent on an overly drawn out sermon of a story.

"That'll be the day"

I had always heard that the final scene, where the Duke stops in the doorway and grabs his arm, is a tribute to his long-time friend and silent movie cowboy star Harry Carey. Whose widow, Olive Carey played Mrs. Jorgensen and his son, Harry Carey Jr., played Brad Jorgensen. Ward Bond and Hank Worden, add some comic relief, as does the Duke's real-life son Patrick who plays Lt. Greenhill, a sabre happy greenhorn Army officer. The best performance, I believe, is that of Jeffrey Hunter. He was thoroughly convincing in the complex role of Martin Pauley. Those who only remember Mr. Hunter as Jesus in "King of Kings" (1961), or as Captain Pike in the Star Trek television pilot, will be amazed that this is the same person. He's a versatile actor and his character was the only one willing to stand up to crazy Ethan. Remember this is a John Ford Western and Monument Valley deserves credit as a major part of this picture. Those looking for a Natalie Wood vehicle will be very disappointed, I didn't count, but I think little sister Lana had more lines. Also, Chief Scar is played by Henry Brandon who stared as Silas Barnaby, in the Laurel and Hardy movie, "Babes in Toyland" (March of the Wooden Soldiers (1934)) under the name Henry Kleinbach. In a bit of irony, Brandon portrayed Chief Quanah Parker in Ford's "Two Rode Together" (1961).

One of My Favorite Westerns

To me, this is one of John Wayne's best performances. When he is talking to Carey, Jr. about what happened to Lucy and to never ask him again - that scene is the best John Wayne scene for me ever. Secondly, when Wayne tells Hunter "That'll be the day" when Hunter says he's going to shoot him - very funny. Of course, then he says it again and again and so it loses some of its punch. It's a good mix of humor and hatred in some beautiful scenery.

Understanding

To fully understand this movie, one needs to read the book, The Searchers, by Alan Lemay. This book is based partly upon the true story of the abduction of Cynthia Ann Parker and the lengthy search for her. Also, one needs to understand the times that the event took place, in early Texas. The Comanche were considered the finest light cavalry in the world in the 1830's-1840's, raiding, burning, enslaving, stealing, massacring, all the way from Mexico City to the central plains. The latter led such a violent existence, looting, burning, murdering, and kidnapping as far south as Mexico City and especially destroying and capturing so many Texans that Comanche became a by-word for terrorism. Thus, when he recovered Cynthia Ann Parker at Pease River, Sul Ross observed that her recovery would be felt in every family in Texas, as every one of them had lost someone in the Indian Wars.For example, Lockhart, a sixteen-year-old white girl who had been captured with her sister in 1838, had been physically and sexually assaulted and tortured and disfigured. Burn scars, the mutilation of her nose by successive burnings of cigars, torches, and knives, bore out her stories.

The Closing Scene

To see this larger than life man, pigeon-toed and all, sway to the left, to the point of stumbling, as he steps off the porch is CLASSIC! The best western of all time! The Searchers, Outlaw of Josey Wales, Shane, and believe it or not, Open Range are my all time favorite but The Searchers is number one.

The use of Racism.

One of the things that sets "The Searchers" apart is the use of racism in the development of Ethan Edwards as a character. To accuse the movie itself of being racist is to miss the point. The character Ethan is indeed a racist at the start of the film but finds a sort of redemption at it's conclusion, but only a sort. It clearly shows the that racism is wrong, not only by the violence it produces, but by the reaction of the other characters to Ethan's racist acts.

Search to you find "Home"

This movie is one of the most respected classics of the Western genre and deservedly so. However, what sets it apart from many Westerns is there are themes presented here that are deeper than most Westerns. The struggles to define race, family, right and wrong. The struggle to find forgiveness and understanding. Yes it is an action western, lots of great scenes; but when I think of this film it is the moving struggle of a tragic and flawed man to find some sense of peace within himself and his world that comes back to me. This is one of John Wayne's very best performances. His character is that of an angry hate-filled (and let's be honest racist man) who eventually finds the strength to show some compassion and bring his niece home. His relationship with Martin (Jeffrey Hunter) are also fascinating. He grows from dismissive to respectful to at the end appreciative towards his mixed-raced nephew. Though he changes he cannot fully forget or forgive or accept, that is his tragedy. "Home" and family have no meaning or no place for him. He will drift forever like the wind as the magnificent and moving last scene shows. The Chief Scar and John Wayne's character are damaged goods. Men who are not able to accept the changing times they live in. Their tournament of wills and final battle would be enough for the makings of good Western, but here the director and writers and actors have added so much more. It is not a perfect film: too much comedy in parts and some awkward switches from natural scenery to studio sets. But it is a fine and enduring film.

Man is fallible, as is the Academy

I like Rick's 8/26/08 review. "The Searchers" was released in theaters 56 years ago, and the story takes place somewhere between 130-145 years ago. However, the outstanding cinematography, direction, acting, score, and production values are timeless, as is its main message: prejudice is real, and always wrong, whether arrived at by inductive or deductive reasoning, or no reasoning at all. All of us should be treated as individuals, not as a member of a group. Such a goal has yet to be accomplished on a wide scale in all of human history. The hate that consumes and drives the character of Ethan has been portrayed by many actors playing all types of people from all over the world, and such will continue to be done in the future, for Man is fallible. The Academy is fallible as well. The Oscar for Best Picture of 1956 went to "Around The World In 80 Days." Such is analagous to what happened 42 years later, when "Shakespeare in Love" beat "Saving Private Ryan." In both years, the Academy picked the pageantry and prissiness of a particular British production (long forgotten) over the relative authenticity of the actuality of our American ancestors, presented in an AFI Top 100 Film of All Time [10th Anniversary (2007) list]. At least "Saving Private Ryan" was nominated.

Excellent, Would be Perfect But For Racism

"The Searchers" is always at or near the top of everyone's list for best western. Excellent cast, story and themes--those being love, persistence and faith. John Ford gives us outstanding panoramas of Monument Valley. My only criticism is the overt racism against native Americans. Attitudes about native Americans have changed substantiallly since 1956. Not to spoil the picture, but at the end, after about 10 years of searching, the 2 lead characters do find Debbie, who was abducted at age 5 by a native American named Chief Scar, who killed the rest of her family, but spared her. However, she has "been with a buck", meaning she has had sexual relations with a native American, so her uncle Ethan, played by Wayne, wants to kill her because to him, this is a capital offense. The author makes clear his abject hatred of native Americans. Examples include white women who are rendered insane after being raped by a native American, so they are no longer considered "white". Also, Jeffrey Hunter's character accidentally becomes bethothed to a native American woman due to a misunderstanding while trading for goods with her father, and this is treated like a big joke. Today we realize that European settlers wrongfully stole the lands occupied native American tribes and abused and murdered them, nearly annihialiting their cultures entirely. Today we would view that that fighting off the Europeans was appropriate. We no longer dehumanize native Americans by calling the males "bucks", like animals, nor do we mock their customs. That said, the film is still worth seeing; nevertheless, the cultural bias that existed in 1956 should be explained to children.

The Searchers

John Wayne & John Ford once again combine forces to create a compelling western. Wayne is fantastic as an Indian-hating man who intends on killing her now reformed niece from Native Americans. Scenery is also great in Monument Valley. A great, must-see western. I give it a 4/5.

Great flick

I agree with most of the other posts, this is one of Duke's best performance. Vera Miles and Natalie Wood make this movie completely worth while as well as the fantastic outdoor panoramas. I have not seen this film for some time, but I am looking forward to seeing it today.

I don't get it

I know how fond people are of this movie, but I don't get it. While the theme of a search for a white girl kidnapped by the Indians is compelling and has an historical basis, the film itself is unrealistic, hyperbolic, uninteresting. Wayne swaggers around and throws things about and acts the hackneyed role of a man's man, without any depth of character. The physical environment is beautiful...but the film is set in Texas and the views are of California and Arizona, making the film even more unrealistic. The Indian protagonist Scar is so obviously a white man in makeup that its almost a parody of itself. Like I said, I dont get it.

The Duke at his best

This is one of my favorite John Wayne films and one of if not the best westerns ever made.

Simply The Best

I'm a John Wayne fan; I think he's a highly under rated actor, but 'The Searchers' is where I think he turns in his best performance of his many great acting stints. His character, Ethan Edwards, is complex and an unusual one for Wayne. I don't want to spoil the film for those who have not yet viewed it, but there is a scene at the end of the film which had my wife totally upset when she thought John Wayne's character was going to commit a horrible act...great movie making by John Ford and John Wayne; and the supporting cast is top notch, too. Some reviewers state this is the best western movie ever made...hard to argue that opinion!

That'll be the day

After production ended on THE QUIET MAN, people wondered if John Wayne and John Ford had one more good movie left in them.THE SEARCHERS along with THE MAN WHO SHOT LIBERTY VALANCE 6 years later answered that question. Watching this film, you can't help but be on a emotional rollercoaster watching The Duke as Ethan Edwards, his best role ever. John Ford obviously knew exactly what he wanted while filming and it shows. Ford's"Rolling Stock Company" has never been better. Too many "Must See" scenes to mention. Deserving of it's status as an American Film Institute "TOP 100" Film.Of Note: After filming ended, John Wayne made a hilarious guest appearance on I LOVE LUCY. Also, Wayne's catchphrase "That'll be the day" was the inspiration for the Buddy Holly song of the same name.

The Searchers

To reiterate what all the other reviewers have said: yes, it is definitely Wayne's best performance; but let's not overlook what also makes a great film performance: great supporting acting. All supporting characters are well drawn and very well acted. Most are members of Ford's company: Olive Carey and John Qualen as the Jorgensons- a delightful couple who provide a context for Ethan's search and bring out hidden aspects in Ethan's character; Ward Bond plays his duel role to the hilt as part Ranger Captain - preacher, representing law and order in a land where there isn't any, legally or morally. Ken Curtis, Laurie's would be suitor as an young "Festus Haggis"; Jeffery Hunter and Vera Miles provide comedy relief within their romantic conflict. Hunter as Ethan's conscience and nemesis- keeps the tension of the "search" out front throughout. Wayne had a lot of help in making this his best role and this the premier adult western.

Now THAT was the real west.

How can you even hope to duplicate a movie of this caliber? Excellent cinematography. perfect casting, and some of the best western scenery ever shot. What seems very prejudicial dialogue by today's standards was actually quite commonplace back in the old west, and thankfully it was true to form. The only drawback to this film is that John Wayne didn't get an Oscar for it, much better character study and portrayal than True Grit, although I don't wish to demean that role or his Oscar. I watch it every time it comes on, which is not often enough.

Best western ever made!

The Searchers is without a doubt the bestwestern ever made. John Wayne gives a performance of a lifetime, not to metionthe cast and the complexity of the character he plays. The story is complex as well as the characters in it. JohnFord's direction is powerful. I have seenalot of westerns and say what you will this is the best. John Wayne should havewon the oscar for this one. What I lovemost is his struggle to find the humanity in himself.

Excellent film!

Wayne's acting and Ford's directing once again are at the top. Don't miss this film!!!

One of the best

This is among John Wayne's best and that's saying a lot. Timeless example of great film making.

The Greatest Western Every Made

John Wayne's greatest acting performance, and John Ford's greatest direction. It doesn't get any better than this. However, be forewarned...this movie is intense. It is not for the gentlehearted. Wayne portrays a racist individual, -- a man of hatred-inspired past experiences, and as a returning Texan of 1865 just after the Civil War ... he finds himself cast in an unexpected role, perhaps justifiably (as only the viewer can decide)...as a man searching for deep retribution and revenge against the Comanche.John Ford somehow brought out the best in John Wayne in this performance. At the end, Wayne (Ethan)is a changed man...because of his 5-year search for his kidnapped niece (Natalie Wood)...and a very sympathetic figure. Somehow at the end.....we all become changed as well. It is one of the only movies where I actually hated this man Ethan at the beginning, and mostly throughout the movie...only to be so moved by Wayne's performance of Ethan...that I felt I had witnessed something I had never seen in a Western movie before. A tranformation of great depth and meaning. The cast is excellent, with a very moving musical score of Max Steiner. Yes, the cinematography is unbelievable, and John Ford's direction is never better. This movie should have been the best picture of the year for 1956....but an intense realistic Western genre in that year was sadly-- just not what Hollywood (or the public) was ready for.Be prepared to sit back and watch in awe.

The Legend at His Best.

One of John Wayne's best performances. He shows such raw emotion in his hate for Indians. My favorite scene is when he physically picks up Natalie Wood-brings tears to my eyes!

WAYNES BEST EFFORT

THIS IS JOHN WAYNES BEST EFFORT.IT SHOWS HIM AT EVERY LEVEL OF EMOTION.IT HAS A GOOD STORYLINE.IT IS SIMPLY WAY AHEAD OF OTHER WESTERNS IN ITS TIME FRAME.IT IS AN EPIC WITH KNOW COMPARE.

The Best Western Ever!!

If you wish to truly experience life in the West, the clash of cultures, you must watch "The Searchers." The performance of John Wayne is easily his best along with that of Jeffery Hunter who form a unique partnership. The acting of Ward Bond is not to be missed!
*We protect your personal infortmation and will not provide it to anyone without your consent. For a complete explanation, please refer to TCM's Privacy Policy. By submitting your contribution, you agree to TCM's Terms of Use.