DVDs from TCM Shop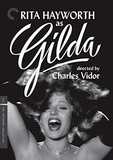 Gilda A gambler discovers an old... MORE&nbsp> $19.85 Regularly $29.95 Buy Now blu-ray
USER REVIEWS
See Detailed Ratings
Acting of Lead Performers

Acting of Supporting Cast

Director

Music Score

Title Sequence

Screenplay

Cinematography

Historical Importance

Would You Recommend?

0 Member Ratings
Rate the acting of the Lead Performers

Rate the acting of the Supporting Cast

Rate the Director

Rating of the Music Score

Rating of the Title Sequence

Screenplay

Creatively uses the camera to tell the story

Importance in Cinema history

Would you recommend for fans of this genre
Submit Ratings
Cancel
Write a Review
Read Reviews
NO REVIEWS AVAILABLE
The title has not been reviewed. Be the first to write a review by clicking here to start.
So, So

Strong supporting cast including Macready and good musical number by Rita (Put The Blame On Mame) doesn't carry enough.

gilda

You could easily be forgiven if you thought this page was the George Macready fan club site! Now don't get me wrong. Macready is a fine villain in this pint size if interestingly twisted "Casablanca" spinoff but Ford and Hayworth aint bad either, especially Ford who manages the tough assignment of both conveying a yearning for Gilda and a homoerotic protectiveness toward Munsen without sacrificing believability. Charles Vidor's pacing's a bit on the slow side (didn't really need that blah musical number in Montevideo) and I kinda wish Macready hadn't been killed by the smug wash room attendant (in fact, I wish the sanctimonious jerk were never in the film to begin with) but otherwise this is a fun flic with great cinematography and darker elements lurking about (like the aforementioned Ford/Macready relationship) if the viewer wishes to pick up on them. And Hayworth singing "Blame It On Mame(twice) is pure 40s magic. Give it a B plus.

Please,Without Ballin,no movie

If this were just about Johnny & Gilda,I'd never watch it.Their acting is barely up to scratch.The character that matters most,Ballin,responsible for introduction of Gilda as his wife is barely ever acknowledged by anyone.And the story Gilda never cheated,please!Someone needed a cohesive story and all they do is flaunt Hayward and not care that this really should've been a post WWII CASABLANCA,but this never rivals that movie because the story barely makes sense.George Macready deserved an Oscar nomination for his role and for the discomfort the affair between his co-stars and publicity they obviously got because I doubt anyone gave him the credit he deserved.And Peter Ford's jibe about no one knew what he was when he appeared on set as Ballin,was that a gay slur?

Watched Gilda Producer-Women In Movies

Rita gets mentioned ad nauseum,Glenn gets mentioned,stupid role,only fair acting,and the only worthwhile character who makes sense and moves the plodding plot along,Mr George Macready (Ballin Mundson) gets no mention as usual!The two dopes,Baldwin and the old goat,Letterman could only harp on Rita,but she's the worst acting in the movieEven her toyboys have some life and appeal!To me,not only is Macready elegance but handsomer thanFord.And he never gets honored on his birthday,August 29th.Do a day/night/24 hour salute to this guy while his kids are still around,or at least interview his actor grandson and givethis guy his propers!

Johnny or Rick,Ilsa or Gilda,Ballin or Victor

Of both love triangles,the only competition is between the husbands,Macready/Ballin Victor/Henreid.Love both actors with my preference for Macready because he's American,not that he's nice or decent like Laszlo.Johnny & Gilda deserve to rot in heck and probably would've except for totally implausible ending.The Essentials only talk up Rita,but George Macready was my looker favorite,not to mention blew everyone else offscreen in any scene he was in!Macready is very underappreciated here,takes a back seat to two inferior co-stars esp since they had offscreen affair going on for decades,sorta like Crawford/Gable.Would love to attend a film class featuring this film to have it properly appreciated other than "Rita's smoldering portrayal",who cares,she's a slut,Johnny's a user,Rita's toyboys stink.Loved Pio,Obregon,Gerald Mohr,but esp Macready-he was class,overcame a poor excuse for a script,and I suspect he helped direct Rita/Glenn performances since he was long-time stage trained.Give George his propers!

Ballin,Johnny then Gilda

noturcatzablanca

10/22/17

Has all the same type characters of Casablanca,but goes alternate lifestyle with 2 male leads,which director Vidor never understood.Macready/Ford make the true loving couple,albeit sort of S & M storyline with Nazi intrigue,a femme fatale who we're supposed to buy as a good girl just playing ex-boyfriend and sexy hubby off against each other.Interesting for the Ballin story only!Macready was one HOTHOTHOT number,IMHO!

GILDA!

A classic that showcases Rita at the pinnacle of her career. Both Hayworth and Ford make for an attractive on screen pairing.

Movie Only Tolerable Cuz Of Ballin

Macready maybe was a guy to hate on screen,but the only worthwhile lead in this drivel.Only watch it to check out his hotness.Ford too stupid for words in this,Rita makes me sick,she's a total slut,as is Johnny,firs he does Ballin,then reunites with Gilda-unbelievable.Johnny exploits both his lovers,the story makes little sense,and if it was meant to match Casablanca,at least get better than Ford & Hayworth.Maybe had heat in real life,but on the screen in Gilda,only Ballin (the ice king-Nazi comes close in coolness to Victor Laszlo in Casablanca,but Rita is no Ingrid and Glenn no Bogie,Ballin cooler and sexier IMHO than Bogie).Ballin should've killed Johnny & Gilda,and then perish at hands of Obregon-and what little Gerald Mohr was used-his part should've been beefed up and lose Gilda's toyboy,the American Johnny slugs.

Johnny The Hustler

Ballin meets and saves him from someone who wants his money back,and should've gotten it to teach a lesson.Ballin gives him lessons in casino work and love,but Johnny is maybe ambidextrous in reality,too like Ballin.Not your parents' Casablanca,this was supposed to be in Las Vegas,but transported to Buenos Aires.Hmm,where many Nazis escaped to after or just before end of WWII.Ballin marries Gilda,I'd do so in a second,as he's more interesting and IMHO sexier anyday than dull Johnny,and he deserves a better wife than her.Can't buy that she never cheated on either hubby,and it is noir,would've believed Ballin killing them both and then suicide for real,but they copped out by making it a silly happy ending.

Casablanca As It Should Be In Reality

Gilda-Johnny,Johnny-Ballin,Gilda ever with Ballin?

Confusing,story focuses on the 2 least interesting characters,an anti-Casablanca film.Has the happier ending that many wish Casablanca had,Ballin killed,Gilda & Johnny reunite to forever after.Much confusion and many plot holes,much as writer tries.Pio & Obregon great characters,and I'll root for the great Macready over scummy Johnny and his "love" Gilda to come out on top.IMHO,Macready deserves credit as he seems to get little.He's more attractive,better educated,ok,a Nazi,but there's some of the plot twists that help an otherwise blah story.

Ballin Needed For Interest

This movie is only interesting because of "The icicle",Macready.His looks rival his two co-leads,but I'd go for him any day over either one.Ford no great shakes in looks or acting,Rita,ditto!Dullsville but forBig Mac,suspend disbelief that Gilda would marry Ballin on rebound from Johnny,maybe other way around,but why someone supposedly a homosexual character suddenly decides to marry is unbelievable and why a supposed slut like Gilda would meet up with him is unreal.And nowhere is it made out Ballin is other than Aryan-like,maybe Nazi-leanings,but not militarily so.Gilda/Johnny story not too clear to follow,know they'd known each other before,who left whom?andwhy Ballin's hiding out not explored before he reappears,unexplained,since Johnny had power of atty/executor should have explained that as to why he kept Gilda in right bedroom.Definitely could've rivaled Casablanca if storylines clarified more.

George Be So Good Looking

Three beautiful co-stars,my favorite actor is George Macready,much as everyone trashes him.He brings the real tension,he's hot,IMHO,more so than his two co-stars,they just wrangle,where Ballin is all business and bent on owning the world.This is not your Casablanca remake,it's the bad side of Casablanca with some even sleazier characters.But Macready also shows some vulnerability and need for a upportive friend/lover,none of which he gets from Gilda,even if she tells the truth that he is attractive,putting it mildly.George needn't have worried about the scar on his right cheek killing any hope of an acting career,look at Bogie,Kelly for a few names.He got good advice from Richard Boleslawski,and I for one think he makes this movie,not "true love of Johnny & Gilda",what hogwash,that was so unconvincing,even if they had a long-term affair offscreen.

That McCready Man Look Fine

Watch for love triangle noir.Less than impressed by "sparks" of Johnny Gilda,more like the sizzle between Ballin/Johnny.Too bad when Ballin disappears,but if he's so upset after seeing Gilda and Johnny kissing,why did he seem otherwise when he's picked up by a launch?Good supporting cast:Pio,Obregon,"the mouse",the 2 Nazis.And that rictus-like smile of Ballin's,like a Nazi death head?The screenwriter really needed to make more sense,this could've been top-notch instead of just Gilda jiggle.If she was Ballin/Johnny's wife,why was she singing in Ballin's Club if she's his wife?Strange relationship that he doesn't get more involved in keeping her in line than stern threats.

Gilda Made Up Along The Way-Like Casablanca Ending

When it's written as you go,it often doesn't make sense,like GILDA.Johnny meets Ballin after cheating at cards,the boys become friends with benefits,only alluded to,which the director was too dim to figure out,but his male stars could,Ballin gives Johnny the hustler the keys to the kingdom while he goes away for a meeting and comes back with a wife whom he can't please,puts her in a cage so it seems and she decides to find what's lacking at home elsewhere.Being noir,that should get her killed.But the writers cop out in the end,and only Ballin is offed,my favorite character!Excellent supporting cast for Ford/Hayworth,who don't deserve praise,neither is really sympathetic,and George Macready deserves the credit Ford & Hayworth have lavished on them.

Ballin/Johnny Most Interesting Storyline

George Macready was the first one cast in this film.Gilda and Johnny were cast later.Should tell ya about Macready's worth in films.He was a great bad guy,and enlivened what to me was a dull film when he "disappeared" from the screen.Think his return was pretty poorly scripted,true noir would've had different results.Maybe the ending was to contrast with the ending of Casablanca.Certainly Casablanca had villains almost up to Ballin's standard,although,except for his greed and appearing Uber-Aryan,don't see him as all bad,and his killing the Nazi was a service to the world,too bad he didn't do in the other.Ballin and all the character actors are what make this film watchable.Sorry,as much as everyone loves the character Gilda,the ending of her being a good woman doesn't make sense.I know I would never have run around on either Ballin or Johnny (gay,bisexual or whatever either man really was in the film),she did what she wanted and any woman who acted like that seems to give her the okay for cuckolding her man/men.

Smokin' Hot Macready

Ballin is a mysterious stranger who saves Johnny Farrell in the opening scenes from death.He repays Ballin by being his second,in life/casino/marriage.What Ballin can't do (we're supposed to infer perform husbandly duties),Johnny is supposedto?He "respects" Ballin's memory while Gilda at first seems to whore around,then we're supposed to believe it never happened.Too bad the only interesting part of the love triangle actually dies in the end.Much has been made of Gild/Johnny,but Ballin was worth more than anything hyped about this film.George was riveting in every scene he was in,and his "malice" lasts long after his staged suicide.Good thing he came back to legitimize this messy half he was missing and give clarity to an unbelievable love of Gilda and Johnny,IMHO,a lesser man.

Gilda,Sun 1/29/17

This should be remade with the dialogue and onscreen action playing off each other.This comes across as quite risqu for 1946 with the Ballin/Johnny angle.Gilda is a spoiled child married to a man she detests,because he can't or won't perform?And she seems to get back at him by her snarky interplay with ex-lover Johnny,who also seems content to try to throw the wool over Ballin's eyes,who is having none of that.Ballin is menacing,but the only honest one in the "love triangle" which really isn't,a Gilda clearly lies to hubby and seems to cuckold both her "men".And Charles Vidor was blind if he didn't realize from the script he directed that his male co-stars were playing gays.He thoughtneither man knew what he was talking about with the Johnny/Ballin gay interest,which is the only interesting Romance in the film.Oh,Gilda,BTW,your husband is more handsome than you puppy dog Johnny any day.

If Remade Today As It Should Be

The triangle was the most interesting part of story,aside from heat between Johnny the lad and Ballin the mysterious stranger.Ballin's house would be swinging with beautiful boys gathered around the pool,a shirtless Ballin,Johnny passing around the champers,Gild the maid who becomes more to the boy and the stranger.Ballin would have to wear lots of sunscreen because of his fair hair and complexion.The tungsten angle would be explained more satisfactorially,and Ballin is revealed as Norse seeing a bit of a Viking heritage,maybe the ancestors discovered South America and settled in to stay.The Nazis come to party with Ballin,hit on Johnny,and Ballin kills them in anger.Works better than the ridiculous Gilda-Johnny old love story.Very jumbled backstory for their relationship,at least the one of Gilda-Ballin makes sense as older man meets younger woman and he has to possess her,but if she's so alluring,why marry unless she had some true feelings for Ballin.I don't buy she knew Johnny was Ballin's second.He's too flaky to be on same level or deserving to be Ballin's boytoy,he's too unsophisticated to be anything but the peasant Pio calls him.

Three Pretty People In NotCasablanca

This is Casablancaas the war ends.Tungsten cartel,what a development!Maybe goes as partner with Ballin's swordcane.Think Ballin shouldn't have disappeared,as he only killed a Nazi cohort,that's justifiable homicide,too!He should've done in the other "messenger boy" Nazi while he was at it.And the little "mouse" who won at roulette,he came close to offing Ballin,what a look of shock on Macready's face.Think Macready's natural blond hair color should've been kept,that way not so many people would say he looked old enough to be Gilda's father/grandfather,and to play up the German/Aryan angle,esp since so many hid out in So America post-WWII.He really was the best actor in the love triangle,as were many other supporting actors,Ford & Hayworth may have had sexual chemistry,but they needed more than that to pull this film along.Once Ballin disappeared,the movie dragged.And who could buy that Johnny left Gilda to entertain herself?And it's too pat to think Ballin was so easily killed.Maybe his luck ran out,but this was too unbelievable an ending even if it's called a "Romance".

I LOVE BALLIN!

itsalwaysgildagildagilda

12/7/16

What a delight seeing a studly Macready opposite a meh Ford.Ballin is a probable Nazi tungsten cartel leader circa 1945,gambling house owner,anti-Casablanca feel.This seems more the real deal,even if Casablanca was made asPearl Harbor was happening,this is less propaganda,more realistic,noir.Johnny swings both ways,not knowing when he had it made with the boss.Many memorable characters,love Pio and Insp,but Ballin will always be my favorite!Gilda doesn't make much of an impression on me,but I'm not a slobbering puppy.

Macreadied

Sorry,everyone thinks Rita is the only one in this film,but it really sings when George the great character actor is around.So many Gilda photos are coming available now,and he was far more attractive,IMHO than the other sides of the love triangle,and the harsh remarks about his looks are uncalled for-no wonder he seemed such a cold person,you'd be too to protect your feelings of anger or embarrassment for such nasty remarks about his facial scar.I'd go for Ballin anyday,even if he was the villain of the piece.His was a pretty well-defined character,an ex-Nazi with connections,if it wasn't for him,Johnny & Gilda would never have come back together.

Ballin's THE BEST CHARACTER

Don't care for the Gilda-Johnny story,it stinks because it hints around,but goes nowhere.Ballin is fascinating,and Macready's voice,fine features would work whether he was gay or straight.It was fun keeping everybody alert the Johnny-Ballin interplay.White hot dialog with the triangle.Ballin had to die,too bad cuz I thought him the only one making me watch.Love him flying down the stairs with cape flapping.And Johnny's being so protective of him like a lover.

Johnny-Ballin-Gilda,What A Trio

The real love is between master and slave,Ballin & Johnny.The story of Johnny and Gilda works a little,but is too complicated,hence the film noir.While they could've both bought the farm,the writers finally decided to off Ballin,the sexually ambiguous casino owner,who I consider with Obregon and the cop,Uncle Pio far more interesting in their encounters than the poorly done Johnny-Gilda connection.Past love or not,that storyline stinks!I know they couldn't punch-up the heat between husband and wife,but Johnny & Gilda is just too bizarre.Definitely agree the undercurrent of Ballin-Johnny is what makes this film,risque by 1940s standards,maybe the censors were why script changes were delivered as they were being written,so the cast was really challenged.

Classic Pseudo-noir Triangle

The love triangle is what the movie's all about,and what a plot!Ballin,hubby-to-be saves Johnny from a well-deserved shooting and saves his life after his crooked craps.He pays Ballin back by cheating at cards in his casino,but after a well-earned beating,convinces his new best friend to hire him.All's well until,you guessed it-GILDA!Maybe to most,this was the highlight of the film once Gilda came to the fold.The supporting actors and Ballin are what make this a must see movie for me.Gilda-Johnny,meh!But that what makes Gilda what it is,a rival to same year release NOTORIOUS-Gilda equally as taut a film,and definitely is a more sinister version of CASABLANCA,both Gilda & Notorious,Macready more evil than Claude Rains Alex from Notorious.And Macready MAKES THAT CAPE!Count Dracula couldn't inhabit it better!Read Glenn Ford's comment that he & Macready knew of the fact that Ballin & Johnny were supposed to be homosexual,but it was all up to the imagination.I think this could be remade today,provided they don't ruin it like every other reboot!

Gilda-Johnny-Ballin

Oh,Ballin and that cane.Maybe Gilda stepped out on him because once they settled at home,Ballin had nothing to do with her?She became just a possession,maybe he knew of Gilda/Johnny before,maybe from his Nazi pals.No matter,Ballin is the one that holds my attention,too bad he didn't have more scenes-he's HOTHOTHOT!

Still Trying To "Get" This Movie

Everyone lavishes praise on Rita,she's beautiful,but I'm always puzzled about how and why Ballin meets and weds Gilda.Does he investigate all aspects of Johnny's life,or how does he find Gilda & Johnny knew each other before?As for Ballin/Johnny,don't know or care if there is homoeroticism there,I REALLY LIKE BALLIN!To me,George was never given proper PROPERS!The scar on his right cheek to behind his ear from a 1920s car accident,his voice,his good looks,he's HOT!Glenn Ford is a good actor,but a true peasant,like Uncle Pio says,to me.

gilda

Al Jolson, at the time, was one of the producers at Columbia studios that worked on this film (no credits) on screen.

Put The Blame On Ballin!

"Gilda" can only make sense IF Ballin and Johnny are lovers.

Rita is Great

This was my fist RH film, believe it or not (where have I been all my life?)! She's amazing and I agree, she is the definition of sultry: finely nuanced and always superbly crafted.

Pardon Me, but Your Husband is Showing

This is a strange film noir. Maybe all film noir stories are strange and bizarre? But none have such beauty and heat as Rita Hayworth Gilda) and Glenn Ford (Johnny Farrel). "Gilda" was written by a writer of tv soaps and sometime film screenwriter, E.A. Ellington and NYC newspaper man, Jo Eisinger. It's difficult to tell by even her real name (Elpha Seelin) that this writer was female. Ellington is given story credit while Eisinger adaptation. Jo Eisinger was Joseph Eisinger. There are also writing credits for Marion Parsonnet (aka Richard Stroup), listed mostly as writer and sometime producer. Parsonnet is given adaptation credit for another Hayworth film made a couple of years earlier, "Cover Girl." The dialogue is frequently bizarre and strange. Ben Hecht is also listed as an uncredited contributer to the writing. Perhaps Hecht is the impetus for the strange mysterious dialogue? The speed is fast-paced and snappy. The movie and the actors leave a lasting impression days after viewing. This movie will haunt you. Their voices, that song rebounding in you brain. That happy ending is truly bizarre! Totally and completely unexpected! How the heck did that happen?! Macready is fantastic as Gilda's creepy power hungry (latent homosexual?), Ballin Mundson. He had an intense quality. Had a real scar on his face. Macready also had a lush, if not, terrifying and commanding voice which lends itself to the creep factor here. Whenever he speaks to Gilda or Johnny (but especially Gilda) I get the chills. Ballin and Johnny's dialogue is cloaked in weirdness or maybe queerness? Hayworth and Ford have terrific screen chemistry. Much more so than other more discussed screen partners. There's a strange MacGuffin which may be a humorous nod to Hollywood herself, tungsten cartels? All of this love and hate and misogyny over light bulb filaments? Oh and there's Nazis and gambling too. Beautiful cinematography by Rudolph Mat. Gorgeous art direction, sets and costume design. Classic.

Sultry and hot

If you want to see a movie that shows Ms. Hayworth and Mr. Ford at their finest this is it. This movie is hotter than hot with a sultry undertow. Johnny is the one man that isn't hypnotized by her beauty and is able to see the big picture with the danger all around them. Gilda is so consumed by the fact that she can't control Johnny that she can't see that he's trying to save her bacon.A lovely respite for one of those cold days or wet weekends.

LOVELY GILDA

This is my favorite Rita Hayworth movie. As everyone else seems to, I love the "Put the Blame on Mame, Boys" number. It truly shows her beauty and glamour. I think it's a shame that she is not remembered more for this now, as she should be;for example, as Marilyn Monroe is-Rita is definitely as beautiful, if not more so, than her. The one thing that I don't like about "Gilda" is when Glenn Ford slaps her. I cringe, when I see that.

Gilda

I just have one thing to say, while Anita Ellis sang for the majority of Rita's movies she did not do Gilda. A Florence O'Reilly (Sunny) did. I do not know where people get their information from.

Gilda, Rita and Mame

What makes "Gilda" for me is Rita Hayworth singing "Put The Blame On Mame", not once but twice-the first time to men's room attendant Uncle Pio while strumming the guitar, and then later on while doing a sultry dance/strip tease backed up by a full band. When she says "I'm not very good with zippers, I could use a little help"!, trust me, I'd be right up there on stage with the rest of the guys doing my part to relieve Gilda of her dress! She also has a couple of good lines full of sexual innuendo, i.e. when her husband asks is she's decent she counters with another question "Am I"?, and then "Don't you know if I were a ranch I'd be named the Bar None"! I saw it again on TCM Essentials 9/22/12 with Bob Osborne and Drew Barrymore. Each time I see "Gilda" I love it more and more!

Gilda

A sexy, sizzling film noir. Hayworth gives her most iconic performance as a title character, Ford can't be ignored in an equally terrific role & Macready is the stone-faced villain caught in a love triangle. Hayworth performing the exotic "Put the Blame on Mame" is unforgettable, unfortunately, the story is too convoluted & abstract at times. The film's greatness is only slightly exaggerated, but the overall picture is a suberb love-hate story. I give it a 4/5.

Rita The Actress

Dynamic relatively fast paced drama with outstanding cast and cinemetography in black and white mode. Perfect chemistry between Rita and Glenn, plus good supporting actors. Rita beautiful as always, supplies a bit of her dancing abilities enhancing the quality of this classic film. Overall, a well balanced enjoyable movie that remains a timeless gem.

Just WOW!

This is my favorite film of all time. I've seen it so many times I can quote the lines! Rita Hayworth is by far the most beautiful screen actress that anyone has ever seen and she did it all without taking a thing off her body. Modern actresses should take note! "Gilda" is the reason she was named "The Love Goddess" and seeing this film will tell you why it's the perfect moniker. The woman could dance in the most provocative way and her smile lights up the screen. When she sings "Put the Blame on Mame" in that black satin gown, even women swoon because we all would have loved to look like that! (I prefer her performance of "Amado Mio" in this film but that's my personal like.) The love/hate relationship between Gilda and Johnny Farrell provides the backdrop to this film and gives both of them roles to chew up the scenery with. I believe Johnny Farrell is Glenn Ford's most challenging and best role in all of his films. The writing in this film is superb and not enough credit is given to Jo Eisinger and Marion Parsonnet for giving us such a great screenplay. It is definitely an "Essential" and everyone should see this film at least once!

Rita Hayworth, connections to today

Ever seen "Everybody loves Raymond?" Well in the sho there is a medling mother/grandmother, a obnoxious old man who says to there grown sons "suck it up, Nancy!"Also some PG 13 words I will not list. The old couple has two grown sons, Rat Barone who lives across the street with his wife and kids. There aother son, Robert, who lived with his parents for a while (funny parnt: Ray's elder brother and a little past forty!) He eventually moved out and got married. So the father always goes to this lodge and swims with these old men. Debra(Ray's wife) befriends these old men at the lodge. These old men(excluding Ray's father) only like her for ponographic reasons. They trick her to sing that's right, "Put the blame on Mame." This show ran from 1996- I think 2008. Something so old, can actually be modern. Rita Hayworth was a beautiful woman over her time and still is. Ms. Hayworth's voice is perfect, when she sings it is jaw dropping to hear. Her concept of method acting is neck to neck with James Dean. Glenn Miller, her best friend potrays gang life and gambeling amazingly, too. The plot is intriguing, the story is classic, which makes it a classic movie. I emplore people who have not seen this movie to see it immidiatly!

Bombshell...!!

When our government decided to do a 'nuclear test' in the early '50s, the ordinance was named "Gilda". Kinda says it all...Rita's greatest performance by far.

Rita Hayworth's Hot Stuff

The first time we played "Gilda" in our home we needed a fire extinguisher to put out the men! Since I haven't seen all of Rita Hayworth's early films (but would like to TCM), it wouldn't be right to boldly state that this has got to be her hottest film. But that's what I'm thinking. Rita Hayworth's only a 28 year old who's commanding the title role and how. All eyes are on her even though Glenn Ford is busy delivering one of his classic performances as Johnny Farrell. He delivers equally great lines as Hayworth, like this one: "Pardon me, but your husband is showing." Regardless of what's going on in the rest of the entire film, the world comes to a stand still when Hayworth performs a semi-dance, strip without stripping, and lip sync to the song, "Put the Blame on Mame." It's one of those rare film moments that will pack a punch through the ages. The best part about that number is Hayworth's obvious innocence as a wholesome young woman who's doing a sizzling hot number. If she'd have been a sex pot or sleazy it wouldn't have had nearly as much of a sensous effect. I shake my head thinking, "the girl can't help it," she's so doggone gorgeous. If watched with men seeing Hayworth's body movements for the first time, don't forget to have that fire extinguisher on hand.

Put the Blame on Gilda

I'll never forget Rita Hayworth's song-sync dance routine to "Put the Blame on Mame." What a fantastic moment in Hollywood's history. How marvelous that so many for who knows how long to come can remember Rita Hayworth looking like she did in "Gilda." When cinema gets a scene simply perfect it's an exciting moment to behold.

Mercy Me, Gilda!

From the first moment Rita Hayworth(Gilda) appears throwing her long, lovely hair back to her famous performance doing a faux striptease (with the emphasis on tease not strip) to "Put the Blame on Mame," while lipsyncing, a legend is being born in millions of viewers minds. If Rita Hayworth's multiple talents and skills to act and dance hadn't caught the public's attention before she played Gilda, eyes were bulging out of their sockets after "Gilda." One of the many films made by the Hayworth-Ford dynamic duo, this is one of their all time classic greats. Glenn Ford's performance is perfect for Johnny, his character. In fact, it's hard not to call him Johnny and Hayworth Gilda, they made such a lasting impresssion.

Oh, Johnnie!

The number of times that the name Johnnie is mentioned in Gilda is 118 times! Gilda is definitely a film noir, and Glen Ford and Rita Hayworth are hot together.

Gilda's Great

Enjoyed the movie.

A can't miss classic film

A great suspensefull film. Rita gave a glamorous performance that draws one further into the film. Glenn Ford also gave a fantastic strong performance. It is a lengthy film, but one can not stop watching this riveting storyline unfold. If your one for the key classic film that stands the test of time, then this is a MUST see film.
*We protect your personal infortmation and will not provide it to anyone without your consent. For a complete explanation, please refer to TCM's Privacy Policy. By submitting your contribution, you agree to TCM's Terms of Use.