DVDs from TCM Shop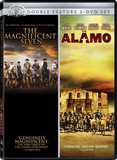 The Alamo Davy Crockett and Jim Bowie... MORE&nbsp> $16.95 Regularly $19.98 Buy Now
Alternate Versions
DVDs from TCM Shop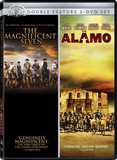 The Alamo Davy Crockett and Jim Bowie... MORE&nbsp> $16.95
Regularly $19.98 buy now
Video and laserdisc releases restore 26 minutes cut from the film after its premiere.

The European DVD version is unfortunatedly the shorter version, even though the restored version has been available on video in the UK.

The uncut widescreen edition on VHS (2 tapes) is 202 minutes long and in Dolby Surround Stereo. It contains more than 26 minutes of added footage as follows:- The original overture, intermission, theatrical trailer, and end themes;- The "Jefferson Speech" extended between Col. Travis & Cap. Dickinson;- The death of Emil Sand;- Conversation between Col. Travis & Col. Bowie regarding Col. Fannin;- The death of the Parson and Scotty;- Crockett's prayer following Parson's & Scotty's death;- The "Philosophical Debate" when the Alamo defenders talk about God;- More complete "Gunpowder Raid" scene;- Crocket''s night with Senora;- Senora's brief scene with a fleeing young woman;- Birthday Party for Dickson's child;- Bonham's orginal report to Travis;- A slightly different Crockett death scene.

The domestic DVD release also contains the shorter general release version.