DVDs from TCM Shop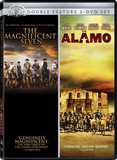 The Alamo Davy Crockett and Jim Bowie... MORE&nbsp> $16.95 Regularly $19.98 Buy Now
USER REVIEWS
See Detailed Ratings
Acting of Lead Performers

Acting of Supporting Cast

Director

Music Score

Title Sequence

Screenplay

Cinematography

Historical Importance

Would You Recommend?

0 Member Ratings
Rate the acting of the Lead Performers

Rate the acting of the Supporting Cast

Rate the Director

Rating of the Music Score

Rating of the Title Sequence

Screenplay

Creatively uses the camera to tell the story

Importance in Cinema history

Would you recommend for fans of this genre
Submit Ratings
Cancel
Write a Review
Read Reviews
NO REVIEWS AVAILABLE
The title has not been reviewed. Be the first to write a review by clicking here to start.
WHY THE SHORT VERSION?

WHAT HAPPENED TO THE ROADSHOW VERSION THAT WAS SET TO BE SHOWN ON 2-8--2018? ALTHOUGH THE SHORT VERSION WAS A NICE PRINT, THE COMPLETE FILM IS A GRAND PICTURE. HOPE TO SEE IT AGAIN AS THE FANS ALL LOVE IT.

tcm uncut dvd

how long do john wayne fans have to wait for the Alamo roadshow dvd? get it out even at a hefty price the movie fans will make it worth it!

the alamo was making this.

this movie would make a historians head explode..and it lost money at the box office..and it resulted in the worst Oscar campaign for a supporting actor in a motion picture ever.. and people use this for ammunition against the man who starred in and directed it..plus he had to deal with his ailing mentor during the shoot. in other words.. a fantastic display of old Hollywood and why America has such a cool factor.

Financing of Film

I worked for the Murchison family in the late 1990's and can confirm that Clint Murchison Jr. did indeed finance a good portion of the film production. There were people in the organization that shared all the deals of that financing and happily reminisced about the day that John Wayne came to the office to spin the deal. All were star-struck and reported what an overwhelming spirit, yet kind, the "Duke" was..... Don't think Clint ever got a return on his investment - but that wasn't his real interest in doing the deal.

The Alamo

Susanne Cavendish

7/23/16

I read some of the reviews and I was struck by one, suggesting John Wayne should stick to acting, alluding to his direction of the film. It is a long movie and if you don't like it, for length and discomfort, see the shorter version. This is my first time seeing the longer version. There were only a few witnesses to survive the siege, having left the mission under auspices of Santa Ana. With that in mind, I felt the movie did a very fine job of reflecting how things were, given guidance from history of the time, our experiences and cinematic directives. By the way, if one's tush is sore from watching, then record the movie and watch it later. There are many books written on the subject of The Alamo, the event, and the Texas war of independence, among them from the author, Joseph Altsheler, born about thirty years after the siege. I thought Harvey [Travis], Widmark [Bowie], Ken Curtis [Captain Dickinson] Jester Hairston [Jethro] and Wayne played their roles with skill and the free-range incentivized by the unknown. The movie was an epic, though it does not have that portion of known circumstance that would attend most large-scale productions of such an event.

full lenth best

WILLIAM J.ATKINSON[ ]

7/16/16

IT SEEMS TCM ALONE HAS THE FULL VERSION OF THIS.I BOUGHT THE DVD BUT SCENES WERE CUT.IT'S NOT THE SAME.A SAD CHOICE AT THE TIME.PLEASE KEEP THIS IN MIND AND SHOW THE FILM OFTEN,NOT SCARCELY. I ADMIT "13 DAYS TO GLORY"IS CLOSER TO THE KNOWN FACTS.BOTH KINDS OF MOVIES ARE FINE THOUGH.180 YRS AND GOING STRONG.THE ALAMO CAN NEVER FALL IN THE ETERNAL SENSE. W.J.A.[ ]

"Should Have Stuck With Acting"

Ehh Gads--Wayne should have stayed with acting, my rear was sore sitting through this mess. The acting was so Phooooney and the film much tooooo long. Some people do not know there limitations and in this case John Wayne did not know his. Terrribleeeeee with a capital T

the alamo 1960

thanks for showing the original version of the alamo. it looks like the print use for the laser disc edition. wish they could restore the original print. but, i understand that print has deteriorated.

Victory or Death

This movie capably demonstrates the manly spirit & sacrifice of total commitment.

The Alamo on Criterion Collection DVD

I would like to have this western epic on Criterion Collection DVD. I like John Wayne, Richard Widmark, Laurence Harvey, Ken Curtis, and Richard Boone. Besides, it won an Academy Award for Best Sound.

A GREAT STORY AND MOVIE

william j.atkinson

12/26/15

THIS IS ALWAYS A GREAT STORY.WE MUST NOT EXPECT FULL ACCURACY IN THESE MOVIES.IT IS BEST TO WATCH THEM AS DRAMATIZED HISTORY AND THEN READ TO GET A NEARLY CORRECT VERSION.LORD'S "A TIME TO STAND"IS AS GOOD AS I'VE SEEN.HE OFTEN ADMITS SOME ??? CAN'T BE ANSWERED FOR CERTAIN. UNFORTUNATLY NO FULL LENGTH DVD WAS MADE,WHAT A MISTAKE.COULD TCM DO IT NOW?IF NOT I HOPE THE FULL VERSION WILL BE SHOWN ON THE STATION FOR THE COMING 180 YR.ANNIVERSERY[3/6/2016].SPECIAL REQEST.I'VE ENJOYED TCM SINCE IT CAME TO MY CABEL STATION,ABOUT 1995.MAKE ME AND OTHERS HAPPY. W.J.A.[ ]

roadshow print.

it is hard to imagine not ever seeing the uncut version of this classic. unless mgm wakes up and allows the powers to be to save this up for best 1960 film award picture!

Alamo restoration

Please please please restore the Alamo to its original roadshow running time.John Wayne deserves this (may he rest in peace).I will certainly buy the blue ray as soon as its available.

the alamo

Are we there yet?

the alamo 1960

one of the things I love about this film was that john wayne told the story about THE ALAMO not the whole texas revolution. the 2004 version attempted to tell all, and got lost, jumping back and forth and became more about sam Houston. secondly there isn't one, not one, camera shot in 2004 that can compare with what john wayne s camera crew did in 1960. the arrival of the Mexican army after intermission has to be seen on a big screen to be believed. to be fare the period clothing and sets were, in both films fantastic. not one film to date has (with the possible exception of the last command) put forth the fact that there in fact, was NO escape or surrender clause. travis understood this. generals urrea and gen. sesma were under strict orders no quarter no surrender.fannin is mostly left out of both films. fannin forgot, you don't make deals with the devil,and got his whole command massacred.

the alamo 1960 ( recast) ?

had some fun, imagining how i would have recast or origanally would have cast the alamo 1960. first half of movie completely re. written. ive seen still shots of richard boone, perfect as james bowie. charlton heston as andrew jackson lecturing davy crockett (john wayne) on going to texas for a new start. richard widmark brilliant as a burned out, lost his nerve fannin. lawrence harvey great as wm. travis. bee keeper, the great walter brennen. denver pyle great as thimble rig, more acting lines or maybe lee marvin in the part. mrs dickinson wearing almost the same clothes, no visable zipper in back of dress and no modern bra. beef up her part. a young patrick wayne or clint eastwood as james butler bonham .again more depth in this part and his famous rides for help shown. director? henry hathaway or howard hawks. john ford would have been great directing,but he wasnt impressed with the alamo story (a personal lack of interest on his part) linda christal perfect as jim bowies wife, ursala. santa anna?only two men come to mind for this part. first ceasar romero as a gloating pompas, grinning ass with no regard for anyone, but himself. or gilbert roland as a darker psychotic, ruthless dictator. battle scenes as is, brilliant. davy crockett killed in front of the chapel by soldados, as recorded by history,in hand to hand fighting. crocketts cloths, a little less duke wayne a little more crockett, only slight changes. 86 on the cigar chomping and stomping at almost every other scene . alamo chapel almost blown up, by defender robert evans. well it was fun to imagine.i think this was john waynes greatest film, and i was just having fun imagining.sincerely hope i didnt step on anyones toes.

the alamo

without a doubt john waynes masterpiece. he poured his heart and soul into this film. his real battles,in making this movie, were the studios, who refused to back him. not one major studio would support the project, so he went ahead and financed the film himself, independently. he called on old friends to star in it and found out (sadly in some cases) who his REAL friends were.people like charlton heston who years later said,i wished id taken a part(acting role) in it. if the movie is historicly inacurate, i believe its partly due to the time 1960 it was made, many facts we now know were not known then. as michael wayne stated john waynes greatest character was his loyalty to people, it was also his greatest weakness. certain actors whose names arent worthy of mention, caused a LOT of heartaches and grief during production. the scenes of the mexican armies arrival and battle scenes were the best ever filmed, the acting scenes should have been handed over to a seasoned director. as john ford stated this is the greatest film ive ever SEEN. my personal favorite line, the night before the final battle, was ,thimblerig what are you thinkng davy? not thinking just remembering.

got to own the dvd directors cut before i die

This is the most important movie that is awaiting a complete overall, the roadshow version i have on vhs and i watch it now and then, the big wizards who put these films onto dvd must realize that the restore version would sell like hot cakes and would make them alot of money plus give us fans a real life long treat, we would all buy at least two copies each, please please get it done now,

The Alamo Incredible Epic

IMO, the greatest film of all time: An all-star cast (Wayne, Harvey, Widmark, Boone, Avalon, Chill Wills, Denver Pyle) in a great wide-screen telling of this legendary tale of courage against impossible odds (180 against 3000) made even more dramatic by Dimitri Tiomkin's iconic theme music. The line-in-the-sand scene, where the Alamo defenders elect to fight to the death, is just incredible. And the final assault on the Alamo, in which each of the big three (Davy, Bowie, and Travis) makes a heroic final stand, is breathtaking. Here's hoping the restoration of the road-show version of the film is successful.

John Wayne, All American

John Wayne is in my estimation the greatest of all male movie stars of all time. I like this film a lot. Very sentimental but then Wayne was Irish to his core. I liked Linda Cristal a lot, a great beauty and solid support by Richard Widmark and Laurence Harvey ( rarely did an actor have so many great friendsElizabeth Taylor for one and detractors Kim Novak and Barbara Stanwyck for the other side of ledger)When one saw a John Wayne movie one was assured of great movie making by a great star. RIP Duke

Widmark excels as Jim Bowie

Long and very long winded, sappy, overblown saga of thedefense of the Alamo, is the project of John Wayne who produces, directs and stars as Davy Crockett. The action scenesare very well done, but the patriotic patter is laid on thick, and yields a bit of cornball mush of a story. Rising above thesyrup is reliable veteran Richard Widmark as Bowie, who, along with tough as nails Richard Boone, make this movie watchable.Widmark is always great, but Frankie Avalon??? The Mexican Army should have got him before he picked up a guitar. C,monman!!

The Alamo (1960)

For all that are still wondering about the story of a new DVD release of The Alamo with ohn wayne; here is a short note. The Pragu Philharmonic Orchestra, who has created many soundtracks of epic movies, has released the "new" The alamo soundtrack of the entire movie! It has three disks and cover 180 minutes of music as Dimitri Tiomkin would have creatd. It is EXACTLY like the original only much,much longer..almost three hours!! Is this a prelude to the long awaited DVD of The Alamo in its entirity; I would hope so! The 202 minute version of The alamo will definitly be on many people's DVD wish list. The new soundtrack was created for the 50th anniversary of The alamo so I would hope to assume that it will be honored in DVD/Blue Ray options this year also. there is suppossed to be a company in Canada who is creating the new 202 version but I not found out when it will be offered this year. The new soundtrack is on Prometheus Records and the CD # is XPCD168 and conducted by Nic Raine. It is dynamite! You can order it through Screenarchives.com for $34.95. Let's hope it shows up DVD this year. For the Duke, wherever you are!!!

the alamo 1960

Perfect Wayne characterization of the elements defining our American spirit. It is historically inaccurate but never-the-less a great movie. Wayne himself starred, directed, and had to put up much of the money required to build the set and get the movie produced.On the 60th anniversary of its release, this is the perfect time to blu-ray it in the directors road show version. I will be one of the first to buy it.

Blu-Ray director's Cut For 50th Annivesary

2010 marks the 5oth anniversary of the release of THE ALAMO. This film deserves the same treatment CASABLANCA, THE WIZARD OF OZ and GONE WITH THE WIND received on Blu-Ray. And since TCM showed the 3.5 or so hours-long director's cut, why can't we get that on Blu-Ray? The cinematography alone is worth putting this film on Blu-Ray.

Release the "Road Show" version TCM!!!

Since TCM has the original roadshow version, and there is a huge demand for this, why doesn't TCM release it on DVD. I am willing to bet that it would sell like hotcakes.This version was on TCM this past week, so TCM, don't say you don't have it. Afterall, Turner bought all of MGM's and United Artists films that was in their vaults years ago. Let's get on the ball TCM and put the Alamo on DVD in its full uncut version for All the Alamo fans!!!

The Director's cut is better

I have always loved this movie regardless of its historical accuracy. I owned the director's cut on VHS but one of the 2 tapes was lost. I own the 160 minute version on DVD but it leaves me wanting the 192 minute version. This is the Duke at his Dukey-est. I visited the set where it was filmed north of Del Rio and was very impressed and that was where I got the 2 tape Director's cut, but for years now I've been looking for it DVD. If it ever comes out I'd sure like to know.

A classic that never got its due

John Waynes The Alamo needs to be shown leading up to this epic movie and giving its due. I seen The Alamo several times before viewing the making of the Alamo or John Waynes The Alamo. It help put things in propective. So Show That Wonderful Picture to America and the world we will be Greatful

REMEMBER THE ALAMO!!

John Waynes The Alamo is perhaps one of the best historical and best action movies i have ever seen. I love the Duke and this is one of my favorites. He makes you feel like you are right in the tv reliving those glorious 13 days that kept this nation free the way it is today. It portrays the bravery of all 187 men that fought to the death to keep this country free and thats what the Duke is portraying in this film. We should never forget those 187 men that held off 5000 mexican soldiers for 13 days for they are what heroes are truly made of. Please release the uncut version on dvd for this is what the Duke would have wanted.Remember the Alamo!

Wayne's intended gift for America

I first saw the Alamo as a young teenager when it was originally released in its uncut roadshow version at the Rivoli theatre in NYC. I loved the film then and still think of it fondly now. Please don't misunderstand me, I know that historicly it is so full of errors that it would take several pages to itemize and point out all of the inaccuracies. But accuracy was not what this film was ever intended to be avout. It was intended by Wayne to illustrate the spirit of the freedom loving defenders of the Alamo and through that, to be a gift to all Americans. This is about the price of freedom and the reasons that make this country so different and so great. I received that gift and still prize the values that Wayne put into this film.The movie itself is entertaining, full of colorful characters, very good performances (especially by Laurence Harvey as Travis) and good action sequences. But listen to Wayne talk about the meaning of the word "Republic" and watch how he makes everyone, including Santa Anna and his army appear to be gallant. Sure it is romanticized, but this is the one that makes one say, if it wasn't this way(and it wasn't) it sure should have been. After studying the history of the battle and the political and economic climate that brought on the Texas Revolution, I can honestly say that this is the film that cpatures the spirit of the times and makes one want to remember the Alamo.

The Alamo Roadshow Director's Cut

Anyone who has seen the theatrical release of "The Alamo" knows that there are a lot of unanswered questions about what happened to certain characters and events. The theatrical version was released with about 30 minutes cut that answered these questions. In the early 90's, MGM was able to restore these deleted scenes and released the original Roadshow version complete with Overture, Intermission, Entr' Acte, and Exit Music restored. This version was released on VHS and Laser Disc. This version has also shown up on TCM from time to time. But the Roadshow version has yet to be released on DVD. How come? Why are fans of this movie relegated back to the original theatrical release? Does MGM/TCM plan to ever release the Roadshow version on DVD? Not unless we speak out. Send Feedback to TCM and let the know that we John Wayne Alamo fans want the complete version.

John Wayne "American"

This is what and who John Wayne was in life. To stand up to what is right and make yourself heard in the USA. Be it one person or the whole mexican army. With the retelling of this time in american history, Duke showed us what we stand for as americans and the sacrifices that were made to make us all free in this land. (This is the most I've typed in my life!)I'll get off my soap box now, Thank You

The Alamo

this movie is a telling of history. some what bent to suit Hollywood. History repeats its self now along are borders. As does the movie Red Dawn. we dont learn from are history do we?
*We protect your personal infortmation and will not provide it to anyone without your consent. For a complete explanation, please refer to TCM's Privacy Policy. By submitting your contribution, you agree to TCM's Terms of Use.