DVDs from TCM Shop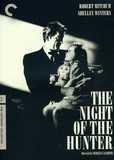 The Night of the Hunter A bogus preacher marries an... MORE&nbsp> $25.97 Regularly $39.95 Buy Now blu-ray
Quotes
Rachel Cooper


Get your state troopers out here. I got something trapped in my barn.

Rev. Harry Powell


There are things you do hate, Lord. Perfume-smellin' things, lacy things, things with curly hair.

Rev. Harry Powell


Ah, little lad, you're staring at my fingers. Would you like me to tell you the little story of right-hand/left-hand? The story of good and evil? H-A-T-E! It was with this left hand that old brother Cain struck the blow that laid his brother low. L-O-V-E! You see these fingers, dear hearts? These fingers has veins that run straight to the soul of man. The right hand, friends, the hand of love. Now watch, and I'll show you the story of life. Those fingers, dear hearts, is always a-warring and a-tugging, one agin t'other. Now watch 'em! Old brother left hand, left hand he's a fighting, and it looks like love's a goner. But wait a minute! Hot dog, love's a winning! Yessirree! It's love that's won, and old left hand hate is down for the count!

Rachel Cooper


It's a hard world for little things.

Rachel Cooper


A good tree cannot bring forth evil fruit. Neither can a corrupt tree bring forth good fruit. Wherefore by their fruits, ye shall know them.