DVDs from TCM Shop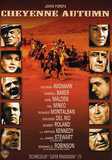 Cheyenne Autumn A reluctant Cavalry Captain... MORE&nbsp> $15.79 Regularly $19.98 Buy Now
Home Video Reviews
During production of John Ford's
Cheyenne Autumn
in the Fall of 1963, President John F. Kennedy was assassinated in Dallas, Texas. This national tragedy (the violent death of America's first Irish-Catholic president in the modern heart of the Old West) was a personal blow for Ford and the coincidence marked the end of an era in more ways than one. The son of Irish immigrants, Ford (born Sean Aloysius O'Fearna) was raised in the Portland, Maine saloon owned by his father. In 1913, he traveled to Hollywood to join his brother Francis, an actor who had taken the stage name Francis Ford. "Jack Ford" secured work as a set builder and stuntman (he was one of the night-riding Ku Klux Klan in D. W. Griffiths'
Birth of a Nation
in 1915) as he worked his way through the ranks of the motion picture industry. A director by 1917, Ford's prolific career (113 films, 54 of them westerns) boasts a wealth of complex dramas concerned with personal or collective destiny, from
The Iron Horse
(1924) to
The Man Who Shot Liberty Valance
(1962).
Cheyenne Autumn
marked Ford's last western, his last film set on American soil, and his penultimate finished film. Ford's life was a true Horatio Alger-style American success story and many of his masterworks --
Young Mr. Lincoln
(1939),
The Grapes of Wrath
(1940),
My Darling Clementine
(1946),
Fort Apache
(1948),
The Searchers
(1956)-- are celebrations of the courage and determination of the pioneers. Near the end of his life, however, Ford was broken in body and spirit. With the studio system on its last legs and westerns decidedly déclassé, and with American society shaken by political assassinations, the Vietnam war and unrest within its own borders, Ford had reason to feel that the American Dream was mostly that.
Mari Sandoz' 1953 book
Cheyenne Autumn
was one of the Nebraska-born historian's many studies of the indigenous people of the American plains and chronicled the Northern Cheyenne's historic 1,500 mile trek (beginning in September of 1878) from the arid Oklahoma reservation where they had been dumped by the United States government to their ancestral home on the banks of Wyoming's Yellowstone River. Ford spent a decade trying to secure financing for a film adaptation of the Sandoz book, envisioning a small black-and-white feature cast with bona fide Native Americans speaking their own language. By the time
Cheyenne Autumn
was released by Warner Brothers, it had cost upwards of $4 million and was a 70 mm Super Panavision Technicolor epic with an all-star cast not limited to James Stewart, Richard Widmark, Carroll Baker and Edward G. Robinson as well-meaning whites. Cast as the film's Cheyenne protagonists were Mexicans Gilbert Roland, Ricardo Montalban and Dolores del Rio, Bronx-born Italian Sal Mineo and expatriate Canadian Victor Jory; background Cheyenne were impersonated by Navajo extras, whose untranslated lingua franca stands in for the Cheyenne tongue. The film took a critical barracking at the time of its release and continues to be criticized for spending too much time on (mostly fictional or fictionalized) white characters at the expense of those whom the film was ostensibly concerned. However problematic from both narrative and casting standpoints, this ambitious political western from the end of Hollywood's studio epoch deserves a fresh appreciation for what it gets right rather than what it gets wrong.
Recent events, from the Balkan ethnic cleansing to the fractious debate over illegal immigrants, have given
Cheyenne Autumn
a startling topicality. Midways through the film, as the Cheyenne flee their 4th Cavalry pursuers, a rash defensive action by the hotheaded Red Shirt (Sal Mineo) results in a skirmish that leaves nine dead. The casualties are inflated by the broadsheets of Dodge City and beyond, riling the populace, engendering paranoia and resulting in a national hue and cry to annihilate the Cheyenne for the common good of white America. While Ford and scenarist James R. Webb are guilty of making their Cheyenne characters stoic to a fault (robbing them of an essential vitality and humanity), their white characters earn their keep as Ford characterizes the mounting (and unfounded) hysteria as an early American media event. Ford's non-Indians also help to deepen the tapestry of the tragedy, representing as they do a cross section of backgrounds and lineages that gives lie to the myth of ethnic purity. The script for
Cheyenne Autumn
is rich in crackling, intelligent dialogue but the film's most surprising and angry speech comes from Mike Mazurki (pug ugly of many a film noir), as a Polish émigré turned career soldier who likens the army's pursuit of the Cheyenne to a murderous Cossack pogrom.
Often identified as
Cheyenne Autumn
's chief antagonist is the Prussian outpost commander played by third-billed Karl Malden. Turning up in the film's last half hour and catalyst for the devastating Fort Robinson uprising (a violent set-piece cut by Warners before the film's general release), Malden's immigrant-made-good is far from being a stock martinet or Nazi surrogate (as alleged by critics of the day who drew a parallel between that character's "orders are orders" ethos and the testimony of Nazi plaintiffs at the Nuremberg Trials). Malden's mannered performance undermines the irony of an ambitious but sensitive and intelligent immigrant (whose admiration for the Cheyenne comes from his fondness for the writing of James Fennimore Cooper) who becomes the instrument of their destruction by following orders will bring him closer to his dream of assimilation. The pseudonymous Captain Wessels is a complex, fascinating character not permitted nearly enough screen time (given his thematic importance to the narrative), and one can only imagine the effect if the role had been played by the Austrian Oskar Werner or even the Swedish Max von Sydow.
Where
Cheyenne Autumn
falls, it falls flat. To depict the harsh terrain traversed by the Cheyenne, Ford and cinematographer Walter Clothier make extensive use of Utah's Monument Valley. However picturesque, the terrain's uniqueness draws attention to the background, where the same mesas and monoliths loom over scenes set in Oklahoma, Nebraska and Montana, suggesting that the Cheyenne are going in circles. Clothier's gorgeous cinematography clashes dramatically with interior and even exterior scenes photographed on obvious studio sets (or, even worse, against rear screen projection). Meanwhile, the film's dead-serious and comic elements are poorly integrated. Ken Curtis (Ford's son-in-law) is introduced in an unpleasant vignette as a unequivocal sociopath, murdering and scalping a starving Cheyenne for fun; this crime earns the character nothing more than a slapstick comeuppance in the film's embarrassing 21 minute "Battle of Dodge City" interlude. In this slapstick sidebar (which Ford shot in lieu of an intermission but which was cut for the film's general release), Jimmy Stewart (as a Panama-hatted Wyatt Earp) and Arthur Kennedy (as Doc Holliday) contribute bemused but half-hearted performances amidst a welter of pratfalls and groan-inducing comic business. (Both actors are 20 years too old to play these historic figures, especially as the events of
Cheyenne Autumn
predate the Gunfight at the O.K. Corral.) Ford likely felt that such a heavy film needed its moments of levity, but to condemn Curtis' bigoted spree killer to nothing more than a bullet in the toe feels like a slap in the face to the very people to whom the film meant to pay tribute and is just one of the reasons
Cheyenne Autumn
remains difficult to defend forty years later.
Warner's presentation of
Cheyenne Autumn
is handsome and respectful. From digitally restored elements of exceedingly fine quality, the film is presented in its original aspect ratio, enhanced here for widescreen playback. The image is gin clear and colors, particularly in the location photography, are nothing short of eye-popping in their vividness; one can only imagine how this played in Cinerama. Equally impressive is the film's soundtrack, remastered here in 5.1 Dolby; the remix does wonders for Alex North's majestic score without adding unnecessary bells and whistles. The feature is close captioned and English, French and Spanish subtitles are optional. Extras are limited to a theatrical trailer and a vintage short subject (narrated by Jimmy Stewart) that follows a trio of Native Americans as they retrace the "Trail of Tears." An audio commentary is courtesy of Joseph McBride, author of
Searching for John Ford: A Life
. McBride is a fine host and tour guide, filling in a wealth of production details and Ford history, and reflecting thoughtfully on
Cheyenne Autumn
's status as a
film maudit
, or damned film. McBride is also an apologist for the oft-maligned "Battle of Dodge City," and his defense is as impassioned as it is unpersuasive. It's a pity that a retrospective featurette couldn't have been included, as (remarkably, for a film made over 40 years ago) a great many of the principal cast are still with us, including Richard Widmark, Carroll Baker, Karl Malden, Ricardo Montalban and Patrick Wayne. (Sadly, Elizabeth Allen, a close friend of Ford's who plays the sassy role of Miss Plantagenet, passed away in September of 2006.) In the final analysis,
Cheyenne Autumn
deserves to be seen, discussed and reevaluated, even if critical opinion ends up deadlocked in a hung jury.
To order
Cheyenne Autumn
, click
here
. Explore more Karl Malden titles
here
.
by Richard Harland Smith