DVDs from TCM Shop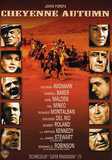 Cheyenne Autumn A reluctant Cavalry Captain... MORE&nbsp> $15.79 Regularly $19.98 Buy Now
USER REVIEWS
See Detailed Ratings
Acting of Lead Performers

Acting of Supporting Cast

Director

Music Score

Title Sequence

Screenplay

Cinematography

Historical Importance

Would You Recommend?

0 Member Ratings
Rate the acting of the Lead Performers

Rate the acting of the Supporting Cast

Rate the Director

Rating of the Music Score

Rating of the Title Sequence

Screenplay

Creatively uses the camera to tell the story

Importance in Cinema history

Would you recommend for fans of this genre
Submit Ratings
Cancel
Write a Review
Read Reviews
NO REVIEWS AVAILABLE
The title has not been reviewed. Be the first to write a review by clicking here to start.
One Film Too Many

I think John Ford (along with William Wyler) were the best directors during Hollywood's Golden Era, but Ford should have retired from directing after he made "The Man Who Shot Liberty Valance." "Cheyenne Autumn" is way too long and overloaded with too many unnecessary scenes. The whole Dodge City sequence and other lighthearted vignettes ruin what was a sympathetic attempt to depict an American tragedy. Richard Widmark and most of the lead actors' performances as well as the fine cinematography are wasted by a pedestrian script and a director for whom this was one film too many.

Sheer poetry

I don't agree with Kevin that Ford should have quit making Westerns while he was still ahead. Cheyenne Autumn is a ravishingly beautiful, exquisitely detailed movie. A magnificent recreation of a time and place long gone yet utterly convincing. There are problems with the movie -- its length, its slow pace, its lack of dramatic punch -- put then this picture has a meditative quality to it. It's a different kind of Ford movie in which his natural lyricism of approach is given freer rein than usual and comes to dominate the whole enterprise. Admittedly, that could simply be because the structural weaknesses were so great that there's nothing left but the poetry. But what poetry! How Ford could continue to glean cinematic nuggets out of Monument Valley after so many decades filming there is a measure of his greatness as an artist. There is nothing stale or jaded here. It is all fresh. And Ford is as entranced with what he is doing in 1964 as he was in the 1920s. This is a young man's film. As for failing to get inside the Indians' interior life, perhaps he wasn't trying to. Of how many filmmakers -- American, European, Japanese -- can it be said they they plumbed the interior depths of nations that were not their own? I think not many (none that I can think of). I'm also not sure this movie was about atoning for past sins against the Indians. I cannot think of a Ford film in which he depicted Indians negatively. As the enemy of the Cavalry and white settlers, yes, but not in a racially derogatory way. Indians are respectfully presented in The Searchers and She Wore a Yellow Ribbon, for example. I think this movie is at least as much an expression of Ford's growing skepticism about Imperial Washington and it military expansionism as it was an effort to atone for past negative portrayals of Indians. The jaundiced view of -- for want of a better word -- Washington was clearly on display in Liberty Valence.

Cheyenne Autumn

I lived in Cheyenne, Wyoming at the time "Cheyenne Autumn" was made, I was a Junior at Central High School at the time. I remember being at the steps of the capitol when the cast was there. I had my picture taken with Patrick Wayne. I just watched "Cheyenne Autumn" on Turner Broadcast channel.

Cheyenne Autumn INDIANS?

Nancy Lauterbach

11/29/17

Just watched the movie maybe the 2nd time on TCM and was concerned the Indians did not all look like the Indians i have met over my lifetime (traveled through Four Corners area and worked in NYC on the BIG MOUNtAIN Project in the 1980"s) and wanted to find out more information. I agree with almost everyone here and know that this country owes more than anything to make the movies true as they can to the truth. I feel that this movie was a beginning. I give it that Ford did try to tell the story of a difficult time. But I thought Dancing with the Wolves was a better movie to tell the plight of the Natives. But hopefully here on out we can say Cheyenne Autumn was essential to our history of sharing the story of a nation of people living in this country who we crushed disrespectedly.

Cheyenne Autumn

Without a doubt the worst movie I have ever seen. John Ford should have never let this movie out of the can. How some of the movie stars acted in this film after they saw the rushes and still let it out is unbelievable.

cheyenne autumn

Ford made this movie as an apology fort his earlier treatment of indians as savages, with no inner life. Unfortunately, in his admirable attempt to atone, he did for indians what he too often did to women in his films, put them on a pedestal withyou guessed itno inner life. The result is a long, slow, dull movie. The only part that reminds you of the Ford of old is fifteen minutes of much needed comic relief, admittedly plunked awkwardly in the middle, featuring James Stewart as a cheerfully amoral Wyatt Earp which I'm pretty sure is an accurate take on the guy. Aside from this performance (and maybe Arthur Kennedy as Doc Holliday) my verdict is that Ford should have quit making westerns while he was still ahead, (i.e. with Liberty Valance.)

William Clothier Unsung Master Cameraman

I saw the Roadshow Version of this when I was 13, and Clothier's Cinematography was stunning. But when Ford turned to hi-jinks with Jimmy Stewart as Wyatt Earp and Arthur Kennedy as Doc Holiday, he really undermined the depth of this saga and the artistry of William Clothier. Clothier lost the Oscar to Harry Stradling and the studio-bound My Fair Lady that year. His work for Wayne's musical hoedown of The Alamo was also brilliant, but he lost to Russell Metty and Spartacus. Clothier's work was consistently great even when his directors tried to upstage him with BS

Overall An Excellent Movie

One of Hollywood's best ever. Perfect? No. The whole Stewart portion should have been cut. I think historically misleading; the earlier homeland of the Cheyenne was the Carolinas or there abouts. Awesome scenery, fine acting (Widmark an A). Watch it.

John Ford in any shape or form is 5 outta five!

Huge cast, excellent locations, good story. The one I missed I miss no more. Thanks Mr. Ford.

Too long!

I've watched this film a number of times and it is far too long for the story being told. The editing was sparse and it hurts the film. The film did win the Academy Award for Best Cinematography and the scenes in and around Monument Valley are superb. Richard Widmark is very good here but he is just one of a myriad of film stars who are throughout the film. Not all of the stars in Hollywood could have made this a fitting tribute to it being John Ford's last film and that's a shame.

cheyenne autumn

john ford said when making movies, make the legend. go to the library if you want a history lesson. (not an exact quote words to that effect) my point is, this is a great film, with the exception of the wild chase scene with the ****s and cowboys and james stewart etc. it just doesnt fit in, looks like it was cut in from another film and frankly, james stewart a great actor in his one right, seems to be hamming it up cause, he doesnt give a damn for a bit part or cameo maybe mr. ford should have considered stewart for a better larger part. this is not just a western, its the story of a great nation of people fighting for there rights and finally a journey at last to go home to the land of there ancestors. a very deep and profoundly tragic journey. what i find, is the( happy ending) where the indian commisioner from washington, who comes to square things up with the cheyenne people (edward g. robinson) history tells us he never showed up! theyre still waiting and waiting and over a hundred tragic years later still waiting. if your going to make a fictional cowboy movie shoot um up fall off your horse stuff, ok ill buy the popcorn love it. but dont mess with the truth.

Well meaning, not well done

As is the case with most reviewers, I wish John Ford's last western was better. The man who directed "Fort Apache", the "Searchers", and "My Darling Clemantine" had the master director's touch. But by the time he worked on this film, he was by his own admission, tired and ill. There are still excellent elements in this film. Beautiful photography, several fine performances (Widmark especially) , and interesting character studies. It tells an important story but not all that well. It never quite comes together. However, for any fan of the Western, it is well worth the viewing at least once. Oh, the scenes showing the plight of the Cheyenne tribe are generally well done and moving. The other parts of the film are a bit dull. Anyway take a look.

Cheyenne Autumn

The story line of the Cheyenne's trek through the country to get to their homeland is important. The movie had a wonderful cast and a good director but the movie itself could not hold my attention. I was highly disappointed in its presentation. John Ford was a talented director, but the movie did not do justice to him nor to the great list of actors. I would consider this movie a "one-timer".

Great Western

I first saw this movie when I was eleven or twelve. Since then I've seen it several more times and will watch it whenever it's shown on a premium channel or TCM. It's a great western that tells a good story about what the white man did to the indians and are still doing today. They broke every treaty they ever made with the native Americans and if you don't believe it, read Bury My Heart At Wounded Knee. Bill

A waste of time

I just watched Cheyenne Autumn for the first time, and it was one of the worst movies that I have ever seen. The plot was tedious and the movie did not flow very well. However, the insertion of the "Battle of Dodge City" sequence was ridiculous, and had no place at all in the plot of the movie. I don't know why everyone fawns over John Ford. Every one of his movies that I have seen, involve drunken fights, women getting their skirts torn off, and carnival music. That's not a western, that's just a boozy joke of a movie.

Hispanics In Movies

In 1964 few hispanics worked in Hollywood movies. Therefore, Gilbert Roland, Ricardo Montalban and Dolores del Rio drew strong attention from us and we admired them extensively for representing us. I was watching this movie today and am still very impressed; they along with Anthony Quinn, were the first Hispanics to find work in movies and inspire us. My respect and compliments to John Ford and whoever was the main person that recommended them for the roles in Cheyenne Autumn. Today, it is people such as Director Robert Rodriguez, who are making further progress in establishing hispanics in the movie world. Robert's family has roots in South Texas, I look forward to some day him filming in the Rio Grande Valley. We will welcome him with open arms. There are some very good local hispanic actors/actresses in the "Valley" who are willing to work for a a paltry wage to be in a movie.

Widmark shines in Ford's farewell western

Great American director, John Ford, brings to the screen an homage to the American Indian with this, his last epic. The idea was brought to Ford by Richard Widmark years before, andWidmark was rewarded by being cast in the lead role, heading an excellent cast which included Carol Baker, Karl Malden, Gilbert Roland, Ricardo Montalban, Sal Mineo and Dolores Del Rio.Appearing as "guest stars" were the always excellent James Stewart, and a personal favorite, indomitable Edward G. Robinsonas the Secretary of Defense. This was the pinnacle of Widmark'scareer, as he had major roles in three best film nominees in four years (The Alamo, Judgment at Nuremberg, and How the West Was Won) and was a the time a major hollywood star. It was also the second pairing of Ford and Widmark.It was fortunate that Widmark was given the lead because he was perfect and flawless and looks very natural in a Cavalry uniform. This is quite a good film and and entertaining for allbut a special treat for fans of Ford and Widmark. Boots and saddles, mister! movie fans, but a special treat for fans of Ford and Widmark.Boots and saddles, mister!!

Cheyenne Autumn

Notable for the work of the Native American extras. Jay Silverheels should have been cast in a lead role.

A Master's Farewell

This is the last western and the next to last feature film directed by John Ford--the movie director who invented the myth of the American West. Cheyenne Autumn was criticized when it was released, and has continued to be criticized for it's length and for casting non Native Americans in the leading Native American roles. Granted all of those things, it is still a hugely important movie because it continues a trend that Ford started at least as early as The Searchers in exploding the mythology that he helped create in the 20s, 30s and 40s. Cheyenne Autumn is his ultimate expression of revisinonism involving Native Americans, and if it is not as masterly as The Searchers and the Man Who Shot Liberty Valance, then surely age and studio financing had a lot to do with it. Ford's last western was released the same year Clint Eastwood made his first movie and there is an almost seamless transition between the two of them in dealing with the myth of the West.
*We protect your personal infortmation and will not provide it to anyone without your consent. For a complete explanation, please refer to TCM's Privacy Policy. By submitting your contribution, you agree to TCM's Terms of Use.