DVDs from TCM Shop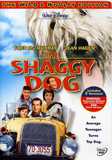 The Shaggy Dog An ancient spell turns a... MORE&nbsp> $8.95 Regularly $9.99 Buy Now
NOTES
The film's opening and closing credits feature an animated, stop-motion sheep dog that interacts with the titles. The picture begins with a voice-over narration describing the character of "Wilson Daniels" and his aversion to dogs. Throughout the film, footage of a real dog is intercut with shots of a prop dog, whose mouth moves to approximate speech. The film's title, while referring to the dog in the picture, is also a reference to the old expression "a shaggy dog story," indicating a tall tale.
According to a April 14, 1958 Hollywood Reporter news item, before production of The Shaggy Dog began, Walt Disney considered releasing the film exclusively on television. As noted in a August 22, 1958 news item, the film was partially shot on the Universal lot. Contemporary sources disagree as to the real name of the dog who played "Chiffon"; while most refer to the dog as Shaggy, Los Angeles Mirror states that his name was Mr. Hyde, and Hollywood Citizen-News lists him as Sammy's Shadow.
The picture marked the feature-film debuts of former Mickey Mouse Club "Mousketeers" Annette Funicello and Roberta Shore. It also marked the first time Fred MacMurray appeared in a Disney film; he went on to star in six more of the studio's pictures, including The Absent-Minded Professor (1961) and Son of Flubber (1963; see AFI Catalog of Feature Films, 1961-70). Although August and September 1958 Hollywood Reporter news items add Charles Lane, Larry Blake and Gregg Palmer to the cast, neither Lane nor Blake were in the released film, and the appearance of Palmer has not been confirmed. Modern sources add John Hart (Police broadcaster) and Mack Williams (Betz) to the cast.
As noted in a May 1959 Los Angeles Mirror article, The Shaggy Dog proved Disney's biggest box-office hit of the time, earning over $8 million in its first domestic release. The studio re-released the film in 1967 and in 1976 produced a sequel, The Shaggy D.A., directed by Robert Stevenson and starring Dean Jones and Tim Conway. Several made-for-television films followed, included 1987's The Return of the Shaggy Dog and 1994's The Shaggy Dog, which starred Ed Begley Jr. In 2006, Buena Vista released a remake of The Shaggy Dog directed by Brian Robbins and starring Tim Allen and Kristin Davis.