DVDs from TCM Shop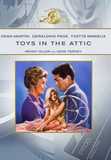 Toys in the Attic Man finds trouble when he... MORE&nbsp> $11.45 Regularly $19.95 Buy Now
Articles
SEE ALL ARTICLES
Toys in the Attic (1963)
Many people in Hollywood were surprised, even shocked, when Dean Martin was cast in the film version of Lillian Hellman's Toys in the Attic (1963) as Julian, a role that had won Jason Robards, Jr., much critical praise and a Tony nomination in the 1960 Broadway production. Hellman's ultra-dramatic story, set in New Orleans, revolves around Julian's conflicted relationships with his childlike bride (Yvette Mimieux) and his two spinster sisters - the long-suffering Anna (Wendy Hiller) and the possessive Carrie (Geraldine Page), whose adoration of her brother borders on incest. Many felt that Martin, only six years past his stint as straight man to Jerry Lewis in a series of slapstick comedies, would not be up for the challenge, even though he had delivered effective performances in The Young Lions (1958) and Rio Bravo (1959).

During filming, a writer for the New York Times visited the set to find that Martin was "quite aware that there are some who think he is not good enough for the part of the flighty, tormented, tragic young Southerner." The writer also reported that Martin admitted to never seeing or reading Hellman's play and, in fact, to disliking all plays. It was further revealed that Martin's "favorite method of learning lines is to have his caddie cue him on the golf course." In his offhand way, Martin later commented, "I don't know why everyone made such a mystery about how I got the part. My agent did it. Herman Citron - he's been my agent for maybe 15 years - saw the play and liked it. He told me I ought to do it. I think Herman has good judgment about movies. So I said okay."

Martin's cavalier attitude seems at odds with his hardworking approach in tackling the role - a dedication that reportedly impressed both Page (a Method-trained actress considered one of America's greatest) and Hiller (a distinguished British star of stage and screen who was made a Dame in 1975). Director George Roy Hill has commented that Martin "was frightened by the demands the film put on him and so relied on me a great deal." Producer Walter Mirisch said he felt Martin was a fine choice for the role and turned in an excellent performance. A few critics agreed, although many found it impossible to accept the concept of this "lightweight" performer following Robards in the role. Some of the other actors won critical kudos - especially Page, described by Brendan Gill as having all "the sinister sweetness of a chocolate-covered cobra."

Toys in the Attic was not a commercial success - in Mirisch's view not because of a lack of quality but because it "came rather at the end of a cycle of Southern psychological films." The lackluster reception at the box office, along with some stinging reviews, had their effect upon Martin, who never made another serious attempt at heavy drama.

Hellman's play had enjoyed a tremendous success on Broadway, where it played 556 performances, making it second only to The Children's Hour among her long-running plays. The playwright's companion, novelist Dashiell Hammett, had suggested the subject matter to her when she was suffering from writer's block. Hellman based the characters to some extent on members of her own family, particularly her father, mother and maiden aunts. The film version of Toys in the Attic features former star Gene Tierney in the role of Julian' s mother-in-law, who is involved in an affair with her black chauffeur (Frank Silvera). Bill Thomas won an Oscar nomination for his costumes, and Page was nominated for a Golden Globe as Best Actress in a Drama.


Producer: Walter Mirisch
Director: George Roy Hill
Screenplay: James Poe, from play by Lillian Hellman
Art Direction: Cary Odell
Cinematography: Joseph F. Biroc
Costume Design: Bill Thomas
Editing: Stuart Gilmore
Original Music: George Duning
Cast: Dean Martin (Julian Berniers), Geraldine Page (Carrie Berniers), Yvette Mimeiux (Lily Prine Berniers), Wendy Hiller (Anna Berniers), Gene Tierney (Albertine Prine), Nan Martin (Charlotte Warkins), Larry Gates (Cyrus Warkins), Frank Silvera (Henry Simpson).
BW-91m. Letterboxed.

by Roger Fristoe
back to top
---