DVDs from TCM Shop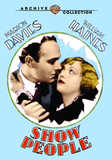 Show People In this silent film, a... MORE&nbsp> $16.95 Regularly $19.99 Buy Now
NOTES
A written prologue after the opening credits reads: "To hopeful hundreds there is a golden spot on the map called Hollywood." Although his onscreen credit states that the character played by Dell Henderson is called "Colonel Pepper," the character introduces himself to a studio guard as "General Marmaduke Oldfish Pepper." (Henderson had previously portrayed Davies' father in director King Vidor's 1928 film, The Patsy, .)
At the beginning of the film, "Peggy Pepper" and the colonel are seen driving along Hollywood Boulevard in the Hollywood district of Los Angeles, CA. Shots of the entrances of the Paramount, Fox, First National and M-G-M studios as they were in 1928 are shown in the film. According to modern sources, the Comet Studios slapstick sequences were shot at the old Mack Sennett studios in the Edendale area of Los Angeles. The "High Arts Studio" sequences were shot at M-G-M. According to the Variety review, the film was synchronized with the background music at "M-G-M's new Manhattan sound studio."
As an in-joke, actress Marion Davies appears as herself in a sequence in which she exits a car, while Peggy, the character she portrays, is shown to be unimpressed at seeing the famous actress. In the "audience preview" sequence set in a movie theater, after the "showing" of Peggy and "Billy Boone's" slapstick movie, the title card and brief footage of King Vidor's 1926 film, Bardelys the Magnificent, appears on the screen.
Vidor, John Gilbert, Charlie Chaplin, Mae Murray, Elinor Glyn, Lew Cody, Aileen Pringle, Karl Dane, George K. Arthur and Douglas Fairbanks, Sr. appear briefly as themselves and are identified by characters in the film, but their names do not appear in the onscreen cast list. Hearst columnist Louella Parsons also appears in the film. As noted in an unidentified April 1928 news item found in AMPAS Library's file for the film, other celebrities who appear in cameo performances, many of whom are seen in a sequence shot around a studio commissary luncheon table, are William S. Hart, Leatrice Joy, Norma Talmadge, Rene Adore, Rod LaRoque, Claire Windsor and Dorothy Sebastian. According to the news item, which erroneously reported the film's title as Show World, the luncheon sequence was filmed on April 10, 1928.
Modern sources add the following actors to the cast of Show People: Ray Cooke (Director's assistant); Coy Watson, Jr. (Messenger boy); and Bess Flowers, Red Golden, Estelle Taylor, Gordon Avil (Assistant Camera), Harry Crocker, Pat Harmon, Bert Roach and Robert Z. Leonard. According to modern sources, members of the former Keystone Kops portrayed players in the "Comet Studio" sequences. A modern source stated that Vidor wanted to cast James Murray, who had been critically acclaimed when he appeared in Vidor's The Crowd, but the actor suffered from alcoholism and failed to show up at the studio. After shooting began on Show People, producer Irving Thalberg assisted Vidor in finding William Haines for the role of Billy Boone. Modern sources add Will Sheldon (Assistant Director) to the crew.
According to modern sources, Metro had purchased the Guy Bolton stage comedy, Polly Preferred, but decided that it did not translate well to the screen. Instead, a script was written that was set in Hollywood and which, according to the Variety review, brought to mind the careers of actresses Bebe Daniels and Gloria Swanson. Similarly to the character Peggy, Swanson began her career as a Mack Sennett bathing beauty and married Wallace Beery, who was then a little-known actor with whom she worked. Her fifth marriage to the French nobleman Marquis de la Falaise in 1925 made Swanson one of the first Hollywood starlets, along with actresses Pola Negri and Constance Talmadge, to marry into aristocracy, a theme which Show People satirized. The Variety review stated that Davies, who was known to be a talented mimic, exhibited comical facial mannerisms that were parodies of popular actress Mae Murray.
Many modern sources, among them Vidor's autobiography, report that Vidor had originally planned for Peggy to be hit in the face with custard pies in the first Comet Studios sequence and in the pre-wedding scene with Billy. However, newspaper tycoon William Hearst, who was Davies' champion, mentor and lover and who set up a temporary office on the Show People set, refused to allow it. After consultations, Vidor compromised with Hearst by instead spritzing Peggy with seltzer water.
Hearst aspired for Davies to be a serious dramatic actress and, as commented upon in various modern sources, his overprotective, controlling interest in her career had negative consequences. In recent years, however, after studying her inspired performances in Show People and other comedic roles, many film historians have concluded that she was a great comedienne who missed the opportunity to display her true strength. Show People marked Davies' last silent film.