DVDs from TCM Shop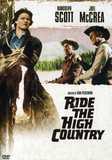 Ride the High Country Two aging gunslingers sign on... MORE&nbsp> $15.79 Regularly $19.98 Buy Now
USER REVIEWS
See Detailed Ratings
Acting of Lead Performers

Acting of Supporting Cast

Director

Music Score

Title Sequence

Screenplay

Cinematography

Historical Importance

Would You Recommend?

0 Member Ratings
Rate the acting of the Lead Performers

Rate the acting of the Supporting Cast

Rate the Director

Rating of the Music Score

Rating of the Title Sequence

Screenplay

Creatively uses the camera to tell the story

Importance in Cinema history

Would you recommend for fans of this genre
Submit Ratings
Cancel
Write a Review
Read Reviews
NO REVIEWS AVAILABLE
The title has not been reviewed. Be the first to write a review by clicking here to start.
THIS IS A VERY GOOD FILM!

A'hm tellin' ya! This is really scary! A'hm talkin' SCARY! This is a great little western where everyone does their part just about perfectly. Everything is great. For the rest of my review, just read Supercilious Sellers' review. I find myself, for the second time I believe, in COMPLETE agreement with him. THAT'S WHAT'S SO SCARY! 'Nuff 't make ya shudder!Well, broken clocks, and blind squirrels, and all that stuff...Just read Sellers' review for the rest of mine...except for this addition...This is also a quiet morality tale, right versus wrong, Good versus Evil, resulting in the inevitable triumph of Good, and the unwavering faith of one good man, in another, his longtime friend. It's uplifting, graceful, and not in the least corny. If this wasn't so, we can all trust that Sellers would have pointed it out, which he didn't.I'm in complete agreement with his review. Scary.

Wise Switching Lead Characters

McCrae & Scott excel in leads,just too bad neither had more length to their careers.The brothers are brutes,even when not driking.Violent Peckinpaugh film,as per usual.

Couple of real pros

I agree that a great western goes beyond the stereotypical good guys and bad guys. I also look for cinematography and a great cast to complete the package. I think Ride The High Country is among the best. I always enjoy watching actors work together when you know the back-story of their off-screen relationship. Good buds Randolph Scott and Joel McCrae made it look easy. You almost get the impression that if Peckinpah tried to give them direction they just smiled and said, "Relax. We've got this covered."

Ride the High Country

Susanne Cavendish

7/10/16

One of those movies, that once you see it, you want to see it again, down the road a bit. I thought this was Randolph Scott's finest, where he really showed his acting skills and his character, as more real. So many of his past movies seemed written for a quick digestion of what we knew he was like. a hurried look-see, and then it was over and I still loved him. In Ride the High Country, his character is developed and the parallel between his plans and McCrea's character's is understood in a way that calls for a standoff if resolution is necessary. McCrea had so many good movies and, still, this has to rank among his best. Always comfortable in a western, McCrea seemed relaxed and thoroughly at home in this one. Mariette Hartley was quite good, this being, I think, her maiden movie. I think the movie drove home the point that we learn in black and white and apply what we learn, in gray. If done in reverse we seem to get the Hammond family, since learning in gray is just a preface to applying in black and white, the raw emotion when learning has failed. Nevertheless the Hammond family, as portrayed, reflected fine acting. Thank you TCM for offering up this wonderful movie. I look forward to seeing it again, in about nine months. I give it a five out of five.

Joel & Randy

Great co-stars.Wish they'd done more together,aging or not!

Ride The High Country: Peckinpah's Best Film

Not a fan of Peckinpah but this early effort from '62 is easily his best work. Great story starring real life friends Joel McCrea and Randolph Scott- who are terrific in the lead roles. Unlike the much written about reasons relating to his behind the camera problems through the rest of his career, Ride The High Country is a wonderfully interesting tale that flows effortlessly with an easily understood and appreciated plot for those familiar with western themes. Legendary veteran character actors R.G. Armstrong, L.Q. Jones, John Anderson and Edgar Buchanan lay down the law as how you should perform on camera if you are a pro. Up and comers Warren Oates, James Drury and Mariette Hartley seem to be aware that they are in the midst of a great learning experience and their growth is obvious during the unfolding of the film. Truly outstanding product in a once-dominant genre.

top flight western

Fantastic story crisp pacing and multi-dimensional characters drive this movie Randolph Scott breaks out of his western stereotype characters and is fantastic. Joel Mcrea is well Joel McCrea and a young Warren Oats make this a must see.

One of the Finest Westerns

Growing up I never was interested in Westerns as I seem to equate them with 'The Good Guys' vs. 'The Bad Guys' and thought they didn't have much of a story line. Now that I am older, I have a new found appreciation for the Western and the actors who portrayed so many varied characters in them. This gem of a film was recently aired on TCM, and I am so glad, as it opened my eyes to an actor who I rarely heard or seen until now, Mr. Joel McCrea.... -- it all started with 'Stars In My Crown', 'The More the Merrier', 'Foreign Correspondent', and now 'Ride the High Country'. A very fine Western, maybe one of the finest from the 1960s and am so glad it is making its way to be shown more frequently on TCM. Thanks for continually showing such quality work from such a wonderful actor.

ride the high country

This is Peckinpah before he became so convinced that he was a genius that he thought the rules of coherent film making did not apply to him. A very controlled film, with a tight, spare screenplay by veteran western writer N.B. Stone that creates many memorable characters and lines, such as the highly moral Steve Judd's desire to live a life of integrity, so that he will "enter my house justified," and Edgar Buchanan's besotted judge who, managing to rise momentarily above the haze of a drunken wedding ceremony, muses on the "hard work" that is involved in a good marriage, and Judd's final appraisal of Gil Westrum, given just before Judd's death, which is as fine a description of moral ambiguity that you're likely to hear at the movies. Contributing to the overall excellence of the film is Lucien Ballard's poetic camera, George Bassman's haunting theme, and of course the performances of Joel McCrae and Randolph Scott as Judd and Westrum, the best work either has done, in my opinion, and that includes "The More The Merrier" and "Sullivan's Travels" for Mc Crae and the Boetticher westerns for Scott. And Peckinpah gets the usual solid work from his "regulars" like Warren Oates, R.G. Armstrong, and L.Q. Jones, as well as newcomers to the Peckinpah family like Mariette Hartley, John Anderson and Ron Starr (whom I'm surprised did not have a bigger career.) As for Peckinpah's direction it is well paced, with a fine instinct for when to speed up the action and when to slow things down. (This pacing skill would desert him after "Junior Bonner.") This film is an A all the way. P.S. I'm gonna take this opportunity to salute veteran character actor, Percy Helton, he of the wheezy voice and Uriah Heep demeanor, who played the banker Samson. No one did sleazy merchants better than Percy Helton.

One of best westerns ever!

This western covers some unsavory topics. Nevertheless, it is one of the best Westerns I have ever seen. The theme song is haunting and the final scene is a tear-jerker with a redemptive message. Sometimes a man forgets who he is, gets lost in his ambition, and can get bitter over how his life has gone and how people view it. But redemption is still possible. Especially if you choose your true friends carefully.

My Favorite Western

So much to like here. A masterpiece

Museum Film

Next to Shane, this film has to be one of the best. John Wayne may have been the king of Westerns, but R. Scott was the leading Western star in the 50's. Joel McRae did multi roles, but always seemed at home in the saddle. For those who loved the old Westerns, this was one of the last that capped the careers. The stars made a mediocre plot into a great swan song by the aging stars.

McRae and Scott

These two stars were leading box office draw at times in their career. Everything comes to an end, and this was the last significant effort by both. Playing their own ages, they also play a good and evil story, one with redemption in the end. McRae is stubbornly, if naively good, and Scott recognizes that he has one shot at living his remaining years with some dignity. In true old fashioned western genre, it all gets sorted out in the end, wit h good winning over evil. (A lot different than today). The Director, best known for his violent films, manages to get in some death scenes, but not too much blood and guts. Not enough that you couldn't watch thise with the older members of your family without squirming uncomfortably. Great photography, color, unlike many of the two stars earlier films. Did you notice how the two old veterans out acted the new guys on the block. The only part I didn't like was the typical beating up on the father who wanted the best for his girl. This has become so common in films today, that it almost seems required, and in my opinion, a form of censorship because portraying a Christian father who loves his daughter is no longer possible without making out that he is a jerk.

RIde the High Country

The first Western directed by Peckinpah, and the one that put him on the map of major filmmakers. Scott & McCrea, playing character's that reflected their own on-screen persona's, play two aging gunfighter's whose mission to transport gold is interrupted by Hartley's presence. The film's plot is predictable, but contains many themes that Peckinpah would explore in his later career and a nostalgia for the older Western pictures. A small Western that deserves appreciation and a lot of viewings. I give it a 4/5.

Ride with Randolph and McCrea, Ride Tall(1962)

Aging Lawmen Joel McCrea and Randolph Scott are hired to escort the gold to town from the mine, where there is only one route. Teriffic direction by Peckinpah who understands that the worth of a man's life, is valued by more than money. Great story, great supporting actors, and introducing Mariette Hartley. Warren Oates, R.G. Armstrong, Edgar Buchanan, James Drury, and L.Q. Jones also star. 5 out of 5 stars for its place in western film history, plus sentimental value, when men were men.

Peckinpah's Most Intense Western Drama.

Frank Harris Horn

6/11/10

Legendary film director, Sam Peckinpah directs Western film legends, Randolph Scott and Joel McCrea in this magnificent Western adventure filmed on location in the Inyo National Forest near Bishop, California. Scott and McCrea are two aging lawmen hired to guard a gold shipment, and rescue a beautiful mistreated bride from a family of gun-blazing brothers. Both Scott and McCrea are at their best in their seperate careers, along with beautiful scenery photographed by cinematographer, Lucien Ballard, and flawless performances. Also starring Mariette Hartley, Ronald Starr, Edgar Buchanan, R.G. Armstrong, James Drury, John Anderson, L.Q. Jones, Warren Oates, John Davis Chandler, Jenie Jackson, Percy Helton, Byron Foulger, Michael T. Mikler & Frank Hagney. This was Randolph Scott's last film. Randolph Scott died on March 2, 1987.

Simply a great film.

A wonderful film from start to finish with great acting by the two leads, gorgeous cinematography, beautiful music and an ending with one last perfect line from Randolph Scott.

classic western

The photography is brilliant, the acting of the lead and supporting players is excellent. The ending is one of the most moving in movie history.

superb western

well written/acted/realized. A pleasure

ride the high country

was I seeing things was there a camel ???
*We protect your personal infortmation and will not provide it to anyone without your consent. For a complete explanation, please refer to TCM's Privacy Policy. By submitting your contribution, you agree to TCM's Terms of Use.