DVDs from TCM Shop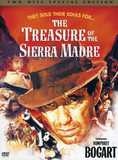 The Treasure of the Sierra Madre Dobbs and Curtin meet up in... MORE&nbsp> $23.95 Regularly $26.98 Buy Now blu-ray
NOTES
Memos included in the Warner Bros. Collection at the USC Cinema-Television Library add the following information about the production: The B. Traven novel was purchased by the studio in 1941 as a vehicle for director John Huston. (Due to some complications and misunderstandings, the motion picture rights to the novel were difficult to obtain.) By July 1942, Huston was in the Army, and, in a memo dated July 14, 1942, producer Henry Blanke asked story editor Jim Geller to send a copy of the book to Edward G. Robinson for his consideration. In December 1942, Robert Rossen was working on a draft of the screenplay, but the film was eventually postponed and not revived until Huston's return from active duty at the end of the war. The extent of Rossen's contribution, if any, to the completed film has not been determined. Ronald Reagan was considered for the role of "Curtin" and Zachary Scott was a possibility for the role of "Cody." Papers included in the production file on the film at the AMPAS Library add the following information about the production: A February 10, 1943 press release listed Humphrey Bogart, Walter Huston and John Garfield as the film's stars, while a August 22, 1945 press release announced Vincent Sherman as director. According to production notes, the production spent eight weeks shooting in Mexico and ten days filming near Kernville, CA.
Novelist B. Traven was a mysterious character who refused to reveal any information about himself, although he exchanged numerous letters with John Huston. Life reported that while on location in Mexico, Huston was approached by a man who called himself Hal Croves, who claimed to be Traven's translator. Huston hired him as a technical advisor. When Huston later speculated in print that Croves and Traven were one and the same, Croves wrote an angry letter of denial, pointing out that he was paid $150 a week, far less than an author of Traven's fame was worth. According to a December 22, 1978 New York Times article, a research team for the British Broadcasting Corporation later confirmed Huston's theory. The BBC discovered that Traven's real name was Herman Albert Otto Maksymillian Feige and that he was born in 1882 in Poland. He supposedly fled Germany in 1919 to escape a death sentence for his revolutionary activities.
A modern source notes that as a good-luck gesture to Huston, Ann Sheridan was to perform a silent bit part as a prostitute, but adds that the character in the film cannot be positively identified as Sheridan. Modern sources add the following cast and crew members: Prod chief Luis Snchez Tello; Production Assistant Jaime Luis Contreras; Sound Rafael Ruiz Esparza; Photography George Stahl. The film was nominated for an Academy Award for Best Picture. Walter Huston received an Academy Award as Best Supporting Actor for his performance, and John Huston was awarded two Oscars: Best Director and Best Screenplay. This film marked the first time a father and son received Oscars for the same film. On April 18, 1949, Lux Radio Theatre broadcast a version of the film starring Humphrey Bogart and Walter Huston. The story aired again on February 15, 1955.