DVDs from TCM Shop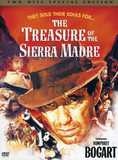 The Treasure of the Sierra Madre Dobbs and Curtin meet up in... MORE&nbsp> $23.95 Regularly $26.98 Buy Now blu-ray
USER REVIEWS
See Detailed Ratings
Acting of Lead Performers

Acting of Supporting Cast

Director

Music Score

Title Sequence

Screenplay

Cinematography

Historical Importance

Would You Recommend?

0 Member Ratings
Rate the acting of the Lead Performers

Rate the acting of the Supporting Cast

Rate the Director

Rating of the Music Score

Rating of the Title Sequence

Screenplay

Creatively uses the camera to tell the story

Importance in Cinema history

Would you recommend for fans of this genre
Submit Ratings
Cancel
Write a Review
Read Reviews
NO REVIEWS AVAILABLE
The title has not been reviewed. Be the first to write a review by clicking here to start.
Best Huston ever (both of them)

It really can't get any better than this. This and "The Maltese Falcon" are films that I can recite the dialogue from,I've seen them so many times. Bogart starring and Huston directing.Coincidence? I think not. Great directors have a way of getting the best out of even the greatest actors. Huston Sr. was well deserving of the Oscar, and Holt,Bennet, and the unforgettable Bedoya were outstanding also. I can't look at Robert Blake the same way after his implication in murder, but he was fine, too. To my mind,this is one of the top ten American films ever made. The theme of greed will always stand the test of time (especially in the good ole USA) And the iconic last line from "The Maltese Falcon" would be appropriate here: "The stuff that dreams are made of"

if i do a pun..the director will kill me.

I believe if any of the main stars in this would have said an ad lib like..i feel the need for greed ..the director would have shot them in the butt. this script makes the insanity of wells fargo look like the savings and loan in its a wonderful life. this movie had to be made..it spawned a story narrative used to this very day..which makes that greater than any award.

"It'll glitter once it's refined"

Part of Howard's ongoing teachings. 1948 was the best year for both Bogart and John Huston. Their stars still glitter due to refining their roles as actor and director with this film and "Key Largo", released later in the year. Both have Bogie as a believable character and both have a legendary leading-turned-supporting actor in Walter Huston and Edward Robinson. Both also are psychological studies in what men do in stressful situations. Both stars would have faded a bit or even a lot if not for the two Golden Age classics. Max Steiner scores here, the 2-minute bar fight is a knockout, and I agree with William Friedkin. After the 8 pm "Essentials" showing last night, the director declared "you could feel the sweat and dirt" on the characters' faces. Great film about strength and weakness, decency and deviousness, and our free will to be good or evil.

Solid Gold

Tough and brilliant, hang on.

Overlooked Gem

Terrific adventure tale about three men who become friends and go prospecting for gold and find it. They begin to mistrust each other and throw in some creepy Mexican bandits too. Bogie is excellent as man who slowly loses his grip on reality. Great character study of men in stressful positions. Excellent classic and a must-see. A top 30 film of all time.

Interesting

Enjoyable mainly because of Walter Huston. Bogart character never really developed. Somewhat overrated and insubstantial.

Good one

Yes a good movie, but not what I expected from the quality of the cast. At times they appear to be reading the script instead of acting. Again, good movie, but not an all timer by any means.

treasure/indiana

The previous reviewer is correct. "Treasure" does not compare to "Indiana Jones" as entertainment. It's ten times MORE entertaining than anything Spielberg ever came up with! ("Jaws" excepted) for the reason that Mr. Whitty alluded to; namely, the characters are utterly and completely engrossing. I remember every paranoid twist of Fred C. Dobbs' psychotic prospector long after I've forgotten everything about I. Jones except his dumb ass hat, (which doesn't hold a chapeau to Bedoya's sombrero.)

The Treasure of the Sierra Madre

An action-adventure from 1948 that won Academy Awards for two Hustons- John the director and Walter his dad- "The Treasure of the Sierra Madre" doesn't really compare to the Indiana Jones films for entertainment but does rate as a great adventure of hunting for the gold and becoming selfish and violent and crazy as a group of prospectors do battle with themselves and others in the hills of Mexico. Bogart's character gets crazier than the others and there are others that get the best of him. But this is another example of characters being better written than they are now.

One of the Greatest American Films of all time!

Let me preface this by saying that my entire graduating class of Flushing H.S. in NYC was taken to the late morning showing of this film in May of 1970 a few weeks before graduation. I guess, the teachers wanted the upcoming graduates to learn that 'going for the gold in life' is not what life is truly all about.I've been a Bogie fan since I was a young kid. Have watched Casablanca well over one hundred times along with all his other films. The Fred C. Dobbs' character in The Treasure of The Sierra Madre ranks right up there with Bogie's role as Rick Blaine in Casablanca. And the overall directing style of Huston in Sierra Madre even eclipses that of Curtiz' direction in Casablanca.The great director Stanley Kubrick has labeled The Treasure of the Sierra Madre as his #4 favorite movies of all time and his list is chock full of truly phenomenal cinema!The ending of Treasure... where Curtin and Howard are sitting by the rock in the blowing wind and sand and they have their conversation as to where Curtin will be going. I've played it over and over again because... Curtin is a man of integrity, a man who has faced uncertainty in his life AND... he'll be going to a place, because of what happened earlier in the movie... that will enable him to... go home!The music by Max Steiner is soaring, powerful and complete with a richness of character that this movie personifies.EVERYONE should see this movie! Especially the young folks! Get them away from their special effects Hollywood movies and have them see true cinema at its best.THIS IS A TRULY GREAT MOVIE!

My Favorite Bogey Movie

I have begged everyone I know to see this movie. Most of those folks only think "Casablanca" when they hear Bogart's name. I wish he had won an Oscar for this performance. I understand exactly why Walter Huston won his. Forget the five star rating. I give this movie ten stars!

treasure of the sierra madre

May not be the greatest American film, but it's certainly one of the next door neighbors. Everything about it is first rate; the writing and directing, both by John Huston, the acting, the on location shooting in Mexico, the themes of greed, paranoia, and the elusive nature of wealth underpinning an exciting, funny, dark tale of three bums who search for, find, and lose a large supply of gold. Not only does this movie showcase Bogie's best role as the amoral Fred C. Dobbs (although I'm sure "Casablanca" fans, who prefer the romantic Bogart, will vehemently disagree) it also features Walter Huston's best role as the wise old chatterbox, Howard. (Legend has it that John Huston gave his dad just two words of direction, "Talk fast," and Walter Huston took it from there.) So many indelible scenes from this film, but the two I'd like to mention are when Dobbs sees the Mexican bandit (an unforgettable Alfonso Bedoya) reflected in the pool of water from which he's drinking and both he and we know it's all over for him, and the ending, with the swirling, empty bags of gold in the wind symbolizing utter futility. Most definitely an A.

Favorite Humphrey Bogart Performance

Of all of the performances by Mr. Humphrey Bogart, it is this role of Mr. Fred C. Dobbs that is by far my favorite. A true classic to watch time and time again, with some of the most famous quoted lines - '...no stinking badges' to view this masterpiece!!

A Real Treasure

This is one of my favorite films. The actors are perfect; watching them change (or not) as they are faced with different situations keeps me engrossed every time I see it. And, I can't help but laugh with the ending - how true to life that is!

Best Ever?

Yep. Not "Citizen Kane." Not "Gone With the Wind." Coming out of the 1948 Warner Brothers black-and-white gristmill, this film must have looked at first like just another "B" western. Except that it's not a western, and A all the way. Featuring what has to be the single most convincing and realistic performance in movie history (Howard, the grizzled old prospector-philosopher so vividly portrayed by the great Walter Huston), this film is about as perfect as a movie can be. My favorite scene is when the three prospectors decide to murder the claim jumper played by Bruce Bennett; two minutes later, when threatened by a horde of bloodthirsty bandits, the outnumbered prospectors are offering Bennett some lunch and calling him "friend." Of course, this is followed by Alphonso Bedoya's immortal "I don't have to show you any stinking badges." Just one unfortgettable line after another. They just don't make 'em like this anymore- and God willing, there never will be a remake. What a waste of film that would be- because you can't top perfection.

The Treasure of the Sierra Madre

Warner Bros. chief, Jack Warner called this adventure masterpiece, "The best film made since movies started talking." A trio of American prospectors in Mexico go into the mountains for gold, where greed gets the better of them. Bogart is excellent as the middle-aged prospector who's the definition of paranoid venality. Huston, Sr. won the Academy Award for his supporting performance. Huston, Jr. won for directing & adapting Traven's story, which is a character study of how the men react under pressure. A magnificent film overall. I give it a 5/5.

TREASURE OF THE SIERRA MADRE

THE ACADEMY MISSED ONE HERE .MR. BOGART'S FINE PERFORMANCE,RATED AT THE VERY LEAST A NOMINATION.

Treasure of the Sierra Madre

Another fantastic Humphrey Bogart vehicle. Bogey's characterization of a man that is consumed isstartling. Clearly demonstrates how flexible he really was within his acting roles. His understanding of how to primitively portray an entity that goes from rags to riches is compelling.Bogey defines the persona of an individual surviving through the rigidity of physical labor, then being exploited for his back breaking efforts - before fighting for his fair share.He takes that same persona (mentality) onward. While the guidance (education) of prospector Howard (Walter Huston) brings him measured wealth, the predefined nature that comes from a school of hardknocks keeps him from being able to depend upon anyone or anything other than what is within his immediate grasp. He can't hear or see anything Howard conveys other than the physical work process.(Can't see the forest because of the trees).Many will dispose that Bogey's character (Dobbs) is consumed by greed, when it is equally as much as being a dirt poor person that suddenly comes into immense wealth, is without the resolve to understand how to handle it, as much as it is an actual desired greed. An inability to trust from previous happeningsis just as suggestive.Tim Holt's (Curtin) character plays off this conception with a square-deal for all - share alike - brotherhood characterization. Dobbs madness is real, being unable to fully control his thinking emotions. Making it morecomplex is how the film's ending contributes to the disposition of his mistrust, leading to his demise.

Ninos pick

One best films ever

Gold Hat

jose francisco garcia

12/27/11

Part of my top 10 movies to watch! Early on, the little pipsqueak kid, played by Robert Blake, is delight acting with Bogey's water-slap all over his face! Then there is the barber, as he uncovers Humphrey's face, eyeing his handy work with a critical eye.Treasures of the Sierra Madre, filmed on location around Tampico, Taumalipas, is a marvelous movie. I have to admit, that my favorite character is "Gold Hat", played by Alfonso Bedoya, who towards the end of the movie asks for his hat as he takes his position in front of a firing squad!

A must see for Bogie fans

Back in the day when actors actually had to act.There was no digital editing or computer enhancement. This one is truly Bogie at his best.

Bogie at his best

In my opinion this is Humphrey Bogart's best performance, but it is pretty much a dead heat with him in Casablanca. I've watched TotSM probably a dozen times, and just don't get tired of it. I see something a little different at each viewing. Not necessarily a recommendation, But I seem to remember it was Richard Nixon's favorite movie.

A Nerve-Shattering Adventure.

Frank Harris Horn

9/26/10

John Huston goes on location in Tampico, Mexico with Humphrey Bogart, his real-life father, Walter Huston, Tim Holt and Bruce Bennett to make this gripping-intense drama of greed, suspicion and paranoia based on the novel by B. Traven. Bogie and Holt are two hard-luck American drifters, who are joined by a grizzled old prospector (Huston; Best Supporting Actor Oscar) on a gold-prospecting expedition into the Sierra Madre Mountains, but soon, they will confront a most familiar enemy---GREED! Look for John Huston, who won an Oscar as Best Director, as an American tourist, of whom, Bogie asks for a hand-out, and look for a young Robert Blake as a boy trying to sell Bogie lottery tickets. Huston also won a second Oscar for Best Screenplay Adaptation. With Barton MacLane, Alfonso Bedoya, Manuel Donde & Jose Torvay.

TRAESURE INDEED!

I was lucky enough to see this film for the first time on the big screen at an old theatre called the TLA.(I'm sure many members from Phialdelphia have very fond memories of this venue!)I's always been a huge fan of Bogie but since channels like TCM did not exist at the time,broadcast TV was the only way to see classic film and you can imagine how frustraing it was waiting for some local station to show great films like this.Let alone the fact that they were often edited for time. (With less than quality prints to say the least)So I never had seen it on TV. It turned out to be one of the luckiest brakes of my film viewing life. I don't think there is even a mediocre scene in this film let alone a bad one.It is just about as perfect a film as Hollywood has ever made.All of the perfomences are top notch( especially Walter Huston).The screenplay is one for the ages. I suppose I may be preaching to the choir a bit but but even the subtleties stand out. Like the scene where director John Huston as an American tourist gives Dobbs money for the THIRD time,what does he do with it? He goes to a prostitute! This is a great forshadow of things to come. But its moments like this that set films like this and all others of their ilk apart from the norm. The theme of greed plays an impotent role yes,but there also lurks the paranoia of which of course is a by probuct of it. Any true classic film lover's DVD library is ,in my humble opinion, incomplete without this classic,

Gold Fever, Golden Movie!

Seen this movie for the ?time last night and enjoyed it all over again. I had my daughter(20) and nephew(8) watch it with me and they really liked it too. I think it's important to expose young people to movies like this so they get a full rounded view of what Hollywood has to offer. Its the movies from the past that have paved the way for todays great films. As far as writing a review about this great film..."badges?" Enough said.

Truly A Classic

If any film can be thought of as one of the all time classics it has to be "The Treasure of The Sierra Madre", director/screenwriter John Huston's excellent adaptation of B. Traven's book about gold prospectors in Mexico. Humphrey Bogart gives one of his finest performances as the addled Fred C. Dobbs (Dobbsy), who together with Curtin (Tim Holt) and Howard (Walter Huston in an Oscar-winning performance) go into the Sierra Madre mountains of Mexico in search of gold and eventually fall victim to greed and mistrust. Dobbs is the one most affected, and as a result of his obsession with striking it rich he nearly kills Curtin, and then he himself is killed by Bandits. Great scene at the end, with Howard and Curtin laughing when they find out that after all their work and time prospecting their gold has blown back to the place where they found it. Four stars!!!

One of Bogart's best!

In an all too brief career as a leading man, this was one of Humphrey Bogart's best roles.......playing a really un-likable character......and really doing it well. 1948 was quite a year for him, given the fact that he was also outstanding in "Key Largo" that very same year. Both these movies and NO Oscar nomination......makes one wonder, doesn't it?

BOGEY DISGUSTING

SUCH AN ELEGANT MAN REDUCED TO A RAG PICKER.

The Treasure of the Sierra Madre (1948)

Director John Huston is at his best in this outstanding character drama. Superbly acted by all, Walter Huston deservedly won an Oscar for his role. The writing is magnificent, the characters are exceptionally well developed. A one of a kind film and one of the best from the 1940's.

BOGIES BEST

THis has to be one of Bogart's finest rolls. The direction was spot on for everyone John Huston should be proud of the material he got from ALL the actors, including his father Walter Huston. Ever time I watch that movie I can FEEL the angst and tension in Bogies character. In fact it makes me uneasy I have a hard time watching it because I know whats coming. THAT IS A GREAT MOVIE

Vanity and striving after the Wind

This is an excellent film that I haven't seen since a child. Bogart is first class and what a role to play! Holt reminds me of our beloved Robert Redford. Holt played his part perfectly. I'm not sure if anyone received any rewards, but all of the acting was well done. Huston rounded out this pair with his experience and wisdom of the ages and brought humor to this piece of art work. The old story of greed and how it brings out the weak characteristics of humans was perfectly depicted. The words Dobbs used to trick the bandits were the same used by his former employer who wanted to cheat Dobbs before their journey of finding gold. An outstanding film. Thank you.

A superlative movie with no weaknesses !

This wonderful piece of cinematic history has been my favorite movie since I was a child. I vividly recall back in the mid 60's when I was about 10 yrs. old,my dad took my brother and I to see this in a downtown theater that was showing it in a retrospective of 'classic' films.At that young age,I recall being fascinated with the 'Gold Hat' bandit(wonderfully played by Alfonso Bedoya).His classic line..." I don't have to show you any stinking badges",had my brother and I rolling in the aisles.But only a few years later,I was captivated by this movie on another level.Walter Huston's Award winning role as the old prospector is just priceless.I loved his very critical comment to Bogart and Holt when they found gold and didn't know it.....You're so dumb there's nothin to compare you to !"And Bogart's slow and gradual descent into paranoia is extremely convincing.But what really makes this movie superlative,in addition to the terrific acting by the entire cast(including little Bobby Blake),is that it is a gritty and perceptive psychological study on human nature and greed. As Walter Huston stated," I know what gold does to men's souls". In my estimation,'Sierra Madre' is the best movie ever made.

A true Classic

This classic film works on so many levels that it truly elevates this film to an art form - from the morality lesson of greed to the amazing transforming of the Bogart character who descends into own his private hell.The characters are fleshed out and you feel as if you have an intimate look into their priviate thoughts. The movie takes place in Mexico and it does not have the typical Hollywood treatment given to the native population. Spanish is spoken thru out the movie but English translation is provided when needed in key scenes.And finally the the bandit character- Gold Hat played by Alfonso Bedoya has left us with the immortal words " I don't need to show you no stinkin badges" Its movie perfection and like Casablance you can watch it again and again .

The Very Very Best

This is a movie that must be watched. It is superb. When there are two or three movies from which to choose on TV, this is always the one. I've turned off Marilyn Monroe films to catch Walter Huston dance in the dirt! Loved Bogart's paranoia, and let's give Tim Holt a well-deserved and long overdue "bravo".

Classic

The story, the acting by all the actors, and the presentation, in my opinion, all combine to make this the best movie ever made. Walter Houston's speech about prospecting to his prospective partners is a consumate display of his prolific acting skills. The bar fight is one of the most realistic fights in film. Tim Holt and Humphry Bogart give exemplary performances as down and out Americans in Tampico. Few actors are privileged to be in a film where the story, direction, cast, and all other components combine to produce a film that stands out as one of the best that was ever made in all aspects. A film that stands with a few, head and shoulders above the others. A great story, perfectly cast down to the bit players.

reaction to treasure of siee=erra madre

one of the most underated films of all times bogart gave an oscat nominated performance even though he was not nominated this has to be best performance he has ever given everything in movie clicked beautiful shot of mountain great max steiner score, all performers on top df their game story was compelling

One of the best of Bogart!

This classic adventure depicting man's greed has withstood the test of time. Humphrey Bogart , Tim Holt, and Walter Huston give outstanding performances. Truely one of the best films of all time, and my personal favorite.

A Great American Classic!

This epic adventure is one for the ages. An absolute gem of a movie. Humphrey Bogart, Tim Holt, and Walter Huston lead the way into Mexico, where gold, danger, and betrayal await the trio. Watch what gold can do to a man! Huston gives the performance of a lifetime as the wise old prospetor. His dance on the mountain top is truly a remarkable moment in cinematic history. One word.....classic!
*We protect your personal infortmation and will not provide it to anyone without your consent. For a complete explanation, please refer to TCM's Privacy Policy. By submitting your contribution, you agree to TCM's Terms of Use.