DVDs from TCM Shop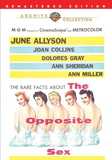 The Opposite Sex In this musical remake of The... MORE&nbsp> $15.96 Regularly $19.99 Buy Now
USER REVIEWS
See Detailed Ratings
Acting of Lead Performers

Acting of Supporting Cast

Director

Music Score

Title Sequence

Screenplay

Cinematography

Historical Importance

Would You Recommend?

0 Member Ratings
Rate the acting of the Lead Performers

Rate the acting of the Supporting Cast

Rate the Director

Rating of the Music Score

Rating of the Title Sequence

Screenplay

Creatively uses the camera to tell the story

Importance in Cinema history

Would you recommend for fans of this genre
Submit Ratings
Cancel
Write a Review
Read Reviews
NO REVIEWS AVAILABLE
The title has not been reviewed. Be the first to write a review by clicking here to start.
why, oh why?

This is perhaps the most blatantly offensive example of why hits of another era should never be remade.The original was chic, sophisticated and funny. This mess of a film is the opposite, with everyone in the cast looking their worst.June Allison was never as bad as a musical star... flat voiced, and average dancer. Why did they think making this a musical was a good idea? And, who chose her for the lead?Even Agnes Moorhead, who saved many an average film with a riveting performance, looks foolishly out of place. The rest of the cast were fashionably dull. Jeff Richards got a break with a role far expanded from the original, but all things considered... was it a break?... it was pretty much the end of his career.One thing that made the original work was the black and white photography... beautiful. The garish color of this remake is distracting and over ripe.Were this a master's thesis, the over anxious student would be back in class next semester.

Kay and Crystal and The Rest of the Girls!

Only David Miller, the director, could have given us this radical re-thinking of "The Women" and have made it such a fast-paced and extremely colorful "entertainment".

Fabulous

Isn't interesting that people do not believe that so called plain Jane women are not sexy or that they can become vindictive. June Allyson proved that women who have been scorned can and should fight for the man they loved from the so called sexpots. It was refreshing to see how the movie played out with the actual men actors who had scorned their women. I've seen the original, The Opposite Sex, and the newest one based on The Women. Each had their value and message. What happened to open minded views about different portray of films?

The Opposite Sex

I thought the "Opposite Sex" movie was outstanding. I also loved the original one with Norma Shearer. Too often reviews are critical of movies that maybe do not meet their emotional needs. I loved both movies and was also glad to see men in the "Opposite Sex." It gave an idea of what the men could have looked and behaved like that had wronged their women.

Horrid!

Why Hollywood decided to remake "The Women" at all and then into a musical with such weak men and not enough bitchiness in the women is beyond me. This film completely strays from Claire Boothr Luce's original words and those words were dynamite! I also didn't like the casting here at all. June Allyson in a sex kitten dance was just too much, as she was a plain Jane and not nearly as gorgeous as Norma Shearer who played the same role in "The Women." Won't be watching this travesty again!

Loved it!

I see that quite a few reviews are negative, but it satisfied my need to see the man that was causing all the trouble. I thought the original was great without the men, but I liked this version as well. Joan Crawford & Joan Collins were perfect as the hussy. Joan Collins made me want to slap her too. The cat fight at the ranch was great fun to watch. The dresses in this version were divine!!! Why don't we dress like this anymore?

Perfectly Awful . . .

An insult to the wonderful original. But the costumes are fun.

The Oposite Sex

Emery von Sztankoczy

11/16/13

No "The Women" this, but not sooo terrible either. It is a product of the 50's and has all the bells and whistles and shtick of that time. June Alyson is charming as she always was. Joan Collins plays "the b...h" as she always had. The only miscasting is the otherwise wonderful Agnes Morehead as the Countess. No one could ever top Mary Boland's turn in that role. It should have been played more daffy and less hardboiled. The WORST remake of "The Women is the recent "The Women", perfectly dreadful on every level. Meg Ryan couldn't touch Norma Shearer's hem or June Allison's dirndl. The only bright moment was Bette Midler as the "countess, now agent" who ate up the scenery for a few minutes and then never came back. Definitely not a great film, but a lot of fun anyway.

One word: Ghastly!

When I discovered this horrific re-make of the timeless original classic "The Women (1939)" I just about lost my movie snacks all over my home theater. With the possible exception of Agnes Moorehead and Ann Sheridan (what were they thinking!!) the cast is an incompetent replacement for the original. The plot, bastardized and brought up to the exploitative titillating puerile mid '50s (and my birth year to add insult to injury) violates the 'no men" rulein an attempt to "sex-up" the classic adding lurid Technicolor (usually a plus) to the grimy mix. This film is not in any way a "classic" or an "essential", it is a vulgar attempt by the suits at Metro to cash in on the excellence of the original George Cukor mini-masterpiece. I only hope the viewing public was smart enough to be offended and stay away in droves. Unless I am mistaken even the manicurist at the Sydney "spa" is an older version of the same actress from 1939. My favorite scene in this bit of tripe is the nuclear face slap that little June Alyson gives to sleazy (on and off screen) Joan Collins. It was a moment of catharsis for me.

The Opposite Sex

Ann Miller refers to the" Opposite Sex" on an episode of "What My Line" 1956. On this WML episode an issue was made of the fact that Ann Miller does not dance in this movie. It was the reason why the What's My Line" panel could not guess who she was since it was established at the beginning of the questioning period that her latest film "The Opposite Sex" was not a traditional musical therefore the mystery WML guest could not possibly be Ann Miller.

The Opposite Sex: Good Fun

This movie was great. Nothing too dramatic/heartwarming and the women were funny; each plotting their own ways of redemption and whatnot. I believe that this movie was remade in 2009 with Meg Ryan called "The Women" but of course the original is way better. This is a just for fun movie and I had a lot of fun with it.

nothing like the first

thank goodness they changed it a bit.....liked the original version where they didn't show the husband....and love June Allyson but she's no Norma Shearer

At least they changed the title ...

"The Women" enthusiasts turn out to be vindicated for their ardor for "the original" and dire predictions toward any attempt at remake. But, really, it's not that this is a failed remake; it's that it's a failed movie -- wooden lines, rather abrupt musical additions, awkward and uneven in places, overall false note. Felt sorry for some of the good players, who really went for it. Some others - not so good in this. Overall flawed production. At least they changed the title.

The Opposite Sex

Simply terrible! Please don't show this movie again! Just show "The Women"! I thought David Miller was an esteemed director. I hope this was his only flop!

Great 1950's musical!

This movie is "campy" which makes it so much fun. The original film "The Women" is great for obvious reasons but this adds the music and the added "cattiness" is over the top. Was living in the 50's really this way? Love it!

THE OPPOSITE SEX

"too tragic" To do that to "The Woman" is just a shame.

the opposite sex

this movie is a mess. What a waste of time. the original Women is a 10, this is a 2!

Really good...

i really liked this movie and all the characters in it. They all did a fantastic job with this movie.

compares well with the original movie

I enjoyed watching this for the first time. I have watched the original The Women and this compares well with that.

Love June Allyson in this movie

I am a big fan of June Allyson from Little Women, to each of her appearances as Jimmy Stewart's character's wives. I love their pairings each time. I was surprised to see how nice looking Leslie Nielson was in this movie but they worked well as a couple. The wife having a career made it very relevant to me, even more so than the original version, which I also own and love. I need this version to make it a trifecta! The used versions which range from $30 - $140.00 are completely out of control for a poor working girl with a taste for old movies. But I hold out hope that TCM will come through for us soon.

A true pleasure

I just saw it for the first time today. I like the original version a lot, but this is a very good remake, and I like it just as much if not more because of the musical numbers. June Allyson is perfectly cast in the Norma Shearer role, and Joan Collins definitely resembles Joan Crawford and is a logical successor to that role. I like the addition of the men. Jeff Richards is great as Butch, and Leslie Nielsen is good as Stephen. I agree with other posters who are clamoring for a DVD release but hopefully that will happen soon.

Delightful and far ahead of its time!

I love this movie from the wonderful costumes to the star studded cast .... the music is beautiful and the most wonderful part is that it is catty before being catty was cool! The wit is biting and fun. It is my ALL time favorite old movie. Just absolutely divine. A great one to watch with your sister or best girlfriends. And LESLIE NEILSON is so gorgeous .... I like his earlier work far better than his silly stuff! Don't miss this film. It is worth seeing.

THE BEST CHICK FLICK OF ALL TIMES!

I fell in love with June Allyson, and found myself rooting for her all throughout the movie! No one realizes that Marilyn Monroe has a excellent number in this movie! All of these classic actresses were FABULOUS. Please make this DVD available in my lifetime, so that I can share with my daughter, and she with her's, in years to come! I just can't get this movie off of my mind! Unforgettable!

AWESOME, FANTASTIC, UNFORGETTABLE MOVIE!

I absolutely LOVE, LOVE, LOVE this movie. I remember the first time I saw it, which was in 2006. I was so excited that I didn't move one inch from the sofa the entire time! I have noticed that there have been others as far back as 2006 making suggestions that you guys work on getting this movie released on DVD,and I am in total agreement with them! Please please please, ask the movie studio distributors to release this on DVD!! June Allyson, Ann Miller, Joan Collins, OMG!! such fantastic actresses! This movie is also one of my mom's favorites, and I would love to buy it for her as well!

Bring On the Classics!!

I love the movie, The Opposite Sex so much that I would not even watch regular updated shows, which is no comparison to tcm. This movie is why we love television classics so much!!. They don'y make movies like this anymore. Movies of this genre have become extinct.

DVD Delay

I too would like to see this released on DVD. It was one of the best remakes I've seen. The three versions would be a great set, but I'd happily settle for just this one. It's amazing all the junk that keeps coming out while so many truly good films continue to be overlooked!

I reallllly need a new copy of this

A now former friend "borrowed" my vhs copy of this movie and never returned it now i can't find it anywhere, and i really loved this movie, it is my favorite of all 3 versions. I t would be great if they released a box set of all them together for Christmas!

Need DVD version

My cousin and I went to see the 2008 version of the Women. She never saw or heard of the original version with Norma Shearer or of The Opposite Sex. Since she loves classic movies like I do, I LENT her the 1939 version and she loved it! I've been trying to get The Opposite Sex -- you've got to get it for us fans!

VHS COPY GONE!!! I NEED THE DVD!

I agree with all of them. Why is this not on DVD yet. I have "The Women" with Norma Shearer, which I like a lot, but this is my all-time favorite classic.Please, please make it into a DVD.

I wore out my VHS copy!!

I agree! This should be on DVD. I've been disappointed I can't share this with others who haven't seen it!

Worth watching for "A Perfect Love"

This film's chief virtue is the surprisingly long-neglected song, "A Perfect Love," beautifully sung for June Allyson by Jo Ann Greer, who doesn't quite reach the very end of it(as called for in the scene). I suspect there is or was a complete track somewhere in the MGM vault--they should have released a soundtrack recording, even though the rest of the score is forgettable. I have what must be a very rare copy of the sheet music for this song, which I bought in Manhattan about 30 years ago--and even then it was rescued, by my request, from a nearly forgotten corner of some warehouse.

Remarkable

I stumbled across the movie around 11pm-12ish and I instantly fell in love. I am a sucker for old movies but this movie had me laughing dancing and I am still singing the songs now. I give this movie a 13 out of 5 and I will be looking for it to own it to watch it over and over.

Wait for the DVD - in fact, beg for it!

I'd waited so long for this great flick to be released on DVD, I broke down and bought it in VCD format. I invited friends over to watch it, but we were so disappointed because it looked worse on the professional video compact disc than on a crummy VHS tape.This movie not only deserves to be on DVD, it ought to be broadcast in High Def and put on Blu-Ray! So, at least vote, here, for its re-release to the home market.

Must See Movie

I Notice That A Good Majority Of Women Has Submit Comments On The Oppisite Sex Well Here's A Man Who Enjoyed The Movie. I Saw This Movie When I Was In My Youth I'm Now In My Fifties I Would Love To Have A DVD Of This Movie. Also Would Love To See This Movie Again Before I Pass On.

Great Movie

This is a great moive, about lies, love, lust, and anger. I love this movie, so would you please put it on dvd so that I can buy it, I seen it once with my sister many years ago, and would like to see it again.

Looking for me Madam, Olga!

What a perfectly dignified way of sharing the dirt about all your girlfriends...well most of them...Kay Hilliard and her friend Amanda want nothing to do with the dirt sharing at any level, but how can you help but hear when your manicurist spills the dirt about YOU. Perfectly CATTY tale of how a woman who lost her man to a Tramp (Joan Collins-who else?) and how she graciously lives her life until a cowboy hangs up his spurs one too many times and finally gets her man back with the help of some "JUNGLE RED". What a riot. Great Cast includes Agnes Morehead (Endora from Bewitched) Joan Blondell, Ann Miller minus her famous dancing shoes, Ann Sheridan as Gracious Playwrite Amanda and even a young Carolyn Jones who we all remember as Morticia Addams from the Addams Family. Great Movie...Sure wish it was on DVD!!

If you care, share!

News flash. You're the only ones that care about the preservation and education of some of the most important films and actors of our times. I truly enjoy looking at your films with my nieces and nephews. Opposite Sex took us one step further than The Women, it was truly a pleasure to see the Sylvia chracter truly get her come uppance. Why not sale as a set Both Joans make you want to go out and buy jungle red nail polish. I give it a 8

Jungle RED!!

This musical remake of the Women is far more campy and has a much better Cat fight scene than the original version (the women)...This lavish technicolour musical version is full of witty catty viscious lines as well as great musical numbers and gorgeous women in beautifull gowns! This version stars Leslie Nielson as well as a very young Joan Collins, June Allyson, Agnes Moorehead, Anne Miller, Joan Blondell, and the fabulous Dolores Gray!! You can even catch a great musical number titled Young Man with a horn which has Harry James playing in it!! Get your best girl friends and some Martinis and let the gossip go!!!

The Movie Every Woman Should See

From start to finish, The Opposite Sex is AMAZING. June Allyson, Joan Collins, and Leslie Neilsen are wonderful. Kay (June) is a formor singer and a devoted wife and mother who discovers her husband, Steven (Leslie), is having an affair with trampy show-girl, Crystal (Joan). Kay divorces Steven but finds that she's still in love with him. So what does she do? She puts on a drop-dead georgous red dress and comes up with a brilliant plot to get him and reveal Crystal for the tramp she truly is. The musics catchy and clever. The dance numbers are flawless. The casting couldn't be better. I just have one question, WHY IS THIS MOVIE NOT ON DVD? This is a brilliantly funny musical that every woman should see. Why not?
*We protect your personal infortmation and will not provide it to anyone without your consent. For a complete explanation, please refer to TCM's Privacy Policy. By submitting your contribution, you agree to TCM's Terms of Use.