DVDs from TCM Shop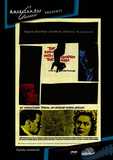 The Man with the Golden Arm A junkie must face his true... MORE&nbsp> $11.95 Regularly $10.99 Buy Now
Home Video Reviews
Frank Sinatra earned an Oscar® for
From Here to Eternity
but his acting is even better in Otto Preminger's landmark drama
The Man with the Golden Arm
. Nelson Algren's novel had once been considered as a vehicle for John Garfield, until it became clear that any story about drug addiction would never be granted a Production Code Seal. Independent producer Preminger was willing to take risks that the studios were not. Always keen to break the power of the Code, Preminger intuited that the free publicity generated by a censorship battle would position
Arm
as a must-see special event movie.
Synopsis: Poker dealer and heroin addict Frankie Machine (Frank Sinatra) returns clean and sober from the prison hospital only to find that the pressures of life on the street are too much for him. He's trapped in a guilty marriage to Zosch (Eleanor Parker) because he crippled her in a car crash. Although Frankie's learned to play the drums and is eager to find work with a band, his controlling wife only wants him to stay with her. Insecure and unhappy, he strays in the direction of nightclub girl Molly (Kim Novak) and is abused by two greedy and manipulative associates. Schweifka (Robert Strauss) schemes to make him go back to dealing for illegal poker games. Pusher Louie (Darren McGavin) gets Frankie hooked on dope again, just as his big band audition is coming up.
Otto Preminger had already won a censor battle with his 1953 romantic comedy
The Moon is Blue
, which defied the Code's edict that the words 'virgin' and 'pregnant' could not be spoken in a movie. Preminger also refused to cut dialogue in which Maggie McNamara and William Holden debate the idea that a young woman might have sex before marriage and still be a 'good girl'. The resulting furor transformed a fairly innocuous comedy into a solid hit.
The Man with the Golden Arm
challenged an even stronger cinema taboo, drug addiction. With the enforcement of the Production Code in 1934, the mere mention of drug use all but disappeared from American screens.
The Man with the Golden Arm
shows in detail the preparations for shooting up heroin, holding back nothing save the actual image of a needle entering an arm. Even more harrowing is Sinatra's portrayal of a violent cold turkey withdrawal episode. Many audiences of 1955 had never heard of substance withdrawal, let alone seen such a thing represented on film.
The Man with the Golden Arm
is less a Film Noir than a Zola- like examination of a sordid environment. Frankie Machine (his real name is Majcinek) is a clear victim of pernicious social forces. The selfish, demanding Zosch weakens his sense of self-esteem. Louie and Schweifka are similarly set on controlling Machine for their own ends. Schwiefka has Frankie busted for theft, and then bails him out with the proviso that he must repay his debt by using his 'golden arm' to deal poker. The only law in sight is Emil Meyer's cynical detective, and he considers junkies to be beneath concern or sympathy. Drained of hope, Frankie is headed for the bottom when Molly assumes the responsibility of drying him out once more.
Otto Preminger was not the kind of director attracted to stories set on Skid Row. His elaborate Division Street exterior set is almost as antiseptic as Sam Goldwyn's cleaned-up slum in the 1937
Dead End
, and the glamorous Kim Novak looks decidedly out of place. With its colorful array of lowlife denizens (Arnold Stang, Doro Merande, Leonid Kinskey), the movie plays like a Damon Runyon story suffering a severe case of depression. Preminger also knew that the extremes of Nelson Algren's bleak novel would need to be softened for general audiences. The book's Frankie commits murder and hangs himself. His crippled wife goes crazy and Molly becomes a prostitute. Walter Newman and Lewis Meltzer's screenplay overturns this fatal determinism in favor of a melodramatic, hopeful finish. Preminger and his writers invent a twist ending that conveniently resolves at least some of Frankie's worst problems.
We're told that the unusually insecure Kim Novak required many takes for each of her scenes, something that doesn't show in the final product. Eleanor Parker succeeds in a thankless role, bringing to life the film's least believable character. The supporting actors also do excellent work but it's ultimately Sinatra's movie. His committed performance compensates for the fake sets and the unusually lifeless B&W photography. In less-than-optimal prints,
The Man with the Golden Arm
can easily be confused with a contrast-starved Kinescope.
Preminger makes frequent use of long takes, following Frankie as he thrashes in the torment of withdrawal, and using a crane to track characters through the Division Street set. The film's main titles attracted major attention for designer Saul Bass. His stylized 'crooked arm' graphic condenses the entire movie into a single dynamic image. Elmer Bernstein's innovative jazz score also makes a strong first impression, and started a trend for jazz in movies that lasted five or six years.
Thanks to Otto Preminger's brilliant use of publicity, United Artists were able to book theaters to play
The Man with the Golden Arm
despite its lack of a Production Code Seal. When the censor boards of three cities demanded cuts Preminger took Baltimore to court, and won his case. The director proudly declared that he had "established freedom of expression for motion pictures". Six years later, the film was granted the Code's Seal of Approval. By that time, Preminger had also helped break the infamous Hollywood blacklist.
Warner Home Video's disc of
The Man with the Golden Arm
is the first really satisfactory presentation of this classic on disc. Several editions have been released by various DVD labels, all of them flat full frame and some of very poor quality. This edition's excellent transfer gives the movie back its film texture although the pale lighting still reminds of old B&W TV soap operas. The film has also been formatted in its correct matted widescreen aspect ratio. The tighter framing enhances Sinatra and Novak's performances.
The making-of featurette
Shoot Up / Shoot Out
covers the film's controversy in a suitably nervous, graphics-heavy style. Biographer Foster Hirsch participates in the interviews, adding a number of important observations to the film's fascinating history. An original trailer is included as well.
For more information about
The Man With the Golden Arm
, visit
Warner Video
. To order
The Man With the Golden Arm
, go to
TCM Shopping
by Glenn Erickson