DVDs from TCM Shop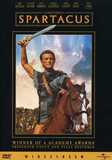 Spartacus The rebellious Thracian... MORE&nbsp> $11.21 Regularly $14.98 Buy Now blu-ray
NOTES
The film begins with a voice-over narration stating that before Christianity, the Roman Republic ruled as the center of the civilized world, but remained stricken with the disease of slavery. Although some reviews noted the story's unreliable correlation to history, many of the film's characters were derived from real figures, including Spartacus (d. 71 B.C.), Marcus Licinius Crassus (d. 53 B.C.) and Caius Sempronius Gracchus (d. 121 B.C.). As depicted in the film, Spartacus was a Thracian slave who broke out of a Capuan gladiators' school to lead a revolt that was eventually suppressed by Crassus, who then crucified his captives by the hundreds. In contrast to the film, Spartacus was killed in battle, after which Crassus ruled Rome in a triumvirate with Pompey and Julius Caesar. Gracchus lived decades earlier, and helped organize a social reform movement that lasted only a few years before being repealed. He was killed in a series of riots protesting the repeal.
On March 19, 1958, Kirk Douglas' company, Bryna Productions, announced a production deal with Universal that would begin with the studio providing co-financing and distribution services for a film to be based on the 1951 Howard Fast novel Spartacus. The film's proposed budget at that time was $4,000,000. In August 1958, Alciona Productions planned to produce a film entitled Spartacus and the Gladiators (not based on Fast's book) with Yul Brynner as star, Martin Ritt as director and United Artists as distributor. Bryna protested the use of the title, but on August 21, 1958, Hollywood Reporter announced that the MPAA had awarded Alciona sole use of the name. Bryna then appealed the decision, and according to Douglas' autobiography, after a brief competition, United Artists conceded the rights to the name in October 1958.
According to a modern source, David Lean was considered to direct Spartacus, but declined. Laurence Olivier was then asked to direct, but Hollywood Reporter reported in October 1958 that he had "relinquished" the directing assignment, as he felt the dual role of actor-director would prove too demanding. Anthony Mann took over as director, but was fired by Douglas after two weeks of shooting. Douglas stated in his autobiography that he considered Mann "too docile," especially for the powerful actors dominating the cast. The scenes that Mann shot, consisting mainly of the opening sequence depicting slaves working in the mines, remain in the final film. Douglas then hired Stanley Kubrick, who began shooting on February 16, 1959.
Modern sources refer to numerous disputes between Kubrick and various cast and crew members, most notably Douglas and writer Dalton Trumbo. At the time that Douglas hired Trumbo to adapt Fast's novel, Trumbo, a member of the Hollywood Ten, was still blacklisted because of his refusal to testify before the House Committee on Un-American Activities. Douglas related the following in his autobiography: Trumbo was forced to work in secret, often using either producer Edward Lewis as a front, or the pen name of "Sam Jackson." When the final writing credit needed to be decided, Kubrick suggested using his own name, which so offended Douglas that he insisted Trumbo receive onscreen credit in his own name. Despite the ensuing opposition from the American Legion and such personalities as Hedda Hopper and John Wayne, this credit constituted, as a April 26, 1991 New York Times article described it, "a giant step toward ending the Hollywood blacklist." (Some modern sources dispute this status, pointing out that Trumbo also received credit for the United Artists film Exodus, which was not released until December 1960 but May have set its credit list earlier.)
Sabina Bethmann was originally hired to play "Varinia," but on February 20, 1959 the "Rambling Reporter" column in Hollywood Reporter noted that she had been paid $3,000 to leave the production. According to studio press materials, technical director Vittorio Nino Novarese was a professor of history, costume and dcor at the Italian State School for Cinematographical Studies. Modern sources state that Richard Farnsworth, who played a gladiator in the film, also served as Douglas' stand-in.
Many injuries occurred during the long production. According to a May 22, 1959 Hollywood Reporter news item, Tony Curtis split his Achilles' tendon while playing tennis with Douglas and was placed in a cast from heel to knee. His scenes were then delayed until his leg healed. The following month, as reported in Hollywood Reporter, Douglas contracted the flu, causing production to halt for five days. In addition, longtime Universal art director Eric Orbom died of a heart attack during production, in May 1959.
After principal photography was completed in Los Angeles in early August 1959, Kubrick and photographer Clifford Stine traveled to Spain to shoot battle scenes. According to an October 1959 Hollywood Reporter news item, 8,800 Spanish army troops were photographed for the sequence. Hollywood Reporter reported on October 15, 1959 that the crowd noises used in the sequence were to be recorded at the upcoming football game between Notre Dame and Michigan State. According to a March 22, 1959 article in New York Times, "upwards of 50,000 [extras] took part" in the battle sequences, which were supplemented by dummies and painted backdrops. In addition to scenes shot on location in Spain and Los Angeles, news items and reviews add that some scenes were shot in St. George, UT, Arizona, Italy and in California at Hearst Castle in San Simeon, Death Valley and Chatsworth.
Spartacus was shot in Super Technirama-70, a widescreen process based on VistaVision. Technirama used 35mm film spooled through the camera horizontally, allowing for a frame twice the size of the normal 35mm negative. Hollywood Reporter reported on July 24, 1959 that Kubrick spent $40,000 on the over-ten-acre gladiator camp set. On the side of the set that bordered the freeway, a 125-foot asbestos curtain was erected in order to film the burning of the camp, which was organized with collaboration from the Los Angeles Fire and Police Departments. Studio press materials state that 5,000 uniforms and seven tons of armor were borrowed from Italian museums, and that "every one of Hollywood's 187 stunt men was trained in the gladiatorial rituals of combat to the death." Modern sources note that production utilized approximately 10,500 people. In July 1959, Hollywood Reporter announced that the budget had "spiraled" from $5,000,000 to $9,000,000, and according to studio press materials, the final budget was $12,000,000. Some sources stated that the massive production was the most expensive in film history to that point; however, the budget for the 1959 M-G-M epic Ben-Hur exceeded $15,000,000. The April 1991 New York Times article points out that this amount equaled more than Universal was worth at the time of the film's production, when the studio was purchased by MCA for $11,250,000.
Although sources conflict about running times, contemporary reviews following press screenings state a range from 190 to 195 minutes. An April 1991 Connoisseur article states that the National Catholic Legion of Decency demanded that five minutes of objectionable material be cut from the film, including graphic battle scenes and what is commonly referred to by modern sources as the "snails and oysters" scene. In the scene, during which the bi-sexual "Crassus," is in his bath, he obliquely questions "Antoninus" about his sexual orientation through a metaphorical discussion of his own preference for snails sometimes and oysters at other times.
Universal's advertising campaign, which began in December 1959, declared that "1960 is the year of Spartacus." The film's world premiere was held on September 22, 1960 at the DeMille Theatre in New York. The contract between the theater and Universal included a $1,000,000 film rental minimum, the highest ever for a motion picture. According to a April 7, 1960 Hollywood Reporter article, the theater installed a new screen and projectors for the premiere. The picture was shown with a fifteen-minute intermission. To coincide with the film's release, Bantam published a paperback version of Spartacus containing a sixteen-page illustrated booklet of material from the film, including drawings, credits and a summary.
Modern sources add the following names to the crew credits: Acting coach Jeff Corey; Hair stylist Jay Sebring; Storyboard artists Claude Gillingwater and Johnny Peacock; Sound Jack Foley; Stunt Coordinator Johnny Daheim; Stunt double for Kirk Douglas Loren Janes; and Stuntman Sol Goras. The Hollywood Reporter reviewer called Spartacus "magnificent," "monumental" and "a splendid achievement." The picture received the 1960 Golden Globe for Best Picture and Academy Awards for Supporting Actor (Peter Ustinov), Art Direction, Cinematography and Costume Design. Spartacus ranked number 62 in the AFI 100 Years...100 Thrills list, and the character of Spartacus ranked 22 in the AFI 100 Years...100 Heroes & Villains list.
In 1990, Universal launched a restoration of Spartacus, done by Robert A. Harris and James C. Katz. The new version included previously excised material, including the "snails and oysters" scene. Because Olivier had died by the time of the restoration, Harris hired Anthony Hopkins to dub Crassus' dialogue. The restored version, in 70mm and six-track Dolby sound, had its premiere on April 21, 1991 in New York at a benefit for the American Film Institute. On April 24, 2001, the Criterion Collection released a special-edition Spartacus DVD that included commentary by Douglas, Lewis, Fast, Ustinov and Harris.
Other film versions of the Spartacus story include a 1909 Italian film entitled Spartacus, as well as 1963's The Slave and the 1965 picture Revenge of the Gladiators, both of which were Italian productions. In 2004, the USA Network broadcast a television miniseries of Spartacus, directed by Robert Dornhelm and starring Goran Visnjic. Many reviewers of the Oscar-winning 2001 film Gladiator noted the similarities between it and Spartacus. Gladiator was directed by Ridley Scott and starred Russell Crowe.