DVDs from TCM Shop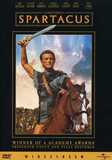 Spartacus The rebellious Thracian... MORE&nbsp> $11.21 Regularly $14.98 Buy Now blu-ray
Trivia
Stanley Kubrick was brought in as director after 'Douglas, Kirk' had a major falling out with the original director, 'Mann, Anthony' .
Kirk Douglas, as co-producer of the film with Bryna Productions, insisted on hiring "Hollywood Ten" blacklisted screenwriter, Dalton Trumbo to adapt the film. Douglas also hired blacklisted character actor, Peter Brocco, to play a supporting role.
Kubrick was not given control of the script, which he felt was full of stupid moralizing. Since this film, Kubrick has kept full control over all aspects of his films.
The sound of the crowd cheering "Spartacus! Spartacus!" was actually recorded at a football game in Spartan Stadium, home of the Michigan State University Spartans in East Lansing, Michigan.
Of the 167 days it took Kubrick to shoot Spartacus, six weeks were spent directing an elaborate battle sequence in which 8,500 extras dramatized the clash between the Roman troops and Spartacus' slave army. Several scenes in the battle drew the ire of the Legion of Decency and were therefore cut. These include shots of men being dismembered (dwarfs with false torsos and an armless man with a phony "break-away" limb were used to give authenticity). Seven years later, when the Oscar-winning film was reissued, an additional 22 minutes were chopped out, including a scene in which Varinia watches Spartacus writhe in agony on a cross. Her line "Oh, please die, my darling" was excised, and the scene was cut to make it appear that Spartacus was already dead.