DVDs from TCM Shop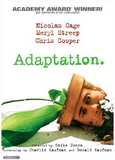 Adaptation. Despite the success of his... MORE&nbsp> $8.95 Regularly $9.98 Buy Now blu-ray
NOTES
DVDs from TCM Shop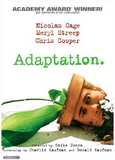 Adaptation. Despite the success of his... MORE&nbsp> $8.95
Regularly $9.98 buy now
Adaptation [listed as Adaptation. on the film's title card] features intermittent voice-over narration by Nicolas Cage and Meryl Streep as their respective characters. The narrative timeline of the film is inconsistent, and it is unclear if some scenes were intended to appear as occurring in 1998 or later. End credits include a number of names and companies under "Special Thanks," including Descanso Gardens, The New Yorker, Seminole Tribe of Florida and Santa Barbara International Orchid Show. Actors John Cusack, Catherine Keener and John Malkovich, who appeared in the film as themselves, also received special thanks but no official cast credit.
The closing credits also feature the following quotation from the fictional screenplay The Three, written by Charlie Kaufman's fictional brother, Donald: "We're all one thing, Lieutenant. That's what I've come to realize. Like cells in a body. `Cept we can't see the body. The way fish can't see the ocean. And so we envy each other. Hurt each other. Hate each other. How silly is that? A heart cell hating a lung cell." These lines are attributed to a character named "Cassie." After this quotation, the credits conclude with the following dedication: "In Loving Memory of Donald Kaufman."
Real life author Susan Orlean's article "The Orchid Thief," on which her book was based, was first published in the January 23, 1996 issue of the New Yorker magazine. As credited onscreen, Adaptation is based on Orlean's book, as well as screenwriter Charlie Kaufman's real-life attempt to develop Orlean's book into a screenplay. Kaufman suffered "writer's block" during this process and incorporated this writing experience, as well as fictional elements, into the script of Adaptation. Kaufman created the character of a twin brother and co-screenwriter named Donald Kaufman, also played by Cage. The actor used prosthetics and gained weight to alter his appearance for his role as the twins. The fictional sibling receives onscreen credit as the screenplay's co-writer.
In addition to fictional characters, contemporary persons portrayed by actors include Orlean, Orlean's husband, John Gillespie, Jr., horticulturalist John Laroche, Columbia Pictures executive Valerie Thomas, Kaufman's agent Marty Bowen and screenwriter-teacher Robert McKee, as well as numerous others. In addition, cinematographer Lance Acord and first assistant director Thomas Smith from the 1999 production Being John Malkovich, which was written by Kaufman, appear as themselves in Adaptation. Sequences that are featured in Adaptation but are not referenced in the plot synopsis above include scenes depicting a bee pollinating an orchid while Laroche describes the philosophical nature of the process, 19th century orchid hunters William Arnold and Augustus Margary meeting their deaths, and 19th century naturalist Charles Darwin writing about evolution and adaptation. The Margary and Darwin scenes are in black-and-white. In another scene, the name of the film's second assistant director, Brian O. Kelley, appears on an audio tape box of The Writings of Charles Darwin in Laroche's truck. It has not been determined if Kelley actually recorded the tape that is heard in the scene.
A April 6, 2000 news item in Daily Variety reported that Tom Hanks was considered for a role in Adaptation, and an article in the November 2002 issue of Entertainment Weekly noted that Jonathan Demme originally intended to direct this film. As noted in a November 10, 1999 news item, Demme's production company, Clinica Estetico, initially optioned the script for production through Universal Studios. According to a December 9, 2002 article in Time, a cameo appearance by Orlean was cut from the final print. As noted in the onscreen credits, Adaptation was shot on location in California, New York and Florida.
In addition to being selected as one of AFI's top ten films of 2002, Adaptation won Golden Globe awards for Best Performance by an Actress in a Supporting Role, (Streep) and Best Performance by an Actor in a Supporting Role (Chris Cooper). Additional Golden Globe nominations included Best Motion Picture-Musical or Comedy, Best Performance by an Actor-Musical or Comedy (Cage), Best Director (Spike Jonze) and Best Screenplay (Charlie Kaufman and Donald Kaufman). Cooper won the Best Supporting Actor Academy Award, with Cage receiving an Academy Award nomination for Best Actor, Streep being nominated for Best Supporting Actress and the Kaufmans being nominated for Best Adapted Screenplay. Adaptation also received a BAFTA for Best Adapted Screenplay. Cage was nominated by SAG as Best Lead Actor in a Movie, while Cooper received a Best Supporting Actor in a Movie nomination. The entire cast was nominated by SAG for the Outstanding Performance by a Cast award.
The film was also received the following awards and nominations: it was honored by the National Board of Review for Supporting Actor (Cooper) and Screenwriter of the Year (Charlie Kaufman, for Adaptation, Confessions of a Dangerous Mind and Human Nature); The PGA nominated the film for its Darryl Zanuck Producer of the Year Award; the New York Film Critics Circle included Adaptation in its list of top ten films of the year and awarded Charlie Kaufman and Donald Kaufman Best Screenplay; the Los Angeles Film Critics Association named Cooper as Best Supporting Actor; the Broadcast Film Critics Association Critics' Choice Awards nominated Adaptation for Best Picture, Best Supporting Actor (Cooper), Best Supporting Actress (Meryl Streep), Best Writer (Charlie Kaufman); the film placed fifth on The New York Times Ten Best Movies list; the National Society of Film Critics awarded Cooper Best Supporting Actor, Runner-up; and the New York Film Critics Online ranked the film sixth on their list of ten best films of the year, as well as awarding Cooper as Best Supporting Actor, Runner-up; and Kaufman as Winner for Best Screenplay.