DVDs from TCM Shop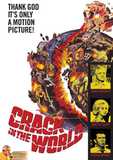 Crack in the World While trying to drill through... MORE&nbsp> $18.71 Regularly $24.95 Buy Now blu-ray
Home Video Reviews
This DVD from Paramount/Olive Films marks the Region 1 debut of
Crack in the World
(1965), made by expatriate American producer Philip Yordan in follow-up to
Day of the Triffids
(1962). A corking piece of speculative 60s science fiction, the project began with an original script by British writer Jon Manchip White. Recalling the apocalyptic excesses of the sci-fi classic
When Worlds Collide
(1950), the property was rewritten by Julian Halvey when Yordan secured the services of special effects pioneer (and occasional film director) Eugène Lourié to act as production designer and director of special effects. Briskly directed by Andrew Marton and smartly scripted,
Crack in the World
focuses on a
Camelot
-like love triangle that forms among a team of international geophysicists who have burrowed deep into the earth in search of a clean source of energy and "a life of plenty for all mankind." Heading the team is Nobel Prize-winner Stephen Sorenson (Dana Andrews), whose second-in-command, Ted Rampion (Kieron Moore), believes blasting through the center of the earth will aggravate existing fissures resulting from underground atomic testing. Stuck between these brilliant men is Sorenson's younger wife, Maggie (Janette Scott). Repressing forbidden emotions that answer the biological call for a child that only Ted man can give her, Maggie stands by Stephen as he detonates a nuclear warhead at the earth's core... precipitating a series of record-breaking tremors that trigger "earthquakes, tidal waves, mass destruction on an apocalyptic scale" and threaten to tear the world apart, reducing humanity to a free floating cloud of astral dust.
The stakes couldn't be higher and
Crack in the World
wisely wastes little time on extraneous business. Contemporary movies that tender the same variety of science fiction spectacle (
Armageddon
[1998],
The Core
[2003],
2012
[2009]) fail to measure up because they commit the cardinal sin of elevating eccentricity over practicality. There is no overt humor in
Crack in the World
but there remains a surprising degree of good humor given the resolutely grim premise. Even the then perennially dour Dana Andrews (whose character is secretly dying of cancer) exhibits flashes of levity from time to time (a motherly bit of business with fellow scientist John Karlsen is priceless), breaking into a smile at one point that is as unexpectedly genuine as it is slightly shy. The bonhomie among the scientists racing to beat the clock to halt progression of the
Crack in the World
is uncluttered by the overweening banter that seems the stock-in-trade of every other Hollywood screenwriter these days. Working wonders with a modest budget, Eugène Lourié (who had laid waste to London in
Gorgo
[1960] a few years earlier) accomplishes some amazing feats of trompe l'oeil through the use of matte paintings, scale models (one of which took up the entire floor space of one of the largest soundstages at Madrid's Bronston Studios) and foreground miniatures, blowing up an Indonesian volcano, toppling a locomotive off a precipitous trestle and splitting the bedrock of Tanganyika asunder in the film's pyrotechnic final reel. However quaint Lourié's work seems forty-five years after the fact, the effects are well integrated and remain a tribute to cinematic spectacle in the hands-on era before the advent of CGI.
Paramount's disc is a no-frills affair, offering only the film with no extras. The 96 minute feature is provided only 8 chapter stops but the presentation is otherwise respectful, with original art used on the keepcase (an all too rare occurrence in these days of Photoshop bricolage). Though a degree of film grain is present throughout,
Crack in the World
looks otherwise splendid here. The film's audio is plagued by hiss in some of the quieter scenes but otherwise adequate and robust. Letterboxed at 1.85:1, the image is clean and colors are vibrant, allowing the viewer to fully appreciate the meticulous art direction, which employs subtle chromatic splashes (red telephones, a yellow cardigan, even a cable from London is a pleasing lavender) to break up the industrial gunmetals of Sorenson's underground command central. (It's worth noting at this juncture that the film's costumer was Eugene Lourié's wife, Laure de Zarate.) A smart, bracing and unapologetically humane doomsday extravaganza,
Crack in the World
will likely find little favor with younger viewers but those who grew up with its indelible images will have a grand old time getting reacquainted with the film in its American DVD debut.
For more information about
Crack in the World
, visit
Olive Films
. To order
Crack in the World
, go to
TCM Shopping
.
by Richard Harland Smith