DVDs from TCM Shop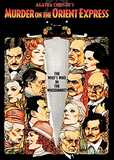 Murder on the Orient Express Belgian detective Hercule... MORE&nbsp> $8.95 Regularly $12.98 Buy Now
Quotes
DVDs from TCM Shop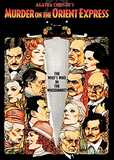 Murder on the Orient Express Belgian detective Hercule... MORE&nbsp> $8.95
Regularly $12.98 buy now
A.D.C.


Ah, here's your ticket, Monsieur Poirot. I'm afraid you've still got another hour.

Hercule Poirot


Then, please, do not wait.

A.D.C.


Not wait? Hah. After all you've done for us, Monsieur Poirot? Ha ha. Oh. Uh, my general's orders were to ensure your safe departure. He also wished to thank you again for saving the honour of the British garrison in Jordan. The Brigadier's, uh, confession was opportune. I say, how did you do it? Was it the old, uh, thumbscrew, you know, the rack, huh? ...Oh. Well, uh, you'll be able to rest as soon as you get to Stamboul. The, uh, the Church of Santa Sophia is absolutely magnificent.

Hercule Poirot


You have seen it?

A.D.C.


No.

Hercule Poirot


Mr. Ratchett, I have made enough money to satisfy both my needs and my caprices. I take only such cases now as interest me, and to be frank, my interest in your case is, uh... dwindling.

Hercule Poirot


Only by interrogating the other passengers could I hope to see the light, but when I began to question them, the light, as Macbeth would have said, thickened.

Beddoes


Oh, yes, sir, the Italian gentleman.

Hercule Poirot


Eh, does he speak English?

Beddoes


A kind of English, sir. I think he learnt it in a place called Chicago.

Bianchi


You mean you saw the man? You can identify the murderer?

Mrs. Hubbard


I mean nothing of the kind. I mean there was a man in my compartment last night. It was pitch dark, of course, and my eyes were closed in terror--

Bianchi


Then how did you know it was a man?

Mrs. Hubbard


Because I've enjoyed very warm relationships with both my husbands.

Bianchi


With your eyes closed.

Mrs. Hubbard


That helped.