DVDs from TCM Shop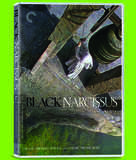 Black Narcissus Nuns founding a convent in the... MORE&nbsp> $23.35 Regularly $29.95 Buy Now blu-ray
USER REVIEWS
See Detailed Ratings
Acting of Lead Performers

Acting of Supporting Cast

Director

Music Score

Title Sequence

Screenplay

Cinematography

Historical Importance

Would You Recommend?

0 Member Ratings
Rate the acting of the Lead Performers

Rate the acting of the Supporting Cast

Rate the Director

Rating of the Music Score

Rating of the Title Sequence

Screenplay

Creatively uses the camera to tell the story

Importance in Cinema history

Would you recommend for fans of this genre
Submit Ratings
Cancel
Write a Review
Read Reviews
NO REVIEWS AVAILABLE
The title has not been reviewed. Be the first to write a review by clicking here to start.
black narcissus

A movie whose "look," courtesy of the great cinematographer Jack Cardiff, is more interesting than its characters (with one exception, noted below), this is an entertaining if moderately racist treatment of the East Vs. West theme, the former characterized by simple minded, sexually free Indians, and the later personified by dedicated nuns with one hysteric whose violent, destructive lust is of course awakened by contact with The Natives. In the service of this rather stereotyped stuff are performances by usually fine actors such as Deborah Kerr and Kathleen Byron that are, how shall I put it kindly? a bit too energetic, as well as others by Sabu and Jean Simmons that are relentlessly one note and caricatured. The exception referred to above is David Farrar who, in his sympathetic portrayal of the atheistic Englishman who has "gone native" but has still managed to retain his humanity, may be annoying to the pious among those in TCM User Review Land but provides a welcome dose of ambiguity to the otherwise black and white proceedings. So, for Farrar and the darkly disturbing, beautiful cinematography...and the wind that never stops blowing through the corridors of the nunnery...let's give this film a solid B. P.S. Ben Mankewiecz says that the scene where we first glimpse the newly sexualized Sister Ruth, in purple dress and scarlet lipstick, is "terrifying." I would downgrade that to shocking. Also, what do you guys think? Did Sister Ruth "do it" with Mr. Dean? I say yes, based on the evidence of her kissing his hand before she leaves him. Alternate opinions are encouraged.

Complex & The Tangled Nun

J.B.'S review of 2012 is an accurate breakdown of this movie's characterizations! One unique scene was the made up visage of the man-lorn nun startling the Kerr nun as if it were a thing of horror! No matter how we are stripped of gender identity, the presence of post pubescent/premenopausal women always creates the sexual dynamic!

ban the film, burn the book

A ban from the Catholic church was a guaranteed win for a film... wonder if they got a cut of the proceeds? The color and art direction was geared to heat up the audience, and heat it up it did. With excellent performances from Kathleen Byron, David Farrar and a pre-quivering voiced Kerr, not to mention Jean Simmons and Sabu, the film was a shoe-in for success... and awards, but the cinematography was the only award it received, leaving it to live on in relative obscurity. When it was finally rediscovered, it achieved the proper status it richly deserved. Byron's over the top performance is still considered one of the most sexually charged, this side of a Russ Myers film.Possibly one of the ten best of all time.

The other movie is called 'Sea Wife'

Nickii- You are right about the movie with Deborah Kerr and Robert Mitchum.Christine correctly identified it as "Heaven Knows, Mr. Allison." But you were thinking of two movies. The other movie had in it an RAF officer nick-named Biscuit.It starred Joan Collins and Richard Burton. It is the 'Sea Wife' from 1957.L. Maltin wrote in review:'Disarming yarn of Burton and Collins surviving a torpedoed ship. He falls in love with her, not knowing she's a nun. Set during WW2.' I wish TCM would show it again.

Strange and Wonderful Movie

A unique, dark, tense, sensuous, wonderful movie. When a group of nuns moves to a convent high in the Himalaya Mountains they begin to succumb to the sensuousness that envelopes them - from the sly and sexy Mr. Dean to the outrageous Jean Simmons character, but mostly to the haunting, natural beauty of their new surroundings. They start to forget their religious lives and fall back into their past, exciting, hormone driven youth - Deborah Kerr's flashback of the fox hunt and look on her face as she relives it is priceless. Sister Ruth's descent into madness is thrilling to watch and Sister Cloughda knows she too could lose herself if she does not leave soon. Once particularly touching scene is when Sister Ruth goes to Mr Dean's house and lovingly touches his personal belongings and deludes herself into thinking she can become part of his world. The beautiful music and Mr. Dean's proclamation " I don't love anyone !" is unforgettable. You must watch this movie !

A Cinematography

Firstly, it's important to note that the Director, Michael Powell, was Deborah Kerr's ex-lover and Ruth Byron was his current lover in real life when this film was made. The tension displayed between Kerr and Byron is palpable during the film and it can only be because of Powell. This film has nothing really to do with nuns or the Catholic church. It is a story of two women, neither of whom belongs in a convent and both on the breaking point emotionally. When they are removed from the safety and confines of a religious order mother house they are in and sent to the Himalayas, both lose their focus and their faith. While Ruth Byron's performance is excellent, the real actress here is truly Deborah Kerr. She displays the right amount of sexual repression, the face of a woman in a mighty internal struggle that she realizes she is losing. Regarding the cinematography, this entire film was made on the backlot at Pinewood Studios in England and in a wealthy Indian's home and yard in England. None of it was filmed outside of England, although it is such a well-crafted film that you tend to think it was actually filmed in the Himalayas. Credit and kudos, of course, go to the inimitable cinematographer, Jack Hawkins.

"The superior of all is the servant of all"

The nuns live numbing lives and are nonplussed (Sr. Clodagh) and nutty (Sr. Ruth); their mission ultimately nugatory (they leave within months). Of course the assumed agnostic (Mr. Dean) has all the answers. Such films were released a few times before 1947, and many, many times since. Predictable and sad. Jean Simmons was cute.

Black Narcissus

A sweeping, haunting film from the great team of Powell & Pressburger. Kerr should have received an Oscar nomination, but fine performances overall, particularly from Byron as the most repressed nun. The costumes, plus the Oscar-winning art direction & cinematography being vivid surrealism to the scenes. The first great technicolor film from the duo before "The Red Shoes." I give it a 4.5/5.

Beauty Amidst Sexual Repression

This is a gorgeous film set in the Himalayas...Deborah Kerr gives an endearing performance (as usual), and although she is the anchor of the film, everyone around her seems to steal almost every scene - this is no fault of Ms Kerr's - it is merely because the other characters are so much more multi-dimensional and "over-the-top" than Ms. Kerr's character. A good crazy will always be more fun than a stable (relatively) character!Even David Farrar's khaki shorts scream for attention. It's quite ironic that the British guy should be the one to exude sexuality - that should give you an idea of how repressed an environment we're talking about here! Kathleen Byron's psychotic Sister Ruth is what makes the film somewhat "fun" - it's a shame that she had to renounce her vows BEFORE they let her go completely bonkers - it would have been even better to see her lose it in a nun's habit (although her boots seem to have a life of their own!).The strongest and most influential "character"/aspect of the film still is the backdrop/scenery/photography.This sure ain't The Sound of Music!

Deborah Kerr-Robert Mitchum

Nickii- It's called "Heaven Knows, Mr. Allison." Wonderful movie. I haven't seen Black Narcissus before, but it's coming on right now. After reading these reviews, I can't wait to see it.

More than the beauty of Himalayas!

Marianne McDermott

10/24/09

This film, although made and released in 1947, could be a "reality check" for us today in 2009!Michael Powell created, through the novel by Rumer Godden, a suspenseful thriller, as scary as any film made within the last 30 years. Kathleen Byron's portrayl of SISTER RUTH is veryriveting, especially within the last 45 minutes of the film. Although beautifully filmed and starring Deborah Kerr, Ms. Byron totally STEALS the film from Ms. Kerr right from the beginning. I was so impressed, that I bought the novel and read it. But the film says so much more - that EVIL IS PRESENT IN OUR WORLD AND IT'S INFLUENCE CAN LEAD TO DIRE CIRCUMSTANCES!

Remarkable film

One of the best films of all time for its use of makeup, lighting, and the actors' subtle expressions to convey terror and an unsettling atmosphere. The acting and directing are flawless, and Powell and Pressburger owe a great debt to Hitchcock and film noir for rendering a terrifying mood devoid of graphic violence. The film shows what is possible in the full gamut of emotion without profane language, brutality, or gore. More than any other film I can think of, it is the most illustrative of the power of suggestion. Banned by the Catholic Church for Sister Clodagh's reminiscing about her pre-nun life, the film is superb visually and psychologically.

I felt as though I was going mad as well

What an exhilarating experience. I could almost sense the breathtaking grandeur and expanse of the location, yet feel trapped and claustrophobic at the same time.I don't think I've ever seen the slow descent into madness depicted with such sly subtlety. I was nearly gasping for breath.The photography is so far ahead of its time, the picture looks like it was filmed yesterday.All in all, this is a treasure to be savored uninterrupted in a quiet, dark room. Thank goodness TCM has the best prints around.

Deborah Kerr

This movie is overlooked as a wonderful & suspenseful movie. When this movie first came out it was shocking for it's content, that a nun would leave the church because of her attraction to a man.Deborah Kerr was wonderful in this role, as she was in all her movies. Does anyone remember a movie with D. Kerr & Robert Mithum stranded on an island? She didn't reveal the fact that she was a nun & she fell in love with R. Mitchum"s character. The nick name Mitchum's character called Kerr's character was "sea bisquit". Anyone remember this movie?? I think it's a black & white movie.

A magnificent thriller

A wonderful work of art. The scenery is grandeur to look at it, the twisted tale of nuns being tantalized in the breathtaking alps is genious, and the stunning/intense performances of its leading and supporting actors is wonderful. Pay close attention to how each nun wears their makeup; the lipstick in particular plays a keen role in the story. This movie is very obscure, and highly enjoyable.

A Chilling Movie Experience

The penultimate scene provided me with one of those unique, skin-creeping movie experiences that I haven't had in years. The image of Kathleen Byron on the way to her conclusion was unforgettable.

a masterpiece

a beautiful film, powerful, disturbing, gorgeous to look at, intense performances and the unsurpassed artistry of Michael Powell and Emeric Pressburger. Don't miss it.

A masterpiece

Black Narcissus is a masterpiece of movie making. Virtually every scene is beautifully composed visually and loaded with subtle information that propels and enriches the story. The use of color, editing, and music all contribute to making this an outstanding artistic experience. I have seen it at least 25 times and every time is filled with discovery at the levels of this work. The story is, of course, disturbing and it is so hauntingly told. If you love film, do not miss this!
*We protect your personal infortmation and will not provide it to anyone without your consent. For a complete explanation, please refer to TCM's Privacy Policy. By submitting your contribution, you agree to TCM's Terms of Use.