DVDs from TCM Shop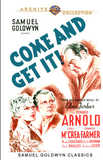 Come and Get It Years after deserting his true... MORE&nbsp> $16.46 Regularly $21.99 Buy Now
NOTES
DVDs from TCM Shop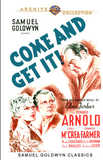 Come and Get It Years after deserting his true... MORE&nbsp> $16.46
Regularly $21.99 buy now
A news item in Daily Variety in July 1935 noted that producer Samuel Goldwyn was negotiating with author Edna Ferber for the rights to her novel Come and Get It, but negotiations were temporarily snagged because Ferber refused to sell the story without retaining television rights. The news item also noted: "Though the television around the corner subject has been rife for some time, this is thought to be the first occasion where the inclusion of sight-radio rights have held up the sale of a novel to the screen." Other contemporary news items note that Miriam Hopkins was the first choice to play the lead, followed by Virginia Bruce, whom Goldwyn was attempting to borrow from M-G-M; tennis star Francis X. "Frank" Shields made his acting debut in the picture; portions of the film were shot on location in Northern Idaho; and a logging short was made to accompany the film. According to production charts and news items in Daily Variety and Hollywood Reporter, when shooting began on the picture in late June 1936, Howard Hawks was the sole director. In mid-August 1936, Hawks left the picture over what an Hollywood Reporter news item termed "a story dispute" with Goldwyn. Shooting resumed with a revised script on 19 Aug, under the direction of William Wyler, and continued until late September 1936. According to a Hollywood Reporter news item on September 26, 1936, Goldwyn had determined to give full director credit to Wyler who had shot "half" of the picture, however, the onscreen credits of the released film include director credit for both Wyler and Hawks. Some modern sources have indicated that Wyler worked on the picture for about one week, however, news items and production charts in Hollywood Reporter indicate that Wyler worked on the film for at least four weeks. Modern sources add that Wyler did not want to work on the film but was forced to take on the assignment after being threatened with legal action by Goldwyn; Wyler then attempted to shoot the film as closely as possible to Hawk's original design. Modern sources also note that at one time Spencer Tracy was wanted for the lead and that Edna Ferber was hired as a consultant for the film.
The world premiere of the film was held at the Liberty Theatre in Seattle, where actress Frances Farmer had once worked as an usherette. Farmer made a personal appearance at the premiere. Events surrounding the making of Come and Get It and the Seattle premiere were dramatized in the 1982 biographical film Frances, starring Jessica Lange, and the 1983 television movie Will There Really Be a Morning?, starring Susan Blakely, and based on Farmer's autobiography. Farmer was borrowed from Paramount for Come and Get It, which was her first starring role. She continued to act in films until 1942, when personal problems and confinement in a mental hospital resulted in the end of her career. She made one additional film in the 1950s, Party Crashers (1958), and also appeared on television before her death in 1970. In interviews, director Hawks said that Farmer was the best actress with whom he ever worked, and modern critics have called Come and Get It her best film.
Actor Walter Brennan won the first of his three Academy Awards for Best Supporting Actor for this film. Modern sources include the following additional cast members: Stanley Blystone, Constantine Romanoff, Harry Tenbrook and Max Wagner (Lumberjacks); Lee Shumway (Diner); George Humbert (Headwaiter); Egon Brecher (Schwerke); William Wagner (Wine steward); Bud Jamison (Man in saloon); and Fred Warren (Pianist). Edward Arnold recreated his role for a Lux Radio Theatre broadcast on November 15, 1937.