DVDs from TCM Shop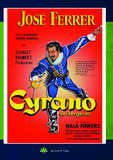 Cyrano de Bergerac A swordsman and poet helps... MORE&nbsp> $10.95 Regularly $14.99 Buy Now blu-ray
Trivia
Contributions
AdrianaIuliana (2013-04-03)

Source: not available

Goofs:
In the film's opening scene, after Cyrano starts to leave the theatre along with the others, Roxane bids good night to DeGuiche and Valvert and seems to exit, but moments later she is seen watching Cyrano's duel in the theatre. We never see her re-enter.

During the balcony scene, Cyrano's white plume is dark.

AdrianaIuliana (2013-04-03)

Source: not available

Three people who worked on the film were victims of the Joseph McCarthy HUAC hearings - director Michael Gordon, screenwriter Carl Foreman, and actor Morris Carnovsky, who played Le Bret in the film. José Ferrer himself was investigated, but managed to escape the blacklist.

Asked if he has read Don Quixote, Cyrano responds that he has, and found himself the hero. José Ferrer would later actually play Don Quixote on stage in the musical Man of La Mancha.

There are fewer characters in the film than in the stage version or in other versions. This is not only because the play was cut for the film, but because four separate characters were combined into two. In the film, Cyrano's best friend Le Bret is a combination of Le Bret and Carbon de Castel-Jaloux, the Captain of the Gascony soldiers. And the cook Ragueneau in the film is a combination of himself and the alcoholic poet Ligniere, who, in the play, is the one who is threatened with an attack on him by a hundred men.

This film was re-released in 1953 to take advantage of the 3-D craze. The Cyrano de Bergerac was filmed with the Garutso Balanced Lens, which produced a slight three dimensional effect, because it permitted an extreme depth of field without stopping down the lens. Although the 3-D effect is minimal, the re-release was hyped as being filmed in a 3-D process that did not require glasses.