DVDs from TCM Shop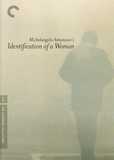 Identification of a Woman A filmmaker looks for an... MORE&nbsp> $15.95 Regularly $19.95 Buy Now blu-ray
Home Video Reviews
Michelangelo Antonioni's 1982
Identification of a Woman
was a homecoming of sorts for the legendary Italian director, who (the studio-bound, shot-on-video experiment
The Mystery of Oberwald
aside) hadn't made a feature in his home country since the 1964
The Red Desert
. Back with screenwriter Tonino Guerra and cinematographer Carlo Di Palma, it's also a return to his old themes of the difficulties of love and relationships in the modern world. After pushing explorations of alienation and disconnection to the edge in films as
Blow-Up
and
The Passenger
,
Identification of a Woman
brings us back to a more familiar world, and a more personal one too.
Tomas Milian plays Niccolò, a film director looking for inspiration for his next film in the faces of women he clips from papers and magazines, and looking for someone to fill the hole in his personal left by his divorce. The fortysomething director finds his fancies drawn to much younger women and perhaps the subsequent emotional disconnection and communications barrier is a result (at least in part) of this gap in age and life experience. Then again, Niccolò predilections line up pretty well with Antonioni, who long ago had a affair with his beautiful actress and muse Monica Vitti (twenty years his junior). This is a portrait of a film director, after all, and it's hard not to imagine Antonioni slipping a little autobiography in, either by design or by instinct.
As the film opens, Niccolò is with Mavi (Daniela Silverio), a spirited, assured, independent young woman who comes from money and privilege. Niccolò is adrift her society (Antonioni punctuates his unease at a social event with a dryly funny gaffe: Niccolò stubs his cigarette out in an ashtray, only to find it's actually a napkin ring left on the table). When a "gorilla" (that's actually how this rather polite thug is identified in the credits) delivers a veiled threat to stay away from Mavi, he becomes rattled by parked cars and unsigned deliveries and driven to uncover who is sending him these messages, to the point that he loses sight of Mavi. At one point quite literally. Afraid he's being followed on trip to a country house, he drives like a madman through a thick fog on a country road, oblivious to her terror until she forces him to stop and then runs off, disappearing into the gray cotton sea. While you could say it's a bit spot on as a metaphor -- Niccolò follows and becomes swallowed up, adrift in his own private world while searching for someone out of sight and out of reach -- it is also orchestrated with the grace and precision of a ballet and photographed like a dream. Antonioni's camera simply floats along with him in his dreamscape, seeing no more than Niccolò until the faint orange glow of a cigarette anchors him back into the human world of anxieties and indulgences.
When Mavi suddenly leaves him -- shades of
L'avventura
, except that Mavi isn't missing, she's simply moved on and her refusal to answer his phone calls is no mystery but a blunt message that she's through -- Niccolò falls in with Ida (Christine Boisson), a beautiful and devoted young dancer. The two women couldn't be more different but Niccolò resists complete commitment to both of them, at least in emotional terms. Antonioni didn't shy from nudity in his earlier films (as tame as it seems now, topless models and casual sex in
Blow-Up
caused a minor scandal then) but
Identification of a Woman
is startling in its explicit sex scenes. The physical intimacy stands is stark contrast to the restraint in emotional intimacy.
Like
L'avventura
and his films of his sixties, it becomes about the space between men and women in relationships, but through the gentler, more sympathetic sensibility of an older man (he was 70 at the time) looking back. There's none of the handsome but cold architectural backdrop of his earlier films and even the dislocation of the night and fog scene and the desolation of the open lagoon in Venice, a kind of desert on the ocean that Niccolò visits with Ida (there's a romantic date), has an eerie beauty and a haunting mystery to it. The distance here is human. The contemporary score features electronic and modern pop music by Tangerine Dream, Japan, Orchestral Manoevers in the Dark and XTC, cool but emotionally distant sounds which further sets this old school artist from the modern world of Rome. Perhaps this was Antonioni measuring his own dislocation returning home after making films in England, the U.S., China, Spain and Africa.
There's a sadness and sympathy in the masterfully directed
Identification of a Woman
, a film filled with mysteries that are never resolved and images that are simultaneously lonely and lovely. The sense of alienation is still here, but its less about the effects of modern society and more about the difficulty of intimacy from a man so used to standing apart. By which I mean emotional intimacy; old man Antonioni isn't at all shy when it comes to the sexual intimacy of Milian and his beautiful young lovers. Speaking personally, I admire Antonioni but for the most part find his perfectly-sculpted and exactingly-painted films a little cold and calculated, orchestrated with such precision that the humanity is lost in the design. But
Identification of a Woman
is warmer and more sympathetic to the mysteries and anxieties of human relationships.
Never released on home video in the United States, it makes its debut on DVD and Blu-ray with a nice, rich-looking transfer, with soft colors and vivid texture, from the original 35mm camera negative. It has a clean 2.0 mono soundtrack and a new English subtitle translation. Unusual for a Criterion disc, this has no supplements: no commentary, no video interviews, no archival programs, nothing apart from a trailer and the accompanying booklet, which features as essay by John Powers and an archival print interview with Antonioni. While supplements are hardly essential (the term itself says it all: a supplement to the main program), Criterion has so consistently come up with interesting extras that offer helpful background and critic insights on their line that the absence deserves a mention.
For more information about
Identification of a Woman
, visit
Criterion Collection
. To order
Identification of a Woman
, go to
TCM Shopping
.
by Sean Axmaker