DVDs from TCM Shop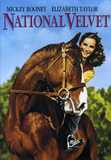 National Velvet A British farm girl fights to... MORE&nbsp> $5.97 Regularly $14.98 Buy Now
NOTES
Contemporary sources add the following information about the production: In 1935, Paramount Pictures acquired the rights to Enid Bagnold's novel, besting RKO producer Pandro S. Berman, who was reportedly seeking the property as a vehicle for Katharine Hepburn. Leatrice Joy Gilbert, John Gilbert's daughter, was being considered by Paramount for the lead at that time, but because of casting difficulties, Paramount sold the rights to M-G-M in 1937. M-G-M planned to make the film in England with Hunt Stromberg as producer, and in June 1937, tested Leslie Ruth, actor Leslie Howard's daughter, for the role of "Velvet." In March 1938, Spencer Tracy was announced as a possible star, and in May 1939, "Suicide," a well-known jumping horse, was sought for the film. With the outbreak of war in Europe, the project was shelved, until 1941, when Berman, now an M-G-M producer, revived it. In early 1943, M-G-M undertook an extensive search for a female lead and sent a scout to Canada to test actresses who could convincingly play a teenage English girl. Billy Grady scouted Broadway actresses in late February 1943. Patsy Lee Parsons, Pat Arno and Alix de Kauffman were among the actresses who were tested for "Velvet." Sara Allgood was tested for a major character role in July 1943, but was not cast.
In early November 1943, Clarence Brown took over direction of the picture from Mervin LeRoy after Brown signed a new contract, agreeing to stay with M-G-M. Judith Anderson was tested for a role in mid-November 1943. At the same time, Brown was scouting Southern California and Arizona horse ranches for locations and horses. In December 1943, Brown was reportedly working on a final polish of the script, and was expanding the role of child actor Jackie Jenkins, with whom he had recently worked on The Human Comedy (.) "King Charles," the horse who played The Pie, and his equine stand-in traveled in a special truck designed by Brown. Six weeks of location shooting was done on the coast near Monterey, CA, while scenes depicting the Aintree Racetrack were shot at the Uplifters' Ranch and at the Midwick Country Club in Alhambra, CA. Hollywood Reporter reported in late September 1944 that, as an experiment, Brown was going to delete all background music and noise from the final race sequence. The completed scene, however, does contain background noise. Although Robert Coleman, Jimmy Aubrey, George Davis and Mona Freeman were announced as cast members in Hollywood Reporter, their appearance in the completed film has not been confirmed. Howard Taylor, who plays a schoolboy in the film, is Elizabeth Taylor's brother, while Moyna MacGill, who appears in a walk-on role in the picture, was Angela Lansbury's mother. National Velvet marked the first film in which Lansbury and her mother appeared together.
Although not her debut film, National Velvet marked Elizabeth Taylor's first major screen role and is considered by critics to be the film that propelled her into stardom. Many reviewers commented on her performance in the picture. The Daily Variety reviewer announced that Taylor "is fated for a great name in pictures," while the Hollywood Reporter critic commented that "stardom is inevitable for her." Bosley Crowther of the New York Times wrote that Taylor's "face is alive with youthful spirit, her voice has the softness of sweet song and her whole manner in this picture is one of refreshing grace." In her autobiography, Taylor claimed that after M-G-M renewed its interest in the story, she was called into Berman's office for an interview. Although the eleven-year-old Taylor, who spent her early childhood in England, spoke easily with an English accent and had been riding horses since she was three, Berman felt she was too short and slight to make a convincing Velvet. Determined to get the role, Taylor announced that she would "grow up" in time for the production, and began eating huge "farm breakfasts" every morning for three months. According to her autobiography, Taylor did, in fact, grow three inches and, after agreeing to a long-term contract with the studio, was awarded the part. Fred Zinnemann directed her screen test, according to Hollywood Reporter. Taylor said of the film: "I think Velvet is still the most exciting film I've ever done. And at the end, to be given the horse on my thirteenth birthday-well, it was one of the moments of my life." Taylor performed her own riding in the picture and commented in her autobiography that "she was the only person who could ride him [King Charles]." (According to modern sources, Taylor was thrown by the horse during filming and suffered a life-long back injury.)
National Velvet was nominated for Academy Awards in the following categories: Best Direction, Best Art Direction (Color) and Best Cinematography (Color). Anne Revere won the Oscar as Best Supporting Actress, while Robert J. Kern won for Best Film Editing. Kern's editing of the final steeplechase sequence earned him special notice by critics; the Newsweek critic raved that the racing scene was among the most memorable in film history. In June 1945, National Velvet became one of the first films to be selected by the Library of Congress for their motion picture collection. According to a New York Times article, the film was chosen because it faithfully recorded, in one way or another, "'the contemporary life and tastes and preferences of the American people.'"
On February 3, 1947, Taylor and Rooney reprised their roles from National Velvet for a Lux Radio Theatre broadcast, and on October 6, 1949, the Hallmark Playhouse broadcast a version starring Roddy McDowell. Bryan Forbes directed Tatum O'Neal, Nanette Newman, Christopher Plummer and Anthony Hopkins in a 1978 sequel to National Velvet called International Velvet. In the British-made sequel, O'Neal plays the grown Velvet's (Newman's) niece, who dreams of racing her horse in the Olympics. A television series based on National Velvet, also titled National Velvet, aired on the NBC network from September 18, 1960 to September 10, 1962. Lori Martin played Velvet in the series, and Arthur Space played her father.