DVDs from TCM Shop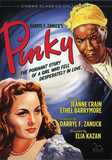 Pinky A light-skinned black woman... MORE&nbsp> $7.46 Regularly $9.98 Buy Now
Home Video Reviews
Hollywood maverick Darryl F. Zanuck once again braved controversy by bringing Cid Ricketts Sumner's novel
Pinky
to the screen. The film was originally slated to be directed by John Ford, but when Ford decided to bow out (reportedly because he had no interest in the subject matter), Zanuck brought in director Elia Kazan, who was no stranger to handling hot material himself.
Pinky
tells the story of Patricia Johnson (Jeanne Crain), a Black woman whose skin is so light that the locals have nicknamed her title nickname. Her grandmother, Dicey Johnson (Ethel Waters) has slaved away taking in washing in order to send her to nursing school in the North, but when Pinky returns to the squalor of the small southern town from which she came, Dicey notices that a definite change has come over her. Dicey learns that while up north Pinky has managed to pass as white, an experience she found both enlightening and enjoyable: as Pinky explains, "I've known another kind of life. I've been treated like a human being." And not only has she found a new life, she has also found a white fiance, Dr. Thomas Adams (William Lundigan).
Unfortunately, Pinky quickly discovers that nothing has changed in her home town. Racial prejudice is still rife, particularly highlighted in a scene where the police intervene in a scuffle between Pinky and a Black couple from whom she has come to collect her grandmother's money. Initially the police treat her with respect, until the female antagonist says, "Why are you ma'am-ing her? She ain't nothing but a colored girl!" When Pinky confirms that this is the truth, the cops' attitudes immediately change to one of outright bigotry toward her. After this incident, Pinky decides that it was a mistake to return home, and starts to pack her bags, telling Dicey of her intention to leave on the next train.
But an emergency in a nearby mansion throws a monkey-wrench into Pinky's plans. White, cash-poor landowner "Miss Em" (Ethel Barrymore) is in precarious health, and when her condition takes a turn for the worse, Pinky is pressed into being her private nurse. Pinky chafes at the job, having borne a grudge against Miss Em for over a decade over a minor incident where Pinky strayed into her garden, and Miss Em promptly ordered her off the property. Pinky is determined to believe the incident was racially motivated, despite Dicey's assurances that Miss Em treated all children the same way. Once installed in the position, Pinky chafes at being ordered around by the old woman, mistaking irascibility for prejudice. But over the course of time she learns to appreciate and even admire the old woman's wisdom, as Miss Em proves the unlikely source from which Pinky will learn self-respect and pride.
When Miss Em eventually dies, Pinky is shocked to learn that the old woman has left a will bequeathing her mansion and all of its furnishings to the young nurse rather than to her greedy, grasping sister-in-law Melba Wooley (Evelyn Varden), because of her "confidence in the use to which she will put this property," . Of course, the Wooleys immediately files suit contesting the will, claiming that Pinky wielded undue influence over Miss Em, and that she kept the old woman drugged. While everyone around her, including a longtime friend and lawyer, advise her not to fight, Pinky decides that she must stand up for her rights, and carry out Miss Em's last wishes. A surprise verdict in the trial leaves Pinky with many important decisions to make about her future, both in her career and her impending marriage.
Pinky was a groundbreaking film when it was made, and surprisingly has not lost much of its punch. The off-beat casting of Jeanne Crain in the lead--necessitated because to the hypocritical Hayes Office interracial romance was only acceptable if both parties were white—shouldn't work, but it does. Kazan elicits one of Crain's greatest performance in this unlikely role for which she would be nominated for Best Actress. Ethel Waters is equally fine as Dicey: Waters manages to convey both the understanding and the heartbreak of dealing with a granddaughter who is embarrassed by her lineage. And Ethel Barrymore gives yet another canny performance as the domineering Miss Em. Both Ethels received Oscar-nominations as best supporting actress for their work in this film.
Pinky is another entry in Fox's new Cinema Classics Collection. Unfortunately, the source material is not in very good shape: there is debris and general wear through most of the film, and the image exhibits some very noticeable jitter at times. The soundtrack is also exhibiting quite a bit of deterioration, impacting on Alfred Newman's lovely score. The disc includes an audio commentary by Film Historian Kenneth Geist, who spends far too much time talking about his own personal difficulty in accepting Crain in the leading role, which he appears to believe is more important than the film itself.
For more information about
Pinky
, visit
Fox Home Entertainment
. To order
Pinky
, go to
TCM Shopping
.