DVDs from TCM Shop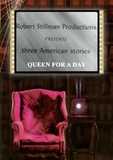 Queen for a Day The film was based on the... MORE&nbsp> $6.95 Regularly $8.99 Buy Now
FULL SYNOPSIS
DVDs from TCM Shop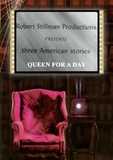 Queen for a Day The film was based on the... MORE&nbsp> $6.95
Regularly $8.99 buy now
For thirty minutes every day, five million women listen to the radio show Queen for a Day . On each show, five candidates, representing a cross-section of ordinary people, tell their dreams to host Jack Bailey. The audience, with their applause, chooses one winner, who is crowned and awarded prizes. Following one show, producer Jim Morgan reads to Bailey a thank-you letter from Marjorie Watkins, a contestant who did not win, telling how happy they have made her boy Pete by sending the toy engine she requested. In the letter, she tells their story: Pete's rampant imagination leads him to think of himself in a variety of adult roles. One day he is a farmer, the next an engineer, the following a plumber. Marjorie expresses concern to her easy-going husband Dan that there are no other children living nearby. When Pete's cousin Charles visits, Pete imagines himself a big game hunter, then hits Charles with a rock when Charles says Pete is too little to be a hunter. Sometime later, Pete, imagining himself to be an oil driller, introduces his imaginary friend "Shun," short for "distinction," to his parents and blames Shun for his own accidents. While Dan laughs, Marjorie worries that Pete will grow up to be a "buck passer." Dan speaks with Pete, who promises that Shun will behave. When the toy train from the Queen for a Day show arrives, both Pete and Dan become engrossed playing with it. On his first day of school, Pete takes Shun with him as he boards the school bus. Anna, the family's black maid whose own child has gone off to war, empathizes with Marjorie, saying it is always the mothers who see their children leaving or coming home. Pete returns from school with a new friend, Jim, and admits that Shun was just a silly game. At dinner, Pete complains of a stiff neck and sore back, explaining that he and Jim had been drilling water wells. Marjorie has Dan call the doctor. After examining Pete, the doctor tells Marjorie and Dan that Pete may have polio and urges them to drive him to the hospital that night. Marjorie cries and remembers Anna's words. She ends the letter saying that during Pete's five days in the hospital, the train meant everything to him, and that now it means more, because when he is the engineer, he can travel the world. The train will be the only way he can get around until he walks again someday.
Back at the studio, the audience, mostly women, file through lines to watch the show. One contestant, Mrs. Marisa Nalawak, who was born in Warsaw, Poland and now lives in Torrance, California, says that she wants to win for her son Frank, who is called "Chunk" by his friends, a scholarship to go to an engineering school in Chicago. He worked for two years at the mill where his father works, but left home the previous night to find work to pay for school. That night, while waiting for the next eastbound bus, Chunk wanders over to a traveling circus and learns that it will be nearing Chicago in two weeks. At the high dive, Daredevil Rinaldi, who is supposed to do a backward somersault dive from 110 feet into four feet of water, keels over drunk to the boos of the crowd. When Chunk offers to do the dive, Deacon McAllister, who runs the circus with his wife, agrees to let him try tomorrow. That night, Chunk remembers the argument he had with his father, who did not want him to quit the mill job. In his remembrance, Chunk contends that every American has the right to make something of himself. His father boasts that in Poland, men are proud of working with their hands, but Chunk disparages his father's experience and says he wants to make technology work for him. His father ends the argument by demanding that he work to bring home money if he wants to remain in the house. The next day, Chunk, whose only past experience diving was at a quarry, impresses Peggy, a "vestal virgin" at one of the sideshows. When Rinaldi learns that McAllister plans to hire Chunk, he raves, calling McAllister a "murderer," and warns Chunk of dangers, then gives him some pointers. With the advance that McAllister gives him, Chunk invites two of his mill football teammates, Chief and Satchelbutt, to dinner. Word soon spreads that Chunk is planning to make the dive. When Marisa comes home from the show and tells her husband Jan that she was made "Queen" and won the scholarship, he tells her about the carnival. Before the jump, Peggy kisses Chunk good luck, and as he climbs to the top, his parents arrive. He realizes he left his rabbit's foot behind and at the top, almost slips. When a man taunts him, Peggy slaps the man. Remembering Rinaldi's advice, and repeating to himself "I can do it," Chunk completes the dive, but does not come to the surface until a number of suspenseful seconds have gone by. His parents hug him and his father asks him to come home. As the family walks off, Peggy watches in disappointment.
After a television broadcast of Queen for a Day , an unattractive woman who had been in the audience, Ella Wilmarth, returns to her apartment and receives a call offering her a job. Ella, who works as a nurse to newborn infants, agrees to spend three weeks at the luxurious home of Owen and Camilla Cruger to take care of Camilla and her newborn daughter Jessica. Cruger is stunned by Ella's appearance and compares her face to that of a horse. Since nurses are not to be treated as servants, Ella dines every night with Cruger, as Camilla cannot leave the bedroom. At the office, Cruger draws doodles of horses, and at home, begins referring to Ella as "Horsie" behind her back. When he learns that she likes Queen for a Day , he offers to get her tickets, hoping she will attend the show the next night and leave them alone, but she says she cannot leave her patient. Soon Cruger takes to drink. He invites his colleagues, Jack Minot and Freddie Forster, to dinner, and while they are in his wife's bedroom, he tells them, "Wait 'til you see our Seabiscuit," not realizing the door to Ella's adjoining room is slightly open; however, he finds that she did not hear, and she joins them at the table wearing an extremely awkward gown. At the office, on the last day of Ella's stay, Cruger is ecstatic as he sings, "The Old Gray Mare." He races home to find that the florist must have mixed up his order of orchids, his wife's favorite flower, as gardenias instead have arrived. He gives Ella the flowers, and she nearly breaks down in tears. Cruger gives her tickets to the show for tomorrow night, and as she rides away, she cries and tells the driver it is the first time a man has given her flowers. The next night, Cruger and his wife turn on television and find that "Horsie" has been chosen as a contestant. She explains to Jack Bailey that she has been an infant nurse for thirty years and just finished with her 311th baby. She says she wants an electric razor to give to Cruger, and when she calls him the nicest and kindest man she ever worked for, Cruger is speechless. At the end of the show, Ella is crowned Queen. With her crimson velvet and ermine robe and crown, she is led to a throne and presented with a silver scepter and four dozen red roses. She is given the razor, and also a trip to Honolulu, with new luggage and wardrobe, and a one-year's lease on a new apartment with all new furnishings. Ella is in tears, and the Crugers smile.