DVDs from TCM Shop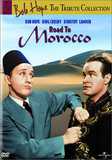 Road to Morocco Two castaways get mixed up in... MORE&nbsp> $11.95 Regularly $14.98 Buy Now
Home Video Reviews
The Hope-Crosby "Road" films have entertained audiences for decades and will continue thanks to the DVD set
On The Road With Bob Hope and Bing Crosby
. This collects the first four of the seven films (apparently the remainder weren't included due to rights issues) in sterling quality at a list price of only $24.98, which will be even lower if you shop around. Even viewers unfamiliar with the series might be willing to take a chance on it at that price and it's unlikely any will feel disappointed. Fans will be glad to have top-quality presentations of these films though they may have a minor tinge of disappointment that the only extras are two decent but short documentaries about Hope and Crosby.
Road to Singapore
(1940) was the first film in the series, though at the time it was considered just a one-shot effort and since Dorothy Lamour is billed above Bob Hope it's clear the studio didn't necessarily think of it featuring what we now consider the two leads. Based on a script that had been floating around for a few years,
Singapore
is in the lines of other films featuring adventurers conflicting over a woman like
A Girl in Every Port
and
What Price Glory?
. It sets the basic template for the series with Crosby and Hope as best friends, the former slightly more worldly, the latter definitely a bit more opportunistic and not entirely bright. Some problem puts them in an unusual setting where Lamour becomes the target of both their affections as they try to avoid other plot complications (in
Singapore
the family wants to put Crosby to work in their shipping business). Oddly enough this is very similar to the Abbott & Costello films that were coming out at the same time which also took occasional breaks for songs. Though
Singapore
--which isn't actually set in Singapore-- is a bit pokey and predictable, it was successful enough that the studio correctly saw potential in further Crosby and Hope pairings, leaving Lamour to go down to third-billing.
1941's
Road to Zanzibar
is much better and shows how the series earned its reputation. For one thing, it's actually funny. The gags fly much faster as the two leads engage in continual verbal sparring, broken by occasional near-slapstick. There's also the first occurance of the self-referential jokes that would become a familiar feature of the series; here it's a comment that characters in the story must have seen the first "Road" film. Topping this activity off are stronger songs by the noted team of Burke & Van Heusen.
Zanzibar
presents Hope and Crosby as two guys who have kicked around Africa trying to earn money for a trip back to the States. They decide to help a damsel in distress (Lamour) and her best friend (Una Merkel), unaware that the two women are running a con on them. True, it's a somewhat flimsy story but strong enough that it allows for more comic possibilities and makes
Zanzibar
one of the best in the series.
Road to Morocco
(1942) is a tad more perfunctory (it still inexplicably grabbed an Oscar® nomination for Best Original Screenplay) though it generally still delivers the goods, including a clever opening song where Hope and Crosby discuss their relationships with the studio and full expectations of meeting Lamour at some point in the film. Again, they're drifters but now shipwrecked on the coast of a backlot Middle East complete with desert warriors (led by Anthony Quinn), an
Arabian Nights
palace and trading bazaars of the kind parodied in
The Life of Brian
. How Lamour fits into this will be left for you to discover. The entire film flies by very quickly and, hey, you get to see Bob Hope in drag.
A clever device in
Road to Utopia
(1946) has Robert Benchley come on-screen to tell us that he will try to help clear up confusion about the film's story (as if anybody ever cared about that!). He then appears periodically in the corner to offer comments like "This appears to be a scene they put in the picture after I saw it in the studio" or observations on the best vantage point to view dancing girls. The film opens with an aging Hope and Lamour as a married couple visited by an equally aged Crosby. Together they reminiscence about a turn-of-the-century hunt for a lost gold mine in Alaska (the title's Utopia). Again, a Best Original Screenplay nomination but here much more plausible considering the Benchley inserts, a stream of anti-illusionist gags (after Crosby loses a singing contest Hope remarks that he should have brought Sinatra), a nicely handled story with twists within twists and songs that actually work within that story.
Utopia
is a small gem and precisely what people think about when they remark on the nature of the "Road" films.
One part of the "Road" films that hasn't aged well is some of the attitudes on display. Hollywood films in exotic locations have usually had a heavy layer of colonialism if not outright racism. Admittedly, the "Road" films aren't quite that bad but they still have regrettable moments. In
Singapore
, there's the slightly misogynist view of Lamour's role as well as Hope and Crosby masquerading in quasi-blackface to steal from local natives. Admittedly the ridiculous feast dance is something of a camp classic.
Zanzibar
features an African tribe created from a string of cliches: ruled by superstitions, cannibals, gaudily painted and not very bright.
Morocco
treats us to the spectacle of Crosby and Hope pretending to be retarded, again so they can steal from local merchants. Sure there weren't any bad intentions but that doesn't make these moments any easier for modern viewers.
Still,
On The Road With Bob Hope and Bing Crosby
is a welcome treat. With similar high-quality, low-price sets devoted to Abbott & Costello, Ma & Pa Kettle, Frances the Talking Mule and Don Knotts we are seeing a small flood of fondly remembered B-comedy and can only hope it continues.
To order
On the Road with Bob Hope and Bing Crosby
, go to
TCM Shopping
.
by Lang Thompson