DVDs from TCM Shop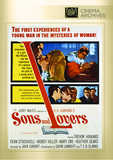 Sons and Lovers The son of a working-class... MORE&nbsp> $12.95 Regularly $19.98 Buy Now
Home Video Reviews
Sons and Lovers
(1960) is a curious example of a movie that was greatly lauded, respected and awarded in its day, but which for some reason has been rarely revived and basically forgotten. It's all the stranger since it holds up quite well on Fox Cinema Archives' new burn-on-demand DVD.
Based on D.H. Lawrence's semi-autobiographical 1913 novel, the movie is a gorgeously photographed and textured look at a young man's coming-of-age in a gritty English mining town. The man, Paul Morel (Dean Stockwell), is a sensitive, budding artist who lives with his parents and is on the verge of breaking free into his own life. His father (Trevor Howard) is a bitter miner prone to bursts of alcohol-fueled rage. His mother (Wendy Hiller) is overly protective and dependent on Paul. Paul also has a girlfriend (Heather Sears), but her uptightness regarding sex (due to her own overbearing, devout, anti-sex mother) drives Paul to an affair with another, married, woman (Mary Ure). Through all the turbulence of home and romantic life, Paul explores his sexual awakening and tries to determine his life's direction.
Sons and Lovers
has something of the feel of the contemporary film versions of two other famous novels:
East of Eden
(1955) and
Splendor in the Grass
(1961), with their highly intense, dramatic conflicts between parents and older children. (All are also period pieces.) A big difference, though, is that
Sons and Lovers
loses something by not being purely subjective from Paul's viewpoint. It's his story, yes, but director Jack Cardiff treats us more as observers than participants, and the result is a lack of a true emotional spine to the piece. Still, it looks great and contains powerful dialogue (if a bit too "literate" and self-conscious at times), utterly convincing performances, and first-class production design, with an enveloping effect. While not as emotionally powerful for the audience as it seems to be for Paul, this is still a worthwhile viewing experience.
Jack Cardiff was a brilliant cinematographer (
Black Narcissus
[1947],
The Red Shoes
[1948]) who had recently started a concurrent directing career. As to be expected, his films as director tend to look ravishing, and on this one that is also due to his own cinematographer, Freddie Francis, another of the all-time greats. Francis, in fact, won an Academy Award for
Sons and Lovers
-- the only Oscar to go to this picture. (It was nominated for seven in all, including Best Picture, Director, Adapted Screenplay, Actor [Trevor Howard], Actress [Mary Ure] and Black-and-White Art Direction.)
Sons and Lovers
is also a powerhouse actors' showcase. Trevor Howard is remarkable as the father; he just completely loses himself in the character. Wendy Hiller is also first-rate, as always, and Stockwell and Ure are not only beautiful to look at but turn in excellent portrayals, making the most of their many facial close-ups deep in thought or anguish. The bewitching Ure was at this time married to playwright John Osbourne and had started an affair with actor Robert Shaw, whom she would soon marry.
And stealing the show in his few scenes as an art patron is Ernest Thesiger, fondly remembered as Dr. Pretorius in
The Bride of Frankenstein
(1935). He was 81 when he made
Sons and Lovers
and died a few months after its release.
Fox Cinema Archives' DVD looks quite good. It is an enhanced widescreen transfer of this black-and-white, CinemaScope film, and while it suffers from a little scratchiness here and there, Freddie Francis' blacks are quite stunning and the contrast looks perfect. This is especially so in one sublime scene that must be mentioned: Stockwell stands on a staircase gazing at Ure, who sits in front of a fireplace late one night with her back to him (and us), brushing her hair. He then moves slowly toward her down the stairs and across the floor, in a traveling point-of-view shot, for a romantic interlude. This brief moment, so perfectly calibrated, and expressing so much entirely visually, is transcendent.
By Jeremy Arnold