DVDs from TCM Shop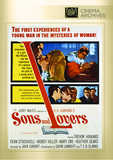 Sons and Lovers The son of a working-class... MORE&nbsp> $12.95 Regularly $19.98 Buy Now
NOTES
DVDs from TCM Shop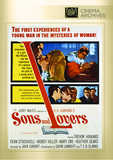 Sons and Lovers The son of a working-class... MORE&nbsp> $12.95
Regularly $19.98 buy now
The opening and closing cast credits differ slightly in order. Tom Morahan's onscreen credit reads: "associate producer and production designer." Although Hollywood Reporter production charts indicate that the film was to be shot in Technicolor, it was released in black and white. An October 1959 Hollywood Reporter news item states that Joan Collins and Margaret Leighton were to appear in the film. The Variety review notes that location filming was done on location outside Nottingham, England. In D. H. Lawrence's novel, "Mrs. Morel," suffering in agony from cancer, dies from an overdose of pain-killing drugs administered to her by "Paul." As noted in a February 1960 New York Times article, the novel, set in Lawrence's home town, was semi-autobiographical, dealing with the author's emotionally unsettled early years, when he was nearly destroyed by parental conflict.
According to Hollywood Reporter news items, producer Jerry Wald bought the film rights to Lawrence's novel in 1954, when he was an executive producer at Columbia. In October 1955, Irving Ravetch was signed to write the screenplay, which William Fadiman was to produce. New York Times news items add that Montgomery Clift was announced as the male lead in 1955, and Peter Glenville was to direct the Columbia version.
According to information in the file on the film in the PCA/MPAA Collection at the AMPAS Library, when the studio submitted the treatment for the film to the PCA in March 1955, the PCA deemed the film unacceptable because the illicit affair between "Clara" and "Paul" was too detailed and prolonged and because Paul never expressed sorrow for his acts. The PCA was also concerned that Paul's relationship with his mother bordered on incest. After moving to Twentieth Century-Fox, Wald submitted a first draft continuity for the film to the PCA in December 1958. The PCA again objected to the lack of a voice of morality in the film, to Paul and Clara's affair and to Paul's incestuous relationship with his mother. The PCA's objections were finally overcome by having Paul's father "Walter" speak out against the sexual immorality of his son.
According to a March 1960 Daily Variety news item, following the completion of production in England, Wald wanted to film an additional romantic scene involving Dean Stockwell and British actress Mary Ure. At that time, Ure was in New York rehearsing a play. SAG denied permission for Wald to film the scene in New York, and consequently, it was never shot. In an October 1960 Esquire review, film critic Dwight MacDonald critized Sons and Lovers's failure to "capture the novel's spirit." In a December 1960 Esquire article, Wald answered MacDonald's criticism by explaining the genesis of the film. After reading Lawrence's novel which had been ignored by filmmakers, Wald entered into correspondence with Lawrence's widow to secure the screen rights.
The first screenplay was deemed too downbeat by the studio, but Wald perservered and pushed the project through. At that point, he decided that the screenplay departed too radically from the novel and hired Gabin Lambert to write a new script. At the time, Lambert was relatively unknown in the film industry, and director Jack Cardiff, who had earned an Academy Award for Cinematography(Color) for the 1947, British-made Black Narcisssus, had only directed two films previous to Sons and Lovers.
Sons and Lovers, which was Britain's official entry at the Cannes Film Festival, won an Academy Award for Best Cinematography and was nominated for Academy Awards in the following categories; Best Picture, Best Actor (Trevor Howard), Best Supporting Actress (Mary Ure), Best Director, Best Screenplay Based on Another Medium and Best Art Direction. Sons and Lovers also shared the New York Film Critics award with The Apartment (see entry above).