DVDs from TCM Shop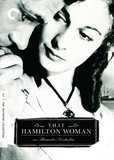 That Hamilton Woman Naval hero Lord Nelson defies... MORE&nbsp> $25.97 Regularly $39.95 Buy Now
USER REVIEWS
See Detailed Ratings
Acting of Lead Performers

Acting of Supporting Cast

Director

Music Score

Title Sequence

Screenplay

Cinematography

Historical Importance

Would You Recommend?

0 Member Ratings
Rate the acting of the Lead Performers

Rate the acting of the Supporting Cast

Rate the Director

Rating of the Music Score

Rating of the Title Sequence

Screenplay

Creatively uses the camera to tell the story

Importance in Cinema history

Would you recommend for fans of this genre
Submit Ratings
Cancel
Write a Review
Read Reviews
NO REVIEWS AVAILABLE
The title has not been reviewed. Be the first to write a review by clicking here to start.
4GOT to rate "That Hamilton Woman"

Roderick Patterson

3/3/15

In my abovementioned opinions I stated how lovely Garson looked in black & White. Well of gorse Vivian Lee's most famous role was Daryll Zanuck's Epic GWTW. In color of course. "That Hamilton Woman shows just how her beauty transcends color or black & white film. Basically known as the most outstanding year in Hollywood's history,1939 was loaded with films that would've swept the Oscar's any other year,EG: "Wizard of Oz"(J.Garland,Ray Bolger), "Stagecoach" (John Wayne & Claire Trevor),"Mr.Smith goes to Washington"(Jimmy Stewart,Jean Arthur & Claude Rains),"Dark Victory"(Bette Davis), The poignant "Goodbye Mr.Chips", "Love Affair" (Dunne & Boyer), Ninotchka (Greta Garbo & Melvin Douglas), "Of Mice & Men" Several other greats were not able to fit in this benchmark year, such as "Beau Geste"(Gary Cooper & Douglas Fairbanks Jr. Huckleberry Finn, (Mick Rooney), "Sherlock Holmes" (Basil Rathbone),ETC!!! Without a doubt,Hollywood's finest year!

Churchill 's favorite movie.

Roderick Patterson

3/3/15

Noted here , The regal Vivian Leigh in "The Hamilton Woman" was one of Churchill 's favorite films, take in mind Churchill is quoted as saying the 1944(?) film Mrs. Miniver (played spot on by the equally regal Greer Garson); "Did more to win the war against the Nazis-than a fleet of Battleships" . Walter Pigeon also give his consistently solid performance as the family patriarch & civic leader! Garson shined in black & white films. IMHO her face & skin resembles an antique porcelain doll's flawless & lovely palor, One may not think from the title, but Mrs. Miniver is a action /romance. A wonderful steady pace & plot it offers a storyline that keeps men & women glued to thier seats!

Vivien Leigh

Excellent film that stays with you forever. Leigh is brilliant.

Three cheers for Korda

Korda was very courageous in defying the isolationist policy while Hitler was advancing. The back story is intriguing that Korda was Collaborating with Winston Churchill in attempting to warn the world of the threat of Hitler's attempt to conquer the world. The love story is so beautifully done. Vivien Leigh is so beautiful in this movie. You can see in her eyes how much she loves Laurene Olivier!

Vivien Leigh at her Best

Today is Vivien Leigh's 100th birthday. She was a superb actor and obviously she was an extraordinary beauty as well. She was never so beautiful as in this movie.This is a classic movie worth watching again and again.

Triumphant Vivian!

In remembrance and respect of Vivien Leigh, I watched "Lady Hamilton" (title preferred) on July 7th. Not keen on period films, I admit that I went into the viewing uncertain. This film is one of the best romance films I've ever experienced. Only seeing Olivier in older roles, I had no idea how interesting and fascinating he was. He is unassuming in his introduction, but commands the screen right before he exposes his injuries to Emma. Although I don't experience the chemistry between he and Vivien that highlighted GWTW, knowing their personal relationship made it both fascinating and memorable. I am continuously impressed with costumes and set designs of the period. The special effects are very good. This film is filled with emotion. Vivien plays a young, idealistic woman who has made decisions necessary. Thrust into an aristocratic world because of her simplistic beauty, she finds eternal love in a married British Naval officer who happens to be a hero. Their clandestine meetings are memorable, especially at the harbor when Olivier boasts that they have kissed in two centuries with a gorgeous harbor backdrop accented by bells during the turn of an uncertain century. As the film gets closer to an ending, I wished their lives would reach a sweet conclusion, Alas the beginning. Not to spoil the film for future viewers, I was ripped apart by Vivian's face when she is told the news, closes the curtains and must fall. "Lady Hamilton" ("That Hamilton Woman") is an extremely superb motion picture and reminder of why The Oliviers will live forever in cinema. The finale brought tears to my eyes. A true romance. On the date of her passing, "Lady Hamilton" reminded me why I watch movies.

That Hamilton Woman

A touching historical romance that was Winston Churchill's favourite film. The romance works because of the casting of real-life couple Leigh & Olivier who play Lady Emma Hamilton & Lord Horatio Nelson respectively. Won Oscar for sound recording for thrilling sea battles, the costumes and Oscar nominated cinematography & art direction bring the Napoleonic era to life. Beautifully-made with touching performances make this a vivid drama. I give it a 4.5/5.

Outstanding historical drama!

For the most part, this is a true account of Emma Hamilton and her ill-fated affair with Horatio Nelson. The entire story was a tremendous scandal back in the day when this sort of thing was done very secretly and not in the glare of the public as it is today. They were both married to others but carried on as if married to one another! Wow! As was true of most who do this sort of thing, Emma was left with nothing when her lover died. While the real Emma did not, as far as we know, sell herself to make ends meet, she did end up with her daughter in a debtor's prison for a year. The other error in the film is Emma had two children by Nelson but the second one died in infancy. The fact that Emma's daughter, Horatia, never acknowledged Emma as her mother is very distressing to me and it must have been one of the reasons Emma began drinking so heavily when she moved to France to get away from all she had been through. Oliver and Leigh had fallen in love with one another when this film was made and it is evident on the screen. There is a palpable electricity when they are on-screen together. She gives a stunning performance as Emma Hamilton and I believe it's on a par with her performance as Scarlet in GWTW. This is a tragic story and makes one sad when it is over but the film itself is fantastic!

All Hail Queen Leigh

How did she not get nominated and win another Oscar for this? Major oversight.

Espetacular

Este filme um lindo. Vivien e Laurence Olivier esto timos neste grande filme. Um filme pouco conhecido de Vivien que est deslumbrante no topo de sua beleza. Grande Filme para todos assistirem a este grande talento.

Adventure in love & war

I don't want to say too much, because I am afraid I will over-state the obvious. But how can you not find enough words to describe Vivien Leigh: not only beauty but pure acting talent. This is just as much a crowning achievement as Gone with the Wind. In some ways, the character does resemble Scarlet, but then in a way Vivien was usually typecast as the scheming vixen. The clothing and those big hats does make it seem like GWTW, and when she argues with her husband (the excellent Alan Mowbray) you do get that sense of Scarlet quarreling with Rhett. But I think her chemistry with Laurence Olivier, as her lover Lord Nelson, is perfect and much more intimate than what she shared with Clark Gable in the other film. We believe that these two sincerely love each other. In fact, both actors are so eloquent and yet so passionate in this film that you cannot help but admire the amount of preparation each one did before going in front of the cameras. And Korda's direction is superb. The film really hits its stride when the narrative returns to England and we are introduced to Lord Nelson's wife. But in addition to these great dramatic moments, we are also treated to some very realistic battle scenes that provide a fair amount of adventure amid the realities of war.

DVD coming!

That Hamilton Woman will be released on DVD by Criterion on September 8, 2009.

One of Vivien Leigh's Best Film Performances

Vivien Leigh is transcendent in this film and completely bewitching. As for her legendary beauty, a reviewer on IMDb expressed it best when they said that the camera not only loves Vivien Leigh in this film, it gets down on its knees and worships her (credit for that comment goes to otter_c@ix.netcom.com). Surely no one before or since has possessed such staggering beauty. But talk of her beauty tells only half the story, for her grace & enchanting personality are equally as staggering as her looks. Vivien does indeed sparkle in this performance and demonstrates quite clearly that at this point in their careers she had mastered the technique of film acting much better than Olivier. Reportedly he was all too aware of it and I don't think it coincidental that they never made another film together after this one. You can't blame Olivier really, as she unintentionally upstages him in every scene they have together! When she's on the screen it is impossible to look anywhere else. Unfortunately this film is not available on DVD in the United States but I was able to obtain a good copy on eBay that is compatible with U.S. DVD players. Vivien Leigh made far too few films and considered herself primarily a stage performer, and as this is one of her very best performances it's a real shame that this film is not more widely known or available. But it's definitely worth the extra effort required to track it down.

A Great Way to Learn History!

To think that this film was made at a time when England was gearing up...(already at war?)is amazing. I had not known about the affair between Nelson and Emma, nor about the heroic naval accomplishments of the hero. I knew only of a famous painting of the death of Admiral Nelson on the deck of his battleship. I don't remember where I saw it but it is quite stunning. This movie is also stunning.

Want to watch a awesome film?

'That Hamilton Woman' is a fabulous film. It epitomizes all that can be great about a movie - particularly of the classic genre. Legendary actors (Vivien Leigh and Laurence Olivier) provide memorable and subtle acting, combined with elegant sets, an excellent screenplay - all that must be good to make a great a movie is found in this film. Based on historic figures and set against the Napoleonic wars it is an accurate rendering of a love affair for the ages in turbulent times. A great film and not a single swear word in it what would Hollywood do with it today? They'd **** it up!

What an Elegant Film!

I have always found this film incredibly beautiful to watch. Superb actors, classically detailed sets, costumes, and enough marble statuary to fill a great museum. It is such a wonderful find for a film made at this time when production values rarely produced such a perfect recreation of a time and place : Naples in the late 18th century. The fact that Viv and Larry were still at an early and happy time in their relationship shines though always. Glorious and sumptuous in every way! Bravo Korda!

This Alexander Korda Classic on DVD

This film should be on DVD. I like Laurence Olivier and Vivien Leigh.

Drags on - to many war scenes

This movie has two great actors, but sadly it moves slowly, making it tough to continue watching. The war, ships and battle scenes drag on unmercifully long! I can't imagine being the spouses of these known cheaters. It would make for a very miserable life. The palace and homes are very pretty as is Emma Hart's wardrobe. Emma's mother was a very neat character.

One of young Olivier's Best

If you liked Olivier in Wuthering Heights, you are in for a treat with That Hamilton Woman. I am a huge fan of the young Laurence Olivier and this is one of my absolute favorites and the best picture he made with his wife Vivien Leigh. As others have noted there is a strong message in this movie pertaining to the Second World War. Olivier's speech to the House of Lords was actually ghost-written by Winston Churchill. Beyond this, there is another whole dimension to this picture in that Olivier and Vivien Leigh knew something of the situation they were playing out. Both Olivier and Leigh were married to other people when they met and fell in love. Such is also the unhappy situation of Emma Hamilton and Young Captain Nelson without the benefits of loosened 20th century divorce laws. They begin with a friendship that grows at each meeting until an inevitable romance follows. The turmoil and conflicting emotions are palpable in every scene. There is a wonderfully acted scene in which Lady Hamilton first learns of Nelson's famous war wounds. Leigh moves through many emotions and we see in her silent reaction horror, grief, acceptance, and loving admiration all in the space of a few frames. Olivier is at once mentally strong and physically vulnerable, a very appealing combination, a perfect opposite to his performance as Heathcliff in Wuthering Heights. The supporting cast is excellent especially the actor who plays Emma's husband Lord Hamilton. I'm not crazy about the way Nelson's wife is portrayed. She is pure harpy and there is nothing remotely soft or sympathetic about her. I don't think this is realistic, but it is almost the only flaw in an otherwise excellent film.

worth the watching...

Vivien Leigh made so few films to begin with that every one is something of a treat. At her physical peak her looks were unequalled, if shadowed by those terrible sadnesses yet to overtake her. This is outright propaganda disguised as a love-story and both plot and dialogue suffer for it. But there is genuine magic here as well. Madly in love, The Oliviers provide true chemistry, though Larry seems wooden at times and slow in keeping pace with the manic and irresistible Vivien. The production is gorgeous, the Miklos Rozsa score first-rate, with outstanding direction and photogrpahy from the talented Kordas. Enjoy!

A Very Good Film - Highly Recommend It

I saw this film years ago when I was in London, then later on American Movie Classics - when they showed "Classic" movies and just loved it. I hope that TCM shows this wonderful film. Vivien Leigh is just wonderful in her role as Emma and just a beautiful as ever. There is great chemistry between Vivien Leigh and Laurence Olivier transmitted on screen as well(they were lovers/a couple at that time). Please release this movie on DVD!
*We protect your personal infortmation and will not provide it to anyone without your consent. For a complete explanation, please refer to TCM's Privacy Policy. By submitting your contribution, you agree to TCM's Terms of Use.