DVDs from TCM Shop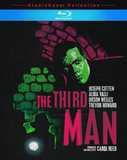 The Third Man A man's investigation of a friend's death uncovers... MORE&nbsp> $14.95 Regularly $19.99 Buy Now
NOTES
The American version of the film opens with a voice-over narration in which the character "Holly Martins" explains that post-war Vienna is divided into four zones: American, British, Russian and French. He adds that the center of the city is international and is policed by a security force comprising one member from each of the four powers. In the British version of the film, the opening voice-over is delivered by a British narrator, whom modern sources identify as producer-director Carol Reed.
In Graham Greene's novella, which was published after the film's release, the three male protagonists were British. In his preface to the novella, Greene maintains that the story was never intended for publication, but was written expressly as a blueprint for the screenplay. "To me it is almost impossible to write a film without first writing a story," he wrote. "One must have the sense of more material than one needs to draw on." Greene adds that Welles wrote the well-known line about Switzerland's sole contribution to world culture being the cuckoo clock. Some modern sources also credit Welles with the famous shot in which "Harry Lime" is suddenly revealed in a shaft of light, but this scene is as it appears in the novella.
According to modern scholars, Greene based the character of Lime on British double agent Kim Philby, who was Greene's superior in Britain's Secret Intelligence Service. Greene's biographers suggest that his suspicion of Philby was the reason for Greene's abrupt resignation from the service in 1944.
Cary Grant was originally cast as Holly, and modern sources report that Nol Coward was sought to portray Lime. When these two characters were rewritten as Americans, co-producer David O. Selznick expressed interest in Robert Mitchum, whose popularity had soared in the wake of his arrest for possession of marijuana, for the role of Lime. In a memo reprinted in a modern source, Selznick wrote that Mitchum would guarantee strong box office returns, as opposed to Orson Welles, "who in my opinion would not add a dollar to gross." Mitchum was sentenced to jail, however, and Welles, desperate for money to fund his production of Othello, finally agreed to play what has become one of the most memorable roles of his career. Modern sources add that James Stewart was also considered for the role of Holly.
The Third Man was filmed on location in Vienna, Austria. A August 24, 1948 news item in Variety notes that Reed was granted permission to film by all four of the country's occupying powers. The British version of the film is approximately eleven minutes longer than the American version, which was re-edited by Selznick. In a memo to the press contained in the film's production file at the AMPAS Library, Selznick Releasing Organization asked reviewers to "refrain from divulging the climax of the film story, i.e., that Harry Lime is alive." Most critics revealed this plot point anyway. According to a September 20, 1950 news item in Variety, twenty-five thousand East Germans attended a screening of the film in an open-air cinema in West Berlin, in defiance of East Germany's Communist government.
The Third Man won the Academy Award for Best Cinematography (Black and White), and was nominated for Best Director and Best Film Editing. The film was named Best Film at the 1949 Cannes Film Festitval. The Third Man also won considerable praise for Anton Karas' score, which is played on a zither throughout the film. According to an article in Newsweek, a recording of Karas' music from the film was a best-seller in England.
A radio adaptation of the film was broadcast on Lux Radio Theatre on April 9, 1951, with Joseph Cotten, Ted de Corsia, Ben Wright and Evelyn Keyes, and on February 8, 1954, with Ray Milland, Ruth Roman, de Corsia and Wright. In 1952, the BBC produced a syndicated radio program, The Third Man, which was also called The Lives of Harry Lime and Harry Lime Adventures. Orson Welles supplied the voice of Lime in the series, which also featured Karas' "The Third Man Theme." In 1959, BBC-TV and Twentieth Century-Fox co-produced a syndicated television series, The Third Man, which was filmed both in England and Hollywood. The series, which Variety called "the first of the truly Anglo-American co-production undertakings," starred Michael Rennie as Lime-who was changed from a ruthless black marketeer to a dashing soldier-of-fortune-and co-starred Jonathan Harris. The television series ran in the United States from 1960-61.