DVDs from TCM Shop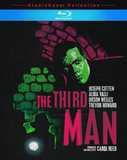 The Third Man A man's investigation of a friend's death uncovers... MORE&nbsp> $14.95 Regularly $19.99 Buy Now
Quotes
Calloway


You don't know what you're mixing in. Why don't you catch the next plane?

Martins


I'll catch the next plane as soon as I get to the bottom of this.

Calloway


Death's at the bottom of everything, Martins. Leave death to the professionals.

Martins


You mind if I use that line in my next Western?

Martins


Callahan!

Calloway


Calloway, not Callahan. I'm English, not Irish.

Martins


Have you ever seen any of your victims?

Harry Lime


You know, I never feel comfortable on these sort of things. Victims? Don't be melodramatic. Tell me. Would you really feel any pity if one of those dots stopped moving forever? If I offered you twenty thousand pounds for every dot that stopped, would you really, old man, tell me to keep my money? Or would you calculate how many dots you could afford to spare? Free of income tax, old man. Free of income tax - the only way you can save money nowadays.

Popescue


She ought to go careful. Everyone ought to go careful in a city like this.

Martins


I guess nobody really knew Harry like he did... like I did. He was the best friend I ever had.

Calloway


That sounds like a cheap novelette.

Martins


Well, I write cheap novelettes.
Contributions
horrorfiend (2008-02-14)

Source: not available

Harry Lime..............Orson Welles
In Italy, for 30 years under the borgias they had warfare, terror, murder, bloodshed - but they produced Michelangelo, Leonardo da Vinci, and the Reniassance. In Switzerland they had brotherly love...they had 500 years of democracy and peace, and what did that produce? - The cuckoo clock.