DVDs from TCM Shop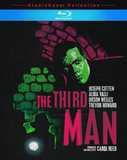 The Third Man A man's investigation of a friend's death uncovers... MORE&nbsp> $14.95 Regularly $19.99 Buy Now
USER REVIEWS
See Detailed Ratings
Acting of Lead Performers

Acting of Supporting Cast

Director

Music Score

Title Sequence

Screenplay

Cinematography

Historical Importance

Would You Recommend?

0 Member Ratings
Rate the acting of the Lead Performers

Rate the acting of the Supporting Cast

Rate the Director

Rating of the Music Score

Rating of the Title Sequence

Screenplay

Creatively uses the camera to tell the story

Importance in Cinema history

Would you recommend for fans of this genre
Submit Ratings
Cancel
Write a Review
Read Reviews
NO REVIEWS AVAILABLE
The title has not been reviewed. Be the first to write a review by clicking here to start.
The Third Man Cut on TCM

I have seen The Third Man three times, the first when it came out in NYC, the last on TCM. One of the scenes on TCM was missing when I watched the film on TCM some years ago; a scene that was actually very effective. The concierge in the building where Harry Lime lived had told the Joseph Cotten character about a mysterious third man at Lime's funeral. The scene implies the concierge's murder for knowing about a third man. We see the murderers arrive at the concierge's apartment and while we do not see the actual murder, we hear the zither music become quite loud as the camera turns away. I always remember the affect of the loudnesss of the zither just before the unseen murder. Another great Carol Reed touch. I was very disappointed at that cut.Frank (GA)

Homosexual question

Did I detect a homosexual living arrangement between Dr. Winkler and the character who carried the small dog early on in the movie. Both appeared at the same window in a later scene.

mystery partners

orson welles and joseph cotten acted at their best on screen together. it is strange.. people do not seem to think of them ..in terms of redford and newman or other parings . one of the greatest and most undervalued tandems ever.

The 3rd Man & More

This movie made an effort to show its watchers the dissolution of a nation, whose natives were probably of the highest human type ever, through cosmo-political management under the auspices of the true victors of WWII!

am I dreaming?

When I first saw this perfect film, I remember a scene where Valli is wearing a fitted striped jacket, a big, full skirt and a large flat hat. It seems to have disappeared. My clue that I'm not mistaken is when the police come to take Valle to headquarters, in the background is an armoire, on top of which is the large flat hat. Possibly the scene was eliminated because it was too high fashion?... might have brought up some unnecessary questions about her virtue.Also, if TTM has been made a decade later, what a great logo and promotional materials Saul Bass would have leant it.

Great Prints

TCM'S Prints are always such high quality. I watched this film many times on much lower grade prints and loved it, so to watch this print is very satisfying. . My favorite scene is the final one when Valli walks on. Its one of the best scenes in any film (in my opinion). Early Carol Reed films are all vintage, probably not appreciated enough in US, as a very fine director.

Sights and Sounds

I have seen this movie several times. Both the visual and music are wonderful. The plot is great and even better with terrific filming of shadows etc. This movie will take you back in time and let you live post war years.

The Third Man - Definitly Worth Watching

I stayed up last night to watch it at 1:00am on TCM for the first time. It was really worth it. The cast and acting lived up to par. Very good story line. But still, as I grew more tired approaching the ending, the Music Score was great and keeps you on the edge of your seat right through the finish! Go on and check this movie out, you'll be glad you did. Oh, the closing shot is awesome. PHG

Certainly in my top five movies of all time.

How could Orson Wells dominate a movie with so little screen time? How could anyone forget Alida Valli walking past Joseph Cotton? How could they have filmed in the sewers? It goes on and on, a movie for the ages.

Cotten,Welles,Howard,Lee,Hyde-White

All great actors.My favorite scenes feature the excellent Bernard Lee,his twinkling eyes brighten up every scene.Loved the anecdote of his causing a concern when he wasn't required for scenes,he went to the local bar and the production was frantic to find him.Can definitely see from his performance as the Sgt why he was mainly known for military or some other authority figure!Why didn't For Your Eyes Only include a tribute to him,as he died before he could complete his scenes due to cancer hospitalization?

This Mystery Classic on Criterion DVD

I wish this classic film was back on Criterion DVD again. I like Joseph Cotten, Orson Welles and Trevor Howard. It won an Academy Award for best black-and-white cinematography. The American Film Institute even ranked Orson Welles' character, Harry Lime as #37 villain. The AFI also ranked the film itself as the 5th best film of the top ten in the mystery genre.

In my top 5...

Camera angles! Camera angles! Cold, a zither, moody scenes and the awkward... All tapped perfectly.

The Third Man

Overall-3 1/2 out of 5Lead Performers-3/5Supporting Cast-5/5 (namely Orson Welles)Director-4/5Score-4/5Titles-4/5Screenplay-3/5Cinematography-4/5Importance-3/5Recommendation for fans of the genre-4/5

One of the Best

I fell in love with this movie the first time I saw it more than 50 years ago, and countless times since. Absolutely unique. The cinematic equivalent of a page turner, with wonderful acting from the principles, great secondary characters, innovative photography, and a riveting score, all pulled together by sterling direction. Groundbreaking! Ever since I first saw it, I have always placed it among my top five favorite movies of all time ( very often as #1), whatever other changes are occurring in my life. I agree with the others about the use of light and shadows, angles, and pace. Plus the introduction of Harry Lime has to be the greatest "reveal" in the history of cinema.Just a complete and satisfying joy for any real fan of movies.

Perfection!

I've been watching film for over sixty years and have viewed movies made long before I was born. Not one is as perfect as this film! It doesn't have a cast of thousands, it isn't in color, it has a continuous musical theme, it has superb actors, it has a plot that keeps you guessing, there are no sexual overtones, the dialogue is brief and to the point without characters droning on and it has visuals that are sublime. It just doesn't get better than this! (Alas, once more in film, Joseph Cotton's character doesn't get the girl, though!) Alida Valli is such a beauty and her character is wonderfully acted with a soft voice and hurt eyes. The zither, an instrument I normally do not care for, is used so well here that you simply cannot get the tune out of your head after you hear it! Orson Welles always excels as an evil character and does so maniacally and amorally in this film. I met him for several hours once in London and, aside from being absolutely HUGE, he was the kindest person! Thinking about him as evil is so far from what he really was! Kudos to the director, Carol Reed, who knew how to use black and white shadows so perfectly, not only in this film but in others as well. Just the best film you will ever see!

A perfect film

In my opinion, it it one of the greatest movies ever made. A perfect film.

One of My All Time Favorites

I love TCM but do get tired of seeing some moves over and over. NOT THIS ONE. It is one of my all time favorites and each time I watch it I see something new, or understand it better. Great performances by Joseph Cotten, Valli and Orson Welles.

A Must-See

Film is excellent for multiple reasons. Even if you don't love film noir, if you like history, there's plenty here. Story takes place in post WWII Vienna. Wreckage from Allied bombing is everywhere, along with enough intact buildings to give you a good idea of the beauty of Vienna pre-WWII. Joseph Cotten narrates the story. Cotten plays Holly Martins, a pulp-fiction writer of American Western mystery novels. Martins, who was in need of work, was invited by his friend, Harry Lime, to come to Vienna for a job, but when he arrives, he is told that Lime is dead. Martins arrives in time for the funeral, and meets Lime's girlfriend, who is very mysterious. She is a stage performer, and invites Martins to watch her perform. He meets her back stage, but they can't stay long because the theater needs to conserve electicity (more history). She offers him some tea, given to her by an admirer, which was a tradable commodity at the time because there was a shortage. Martins starts asking questions about Lime's death--he was told he was struck by a car, and discovers a discrepancy in eyewitness accounts. The elderly manager of the apartment house where Lime was killed describes three men carrying Lime across the street, but everyone else describes only two, which causes Martins to start investigating--hence the title "The Third Man". The elderly man ends up dead. Martins learns that Harry, via an accomplice, was stealing penicillin (also in short supply) and diluting it. The result was dead and severely impaired children, the victims of a meningitis epidemic. I won't spoil the plot, but Martins does get to the bottom of things. Excellent view of an amusement park with an antique ferris wheel, still in use, I'm told. Also there's a little something for cat lovers, too. Kitty gives things away.

The Third Man

Dear Sirs:Finally someone who gives Anton Karas credit for the extraordinary performance on the Zither, he certainly deserves it!Have always loved the film, but Anton Karas gave it something memorable!Kind Regards,Antje Hahn

One of the best!

Wonderful use of music and shadows contribute to the excellent plot and cast. The scenery is a must see through the use of the shadows. The plot is top notch. The movie will take you from the present to a different era. I always look forward to seeing this movie.

The Third Man

One of the best film noir's ever made. Pulp writer Cotten is invited by his friend, who is thought to be dead, in war-torn Vienna, only to become involved in the black market. Cotten deserved award consideration for his part as a sometimes naive protaganist & Welles is unforgettable as the too-brief villain. Oscar-winning cinematography & score add to the greatness of this film. This picture combines a morality tale, love story & excellent thrills into an all around perfect film. I give it a 5/5.

Love for a man and for freedom

I like Joe's 8/22/08 review of the "The Third Man," a timeless gem with three dimensional characters like Anna, who does not try to avoid remaining under the spell of heartless Harry Lime (whose belief in God was questioned) but does try to avoid repatriating under the thumb of soulless Soviet slime (whom never allowed such questioning).

British version far better

If you can see this movie in the theater, do it. It's a wonderful way to really appreciate the marvelous cinematography. It's a great story, full of surprises.I always liked this movie, but it wasn't until I saw the British version that I was fully able to appreciate it. I think Selznik butchered it in the American release. (Sorry, but once again Maltin is clueless.) The missing footage gives the viewer a much better understanding of the characters involved, especially the British, the international setting and indeed feel of the movie that is lacking in the American version. It changes the entire tone of the movie. After seeing the British version, you will never want to see the American version again. The differences are subtle, but yet important... Important enough to change my entire feeling about the film.

My favorite movie!

It got down to The King Of Hearts and The Third Man, a hard choice. Still see little different nuances and moods every time I view it.

The Third Man - Four Stars!

"The Third Man" (1949) is a tense, edge-of-your-seat film noir, and one of the best of the genre. Set in the stark atmosphere of Allied-governed post-WW2 Vienna, pulp writer Holly Martins (Joseph Cotten) arrives looking for old friend Harry Lime (Orson Welles), who unknown to Martins was a black marketeer during the war.Major Calloway (Trevor Howard) and Lime's girlfriend Anna (Alida Valli) soon set Martins straight about Lime's wartime activities. After seeing the human suffering caused by Lime's selling of diluted Penicillin, Martins agrees to help Calloway catch Lime, which leads to one of the best on screen chase scenes ever through the sewers of Vienna. After Lime tries to open the manhole cover (the shot of his fingers grabbing the cover conveys his desperation perfectly), Martins catches up with him and fires the shot that kills his old friend. Lime and Martins riding the Ferris Wheel, Martins and Anna on the street after the murder of Lime's porter with the little kid bouncing the ball and yelling, Martins' wild taxi ride and the last scene with Anna walking down the street past Martins after Lime's funeral are also excellent. The music score, played enitrely on a Zither by Anton Karas, is very unusual for a film noir, but it gives "The Third Man" a unique quality. Most other film noir scores feature a lot of brass and strings. Welles made this between the immortal "Citizen Kane" (1941) and "Touch of Evil" (1958), also one of the best film noirs ever. While Welles directed both of them, he only starred in "The Third Man". Carol Reed, "Trapeze" (1956) and "Oliver!" (1968), was the director.

A genuine classic film -

Schwarz Ilse-Katharina

6/2/11

This film deservs to be showing mor frequently - I remember its showing only twice, in the last several years.Pease tell me when it will be shown again - I am not able to find this information on your web-side.The film is - I believe abolutely hisorically accurate - the acting of all actors is abolutely superb. the recreation of post- world war II is more than accurate, suberb. Great romance - without todays explicit vulgarity. One visiting Vienna, today, can take a wonderful tour (about 2 1/2 hours) in the footsteps of the acutal filming. a GREAT THANK you to Mr. Carol Reed, for this wonderful film. Some people may find the topic of the film not pleasant, unfortunately - it seem war seems brings out the worse in man! So true, in the current turbulent wars. However, I believe, in spide of the corrupt dealings (in the film, and I am certain in reality, at the time) I find people were still HUMAN!Thanks for your attention in this regard.

Unlike Anything Else

This film is not quite like anything else in Cinema history; it is even unique in its own genre. It is certainly exceptional in all aspects. The filming style is Expressionistic, employing sharp camera angles and striking techniques. Many movie characters in the genre of Film Noir (with no disrespect to the fascinating genre) are rather like cardboard cut-outs--the same sort of "hard-boiled detective" or "femme fatale." However, the characters in this movie are three dimensional; you can almost believe that they are real, breathing personalities. The performance is spectacular. The storyline is exciting and engaging. The movie leaves so much room for analysis. But how can I fail to at least mention the brilliant music score? The zither of Herr Anton Karas echoes and re-echoes in the brains of all who enjoy this masterpiece of movies.

Needs a perfect ending

I love this movie and watch it every chance I get. However, I've always thought the demise of Harry Lime deserved better treatment than just a shootout in a sewer. My perfect ending would have Harry come up to the street via the manhole and be immediately run over by a vehicle - maybe that same vehicle that was responsible for Harry's "death" in the beginning of the movie. Irony of Ironies !

Film Noir

I think this is one of the best of the film noir genre! Even though I'm not a big fan of any of the major stars in this movie, the cast as a whole MAKES this movie the best of the best! If you like film noir, or just murder/mystery dramas, this film is definitely for you!ENJOY!!!!!

Fantastic!!!

To this day, the music from this movie still rings in my head. I did not know that it was on DVD. I will be buying it. This movie is simply a masterpiece in every sense of the word.

Best Ingredients

The best combination of story, acting, writing, plot, photograpy, direction, lighting, music, locale... ever.

One of the best ever!

I know, I know, Orsen Wells didn't direct this one, but this is without a doubt my favorite Wells movie of all times.... Yes, I've seen "Citizen Kane" and "The Magnificent Ambersens", but this is one of my "desert Island" take alongs like Dr. StrangeLove and a couple of others. The cinematography in this one is without a doubt one of the BEST. As good (but different) than anything David Lean ever did. AND DON'T GET ME STARTED ABOUT THE SOUND TRACK.... Absolutely BRILLIANT!

The Third Version

Orson Welles was a true genius. And genius will experiment, and will takes chances. The decision to apply the wonderful yet inappropriate gypsy guitar soundtrack was sheer genius, and is certainly appreciated, and works at a certain movie critic level, but that decision marred the ultimate film noir experience we crave. I would like to see a third version of this film, with no music soundtrack at all. The acting, the story, the cinematography require no creative embellishment. We wish to fade deep into the noir experience, the creative credentials of the movie makers aside.

Excellent

Probably one of the finest film noir movies ever. Not only does it have a great plot and great actors, the cinematography is excellent as well. Though too young to have lived in that era, I spent much time in Germany starting with the 1970's when areas were still not fully rebuilt and can identify with the movie's atmosphere. Plus it has M from the 007 movies in it!

Perfect

Classic Film. It doesn't get better than this.

Post-war Europe

Having arrived in Munich in 1948 and seeing the results of WWII (at age 14), I could relate to the Vienna scenery of The Third Man as it was much like that of Munich. And the zither music of Anton Karus(sp?) helped make the film unforgetable. Both the film and the music are set in my memory forever.

Perfect.

Outstanding on so many levels... If I start writing about it I won't be able to stop so I will end it there.

Alida Valli

I would like to pay tribute to Alida Valli. In The Third Man she gave a haunting and moving performance. I have only seen her in two other movies and shealways impressed me.
*We protect your personal infortmation and will not provide it to anyone without your consent. For a complete explanation, please refer to TCM's Privacy Policy. By submitting your contribution, you agree to TCM's Terms of Use.