DVDs from TCM Shop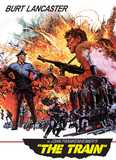 The Train French resistance fighters try... MORE&nbsp> $14.96 Regularly $19.95 Buy Now
Quotes
Resistance leader


London agrees the art is important. Anything we can do to save it... but they leave it up to us.

Labiche


Why not? What can they lose? This morning we had four men left in this group. Now we have three. One, two, three.

Pesquet


Bernard?

Labiche


We started with eighteen. Like your paintings, mademoiselle, we couldn't replace them. For certain things we take the risk, but I won't waste lives on paintings.

Miss Villard


They wouldn't be wasted! Excuse me, I know that's a terrible thing to say. But those paintings are part of France. The Germans want to take them away. They've taken our land, our food, they live in our houses, and now they're trying to take our art. This beauty, this vision of life, born out of France, our special vision, our trust... we hold it in trust, don't you see, for everyone? This is our pride, what we create and hold for the world. There are worse things to risk your life for than that.

Labiche


I'm sorry, mademoiselle, we can't help you.

Resistance leader


Right after dawn, all switching tracks and trains in the area will be bombed. The art train is not to be destroyed. Orders are to mark it so that the planes will pass it up.

Labiche


Mark it!

Resistance leader


White paint, on the top of the first three cars. London has decided the paintings must not be damaged.

Labiche


Paint it? For von Waldheim-- make him a present? To hell with London! We started this whole thing for one reason: to stop the train, because the Allies were going to be here! Well, where are they? Every day they've been due, and every day a man has been killed for thinking they were just over the next hill. I say to hell with them. Now they want us to paint the train? Let 'em blow it up!

Didont


Paul, it'd be too bad, if it got blown up... that is, if it could be saved. Papa Boule, Pesquet, the others... they wanted it saved.

Colonel von Waldheim


I asked for two cranes.

Major Herren


It took an order from staff headquarters to get this one. With von Runstedt falling back, the army has other uses for railway equipment.

Colonel von Waldheim


All von Runstedt can lose is men. This train is more valuable.

Colonel von Waldheim


Labiche! Here's your prize, Labiche. Some of the greatest paintings in the world. Does it please you, Labiche? Give you a sense of excitement in just being near them? A painting means as much to you as a string of pearls to an ape. You won by sheer luck: you stopped me without knowing what you were doing, or why. You are nothing, Labiche -- a lump of flesh. The paintings are mine; they always will be; beauty belongs to the man who can appreciate it! They will always belong to me or to a man like me. Now, this minute, you couldn't tell me why you did what you did.

Miss Villard


I knew of books being burned, other things... I was terrified that these would be lost.

Colonel von Waldheim


A book is worth a few francs; we Germans can afford to destroy those. We all may not appreciate artistic merit, but cash value is another matter.

Miss Villard


You won't convince me that you're cynical. I know what these paintings mean to you.

Colonel von Waldheim


You are a perceptive woman.

Colonel von Waldheim


We're removing the paintings. Pack them carefully.