DVDs from TCM Shop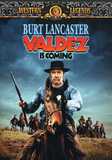 Valdez Is Coming An honest marshal is the only... MORE&nbsp> $11.95 Regularly $14.98 Buy Now
NOTES
DVDs from TCM Shop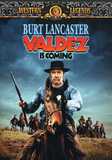 Valdez Is Coming An honest marshal is the only... MORE&nbsp> $11.95
Regularly $14.98 buy now
The closing credits indicate that interiors for Valdez Is Coming were filmed in Estudios Roma, Madrid and exteriors in Almeria and Gredos, Spain. Sam Manners' onscreen credit is listed as "Associate Producer and Production Manager." Although Lex Monson, who played the man in the hut, is listed in the cast credits as "Rincon," "Frank Tanner" and "Bob Valdez" refer to him as "Johnson."
A November 1967 Hollywood Reporter news item indicated that M-G-M producer Ira Steiner purchased the rights to Elmore Leonard's novel Valdez Is Coming and hoped to produce it at the studio, whereas a March 1968 Daily Variety news item stated that director Sydney Pollack, who had directed star Burt Lancaster in the 1968 United Artists production The Scalphunters and the 1969 Columbia release Castle Keep ( for both), would re-team with Lancaster for Valdez Is Coming. In July 1968, Daily Variety reported that Steiner had taken the property to the Goldwyn Studio where he would continue preparation on the production, which UA would distribute. In November 1968, Hollywood Reporter noted that Valdez Is Coming was put on hold so that Lancaster could complete the 1970 Universal production of Airport. In August 1969, Hollywood Reporter's "Rambling Reporter" column stated that UA was shelving Valdez Is Coming, perhaps permanently.
An October 1970 LAHExam article stating that the American Humane Association had classified numerous films as unacceptable because of mistreatment to animals included Valdez Is Coming in the list. According to the article, the production used the long-prohibited "running-W," a wire to trip horses. When the Production Code lost its regulatory authority in the late 1960s, however, reported cases of animal abuse in film productions increased. As noted in Filmfacts, Valdez Is Coming marked the last film of longtime actor Frank Silvera (1914-1970). The picture also marked the directorial debut of Edwin Sherin and the feature film debut of Jon Cypher.