DVDs from TCM Shop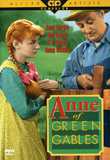 Anne of Green Gables A young orphan goes to stay... MORE&nbsp> $15.95 Regularly $19.99 Buy Now
Articles
SEE ALL ARTICLES
Anne of Green Gables (1934)
Sixteen year old Dawn Evelyn Paris had appeared in nearly thirty movies under many stage names: Dawn O'Day, Lenn Fondre, and Lindley Dawn, but when she was cast in the lead role in RKO's adaptation of Lucy Maud Montgomery's Anne of Green Gables (1934), she took her character's name as her own. Dawn Paris would be Anne Shirley for the rest of her professional career. It would also be her most famous leading role.
br>Anne of Green Gables had been an instant classic when it was published in 1908. Mark Twain called Anne "the dearest, most moving and most delightful child since the immortal Alice [in Wonderland]." The story of an orphan girl who is mistakenly sent to people wanting a boy had first been filmed by Famous Players Lasky (later Paramount Studios) in 1919 starring Mary Miles Minter and directed by William Desmond Taylor (the two would make headlines three years later when Taylor was murdered and Minter's mother became the chief suspect).

RKO purchased the film rights to the novel from the publishers L.C. Page & Co., and according to the Lucy Maud Montgomery Research Group, the author did not receive any royalties from either film. RKO sent Montgomery a copy of the script but did not invite her input. Production on the film lasted a mere six weeks from August 7th September 15th. In the cast along with the newly christened "Anne Shirley" was character actor O.P. Heggie as Matthew, Tom Brown as Gilbert and Helen Westley as Marilla. Ann Miller made her film debut as a child extra and five year old June Preston, playing Mrs. Blewett's daughter, later became an internationally famous opera singer.

The original release date for Anne of Green Gables had been set for October, making it a very fast turnaround, but studio heads decided to delay it for a Christmas release, which occurred on December 21st. Reviews were excellent, with Variety singling out Shirley for praise, "Anne of Green Gables is wholesome, sympathetic, romantic and dramatic, packing many a heart-tug and tear-jerk. It will do much to establish Anne Shirley, who has taken her professional nom-de-screen from her character in the L.M. Montgomery classic." Andre Sennwald in his December 22, 1934 New York Times review lauded the film as "magical family entertainment, manufactured with such genuine humanity and feeling and humor that it is equally fascinating for old and young. A gentle and immensely pleasing Arcadian idyll of an orphan girl on Prince Edward's Island, it is certainly the peer of last season's Little Women [1933]." Sennwald went on to state "...her performance is as warm, as honest and as beguiling a piece of acting as Hollywood has offered us all year. With her straw hat and the chin elastic, the twin braids down her back, and the quixotic temperament, she merges into the Anne Shirley of Mrs. Montgomery's novel so perfectly as to create the kind of identity that her change of name suggests."

The author herself did not agree. L.M. Montgomery later wrote, "The whole picture was so entirely different from my vision of the scenes and the people that it did not seem my book at all. [O]n the whole, the picture was a thousand-fold better than the silent film." She may not have been entirely satisfied with the film but to capitalize on its popularity, Montgomery wrote additional books in the series and a sequel Anne of Windy Poplars was filmed in 1940.

Producer: Kenneth Macgowan
Director: George Nicholls, Jr.
Screenplay: Sam Mintz; L.M. Montgomery (novel)
Cinematography: Lucien Andriot
Art Direction: Al Herman, Van Nest Polglase
Film Editing: Arthur Schmidt
Cast: Anne Shirley (Anne Shirley), Tom Brown (Gilbert Blythe), O.P. Heggie (Matthew Cuthbert), Helen Westley (Marilla Cuthbert), Sara Haden (Mrs. Rachel Barry), Murray Kinnell (Mr. Phillips, the teacher), Gertrude Messinger (Diana Barry), Charley Grapewin (Dr. Tatum), Hilda Vaughn (Mrs. Blewett), June Preston (Mrs. Blewett's daughter).
BW-78m. Closed captioning.

by Lorraine LoBianco

SOURCES
L.M. Montgomery and Canadian Culture by Irene Gammel and Elizabeth Epperly
The Internet Movie Database
The L.M. Montgomery Research Group, www.lmmresearch.org
The All Movie Guide, www.allmovie.com
Variety December 1934
The New York Times Film Review: Anne of Green Gables by Andre Sennwald, December 22, 1934.
back to top
---